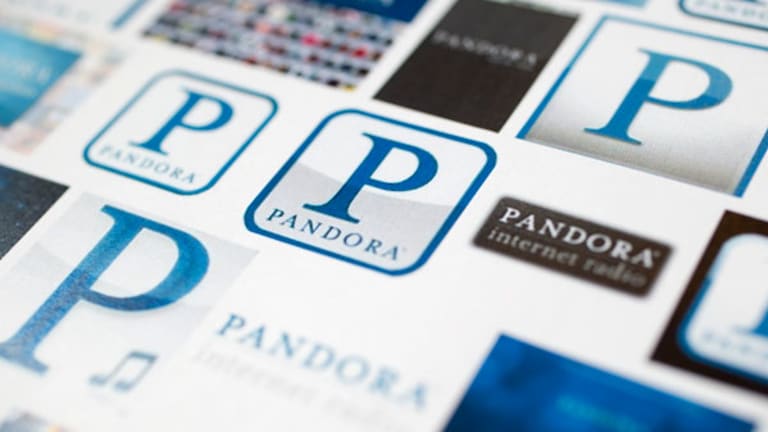 Pandora, Sirius and Spotify Should Check Into Hotels
A captive audience and ideal conditions for trial could boost subscription numbers, but also rescue hotel entertainment that's trapped in a time warp.
PORTLAND, Ore. (TheStreet) -- Why do the big U.S. hotel chains treat just about every amenities upgrade like a boutiquey modern must-have, but treat in-room entertainment like the guest-house technology that they haven't updated since the Clinton administration?
Unless there's an off-peak deal that's too good to pass up or a compelling reason for me to do so, I ordinarily avoid hotel stays from November through about mid-January. There are a whole lot of people out, there are a lot of rooms filled for the holidays and there's the overarching sense that these hospitality havens turn into filing cabinets for humans around this time of year.
This season, however, I've found myself in homes away from home more often than usual. A large family reunion dropped me and my wife into hotels in Philadelphia and Wilmington, Del., in early march and an unexpected business trip has me tapping out this missive from a hotel overlooking the mall traffic on Peachtree Road in Atlanta's Buckhead neighborhood.
In truth, it's been wonderful. Our fairly low-budget stop near Philadelphia's Reading Terminal Market gave us free wi-fi, coffee and fresh-baked cookies. The heavily discounted suite in Wilmington was bigger than my wife's first apartment in Boston and came with two sprawling rooms, a kitchenette, pool and gym facilities we never got to use, Starbucks coffer, two HDTVs and free garage parking.
Our current residence, the W Hotel, puts out a white hot chocolate bar at night, has an infinity pool looking out onto the city, feather beds, down comforters and free Bliss bath products. It's purposefully leaning toward the hipster aesthetic, which would be just fine if its tech offerings weren't stuck in a purgatory somewhere between streaming audio and video and stacks of vinyl.
Beneath our HD TV screen sits a DVD player that seems to serve a dual function as an in-room stereo, at least judging from the CD library selection listed among the amenities. That's about albums including 10,000 Maniacs' Love Among The Ruins, Stone Temple Pilots' Core and the Hope Floats soundtrack. The concierge desk DVD collection is a bit more flush, mixing classics like Cool Hand Luke and The Graduate in with Caddyshack, Stand By Me and The Fugitive.
Turn on the television and it doesn't get a whole lot better. This branch of the Starwood (HOT) hotel network is contracted to Sonifi, a hotel entertainment group formed when investment firm Colony Capital dumped $70 million into once-bankrupt LodgeNet earlier this year. Sonifi just laid off 70 staffers at its Sioux Falls, S.D., headquarters in October and one glimpse at their offerings eliminates any mystery surrounding that move. Their service consists of a loud, wonky pay-per-view interface, a modest menu of channels that doesn't allow scrolling and blacks out big-ticket items like ESPN (DIS) - Get Walt Disney Company Report and TNTHD (TWX) altogether and has no discernible music option.
This Sonifi is a company learning the hard way that hotel guests are enjoying their stay in spite of its service, not because of it. As The New York Times unearthed after LodgeNet emerged from bankruptcy earlier this year, the number of hotel rooms it served globally dropped to 1.5 million in 2011 from 2 million in 2009. Its $421.3 million in sales two years ago was a 21% drop from a high of $533.9 million in 2008.
One look in the room surrounding Sonifi's sponsored televisions indicates why. Free wi-fi, while still not strong enough in many cases to support a hotel full of streaming video viewers, is ubiquitous. Starwood, meanwhile, has taken to either providing third-party device docks for its clock radios or installing docked radios itself. Not only does it not directly acknowledge video or audio streaming, it's seemingly unaware of how to make either of those services work for it in the way that Sonifi's outdated, dying model is.
Right now, Sonifi installs and maintains free televisions and shills video-on-demand options for fees that it splits with hotels. That approach is still lucrative enough to give Sonifi a hose of competitors including Salt Lake City's iBahn, Calgary's Guest-Tek and Broomfield, Colo.-based Roomlinx.
Each of them appears to realize that this approach isn't sustainable when guest are increasingly leaving the TV off and firing up their laptops or tablets to watch streaming content they're already paying for. When your Netflix (NFLX) - Get Netflix, Inc. Report, iTunes (AAPL) - Get Apple Inc. Report, Amazon (AMZN) - Get Amazon.com, Inc. Report or RedBox Instant (OUTR) libraries make the in-room lineup look like the pre-streaming leftovers at grandma's house, it's time to catch up.
Hotel execs say they get it, but they don't. Marriott (MAR) - Get Marriott International, Inc. Class A Report talks about bumping up bandwidth and somehow offering access to Netflix and YouTube (GOOG) - Get Alphabet Inc. Class C Report, but doesn't seem to have a plan to make it work. Hilton is talking about a per-program fee for such content -- yes, every YouTube short or Netflix show you watch would clock in at $2 to $5 -- while Starwood is playing around with Apple TV at its Aloft hotel in Apple's backyard of Cupertino, Calif.
People, it really isn't this difficult and you don't even have to start with big-ticket content. The W Hotel seems to fancy itself music savvy, but doesn't really carry that idea farther than its lobby. If you had a means of brining satellite radio or streaming music into each hotel room, wouldn't that strengthen your argument a bit? Wouldn't that only confirm that you know what all the kids staying at places like the Ace Hotel chain -- with its lobby turntables -- are listening to these days?
If only there was some well-tested example of how to make such a thing happen. Oh, wait: It's called every new car in North America. When Sirius XM (SIRI) - Get Sirius XM Holdings, Inc. Report knew it had a great product but was hard-pressed to come up with a way to get people to try it, it began striking deals with automakers to make their gear a part of vehicle entertainment systems. Those partnerships now include just about every major automaker and even luxury marques including Bentley and Rolls-Royce. Sirius-XM satellite radio is now installed in more than 54 million automobiles and should expand to 100 million by 2017. The percentage of folks who drop the service after its three-month trial period, meanwhile, has dropped below 2% for the first time this year.
Not to be outdone, Pandora (P) has partnered with 23 car brands to put its streaming service into more than 100 vehicle models -- with the company estimating that it will be in one-third off all cars sold this year. Ford (F) - Get Ford Motor Company Report and Microsoft's (MSFT) - Get Microsoft Corporation Report SYNC, General Motors' (GM) - Get General Motors Company Report IntelliLink, Toyota's (TM) - Get Toyota Motor Corp. Report Entune and BMW Apps have all made Pandora feel at home without requiring a driver to connect a device through Bluetooth or, worse, a cable.
Why Sirius-XM and Apple aren't in a death struggle with Pandora, Spotify, Apple and Rdio to get their proprietary technology into hotel rooms before the apps storm the lobby is anybody's guess. You have a captive audience that, at worst, is already subscribed to your service and just lacks access to it. At best, that same captive audience has never tried your service, doesn't know what it's about and hasn't had the opportunity to take it for a spin.
Come on, satellite and streaming music companies, you know how this works. You already load up rental vehicles with free trial versions of your service just to hook the suckers who'll spend enough time behind the wheel to hear the difference between your stations and the commercial-laden over-the-air radio that just keeps playing Lorde's Royals twice an hour.
You can leave it to hotels to bump up bandwidth, but you're assuming there's a whole lot in it for them. Maybe if you, oh, help subsidize some beefed-up wi-fi and smart televisions -- or sound bars, set-top devices or other smart items that could enhance the guest experience -- you could convince them to let you in without charging visitors some onerous fee for your services.
You're staring into an untapped market that's currently languishing amid borrowed discs, last generation's device docks, overpriced pay-per-view and fuzzy HGTV shows. You could give them a taste of something they love, make it worth hotel operators' while to provide it and reap the benefits in your subscription rates and sales later.
Whatever you do, just do it quickly. Hotel entertainment is a long '90s tech flashback with a brutal buffering rate. Give us an option we won't have to put in the room safe when we hit the pool or waffle bar.
-- Written by Jason Notte in Portland, Ore.
>To contact the writer of this article, click here: Jason Notte.
>To follow the writer on Twitter, go to http://twitter.com/notteham.
>To submit a news tip, send an email to: tips@thestreet.com.
RELATED STORIES:
>>If You Want To Sell Christmas Music, Put It On Vinyl
>>Holiday Music Has A Cash Register Ring To It
>>Stop Calling Music Indie -- There's No Such Thing
Jason Notte is a reporter for TheStreet. His writing has appeared in The New York Times, The Huffington Post, Esquire.com, Time Out New York, the Boston Herald, the Boston Phoenix, the Metro newspaper and the Colorado Springs Independent. He previously served as the political and global affairs editor for Metro U.S., layout editor for Boston Now, assistant news editor for the Herald News of West Paterson, N.J., editor of Go Out! Magazine in Hoboken, N.J., and copy editor and lifestyle editor at the Jersey Journal in Jersey City, N.J.