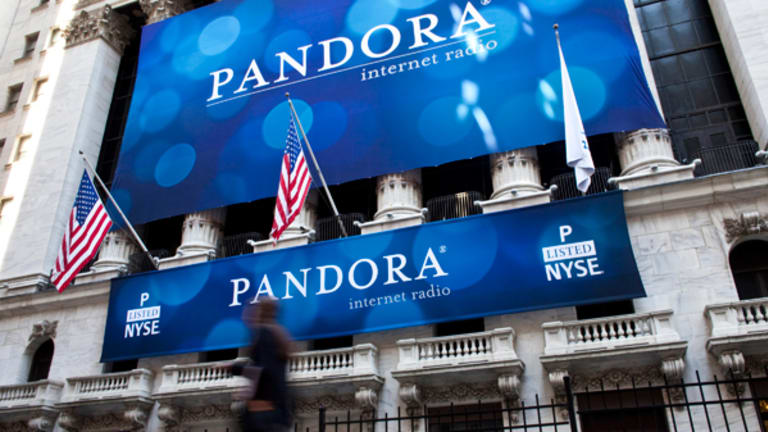 Pandora Is Killing Itself Right In Front of Our Eyes
Ignore earnings, Pandora's collapsing because it's focusing on the wrong business.
NEW YORK (TheStreet) -- Pandora's (P) finished. If you haven't already, get out while you can.
Here's the deal ... in as plain, simple and straightforward terms I can come up with.
A couple of years ago when I was bullish Pandora stock in the teens and high single digits, very few people understood the company's core business. They couldn't wrap their heads around the notion of Pandora redefining radio with a focus on personalization and discovery. This combo fuels Pandora's pitch of highly-targeted advertising directly -- and, now, through agencies -- to the folks who have historically bought traditional radio.
The second Pandora executives explained the model to me, I was sold. Obvious no brainer.
Over the last year or so, investors started to catch on. Wall Street became bullish, almost to an analyst. And the stock flew on an understanding of what Pandora was accomplishing with advertising, not to mention the company's ability to beat back every competitive threat that came its way.
But that storyline's no longer sexy. And it shouldn't be.
Pandora believes all it needs to do to remain Internet radio's leader is improve the listener platform and continue to poach advertising dollars from broadcast radio. The company remains hyper focused on that strategy and that strategy alone. This misguided stubbornness will mark the death of Pandora.
It's not that that business won't continue to do well. It will ... but, as Richard Tullo, who covers Pandora for Albert Fried, so colorfully states in a recent research note:
We still think Pandora's faces a significant growth rate decline and we think investors need to depart the bus and seek alternate modes of transportation ... If we are right and 1Q represents more then a seasonal dip and investors may be paying too much for Pandora shares which are transitioning from a secular growth story to a more slow growing seasonal growth story ... At issue in our view, is mobile video advertising is growing 57% according to eMarketer ... But just a 1% improvement in Pandoras mobile seasonal decline suggests mobile growth is failing to capture the budget dollars following into the space which includes social networks, TV, as well as IP radio.
Right on.
Growth will slow at Pandora, in part, because the company's a victim of its own success. The radio ad sale -- online or off -- has never been one to produce the type of exponential growth we saw from Pandora over the last year or two. As Tullo explains, Pandora lags companies such as Google (GOOG) - Get Free Report and Facebook (FB) - Get Free Report with respect mobile ad revenue acceleration. But, of equal importance, broadcast radio has gotten its act together.
Thanks in part to to its acquisition of Arbitron, Nielsen Holdings (NLSN) - Get Free Report is helping terrestrial radio utilize music preference and other types of data in increasingly innovative ways Pandora refuses to meaningfully explore, let alone implement and execute.
This should anger and scare Pandora's seasoned investors as well as those considering the stock. The only hope we have -- barring an epiphany at the highest ranks of Pandora's currently clueless regime -- is a company with resources and vision kicking the company's tires and buying it.
In an article where I argue it would make sense forGoogle (GOOG) - Get Free Report or Yahoo! (YHOO) to buy Pandora, I provide comprehensive explanations of what Pandora's not doing, but absolutely should be doing with the mounds of data it collects -- every second of every day and has been collecting every second of every day -- from its users for years.
Granted, without integration into the Google search infrastructure, Pandora can't do some of what I rundown in the above-linked article. But it still can do quite a bit with data ... enough to create the type of lucrative line of revenue Twitter (TWTR) - Get Free Report is already working aggressively to cultivate.
That last link -- you also need to go read it for background.
You should also read this excellent piece, published by Kara Swisher and Walt Mossberg's Re/Code -- The Future of the Music Industry Is Selling Audiences to Advertisers. I could link to my writing on the subject over the last year-plus, but I'll give somebody else the floor.
Pandora should also read that article.
While it's clearly in the best position to build a multi-faceted data business around music, there are others more than ready and willing to pass it by. Twitter has already started. If you think the new combination of Spotify and The Echo Nest hasn't, you're as out of the loop clueless as Pandora's CEO. And if Beats Music has done anything the right way, it's making Ian Rogers -- one of the pioneers on artist development via data and such -- the streaming service's CEO.
But, to reiterate -- what's really sad is that Pandora's the company that should be taking the lead here because the quality of its historical and real-time data is among the best there is, if not the best. Given that I was behind Pandora when nobody believed in it, it's painful to watch the company drop the ball.
On its present path, Pandora will wallow and quite possibly die. However, with an infusion of a common sense/vision cocktail, Pandora could avoid the carnage. But its leadership lacks something to make it happen -- the will, intellectual capability, vision, a true concern for the fate of the music industry, the desire to make more money for the company and its shareholders -- I don't know. 
Ugly. Very ugly situation. And it's about to play out. As usual, I'm probably six months to a year ahead of the curve. But, on the bright side of that, Pandora has the chance to heed the warning and make things right. And, given the number of people intelligently writing on data these days, it has quite a few smart minds to consult for guidance. 
--Written by Rocco Pendola in Santa Monica, Calif.
Rocco Pendola is a full-time columnist for
TheStreet
. He lives in Santa Monica. Disclosure: TheStreet's editorial policy prohibits staff editors, reporters and analysts from holding positions in any individual stocks.