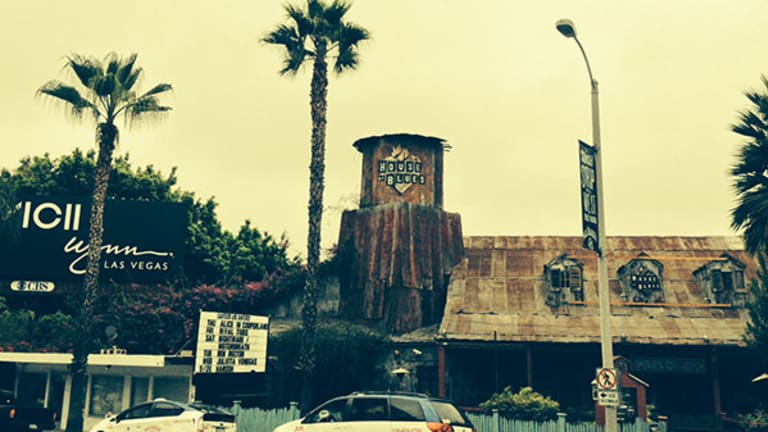 Pandora Has a Choice: Live or Die
A few things Pandora can do to ensure it remains the king of Internet radio.
NEW YORK (TheStreet) -- Over the last several months, I have shifted gears on Pandora (P) .
When the stock was toiling in the single digits, it was the time to tell the Pandora story nobody understood. Now that the thing has nearly quadrupled, what benefit is there for any of us to merely sing the company's praises?
It's an interesting aside, however, to consider how resilient P has become. Recall, back in the day, it gyrated wildly on every mention of
Apple's
(AAPL) - Get Apple Inc. Report
iTunes Radio or any hint at more competition. Now, it announces a secondary offering,
only temporarily and proceeds to shoot up another few percent to all-time highs.
Anyway, I have had requests (which, if I'm honest with you, means like one) to condense some of the more critical points I have made on Pandora into one article.
You can search
to find pieces that expand on each idea.
At this point, I'm of two minds on Pandora.
At it's strongest point ever, the company has, interestingly, never been more vulnerable.
But isn't that how it often works?
At its peak, who thought
BlackBerry
undefined
would completely self-destruct? And not enough people seriously acknowledge the notion of
Microsoft
(MSFT) - Get Microsoft Corporation Report
(and others) in every area from the living room to the enterprise.
Even without the emergence of iTunes Radio, Pandora operates at a critical juncture. The company must challenge itself or risk watching much of what it has built over the last decade slip away. It's never been about the quantity of competition it faces -- Pandora continues to persist -- it's about the increasing quality.
And I'm not talking about iTunes Radio. Apple has lots of work to do. It's idea of personalized radio, at this stage, appears to be little more than providing covers of songs originally performed by your favorites. As expected, even in discovery mode, iTunes Radio cannot live up to the intuitive precision of Pandora's Music Genome Project, particularly once it gets to know you well.
I'm talking about players such as
Rdio
and
Songza
that, seemingly under the radar, are making moves that will make what they do -- or end up doing -- more attractive to present Pandora diehards than anything Apple will bother taking on.
It's in this forward-looking spirit I offer these bullet points, structured to organize my thought flow rather than separate ideas.
Pandora absolutely must focus more on subscriptions. I said this before the company instituted a brief mobile listening cap that led to a surge in Pandora One subscribers. And I'm even more into the idea now.
It doesn't take a scientist who deals in rockets (or Elon Musk) to realize Pandora doesn't believe in the subscription model. That's an unfortunate miscalculation.
People want access to music -- personalized radio and on-demand. They no longer want (or need) to buy it. As such, it's a hell of a lot cheaper to pay a few bucks a month to a service or two in lieu of downloading dozens of songs. Despite the meme the music industrial complex likes to saturate the ether with, subscription services will soar over the next several years. Somebody just needs to properly/better present and market them.
If Pandora makes an acquisition that supplements what it already does (and I don't think it should), it must ensure it's a pure on-demand player. Instead of signing a deal with a never-was has-been like Cumulus Media (CMLS) - Get Cumulus Media, Inc. Class A Report, Rdio should've knocked on Pandora's door. Maybe it did. I don't know. However, if it did, Pandora likely spurned it (see bullet point two).
Pandora not only should, but absolutely needs to make complementary acquisitions. That means staying away from other Internet radio services and acquiring a company like Ticketfly. I will give you a link here as to not repeat my Ticketfly pitch yet again. See Who Will Pandora Acquire?
Drop the royalty fight. As far as I know Songza operates under the same statutory royalty scheme Pandora does, yet you don't see it complaining. At least not publicly.
Pandora is convinced it's correct on all counts on this thing. The company is as stubborn as the publishers, labels and advocacy groups. At some point, somebody needs to step up and act like an adult. While I agree -- Pandora is right in most areas of the debate -- it's going to have a difficult time winning the war of public opinion.
Stop playing victim to outrageous royalty costs. If Pandora really has a righteous argument, it will prevail. Instead focus on making your own breaks. That includes smart acquisitions that help harness the power of technology and big data to show the music industry, royalties aside, what an amazing partner Internet radio is and can be.
Use the Ticketfly acquisition to take on Live Nation Entertainment's (LYV) - Get Live Nation Entertainment, Inc. ReportTicketmaster. If there was ever an industry ripe for aggressive and righteous disruption its every single freaking aspect of the concert business, from huge arena shows to club gigs. Ticketfly has done a terrific job starting that process; Pandora could help take things to the next level.
That's an admittedly ambitious, though perfectly doable list. More than anything, it's necessary for Pandora to continue to not only thrive, but survive.
--
Written by Rocco Pendola in Santa Monica, Calif.
Rocco Pendola is a columnist and
TheStreet's
Director of Social Media. Pendola makes frequent appearances on national television networks such as
CNN
and
CNBC
as well as
TheStreet TV
. Whenever possible, Pendola uses hockey, Springsteen or Southern California references in his work. He lives in Santa Monica.