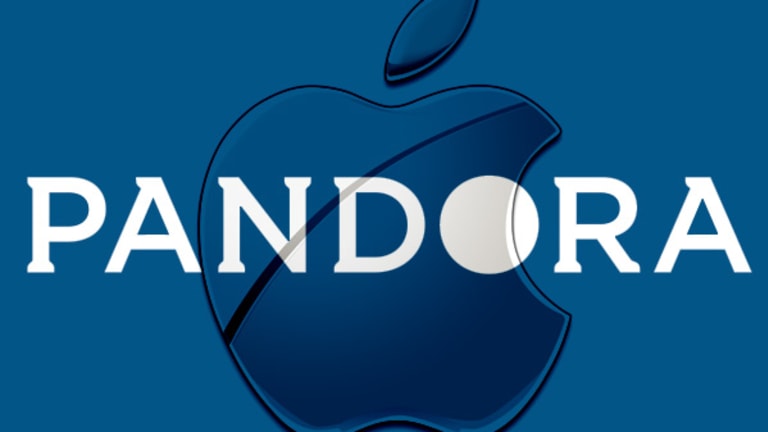 Pandora and Apple Will Bail Out the Music Industry
Streaming will keep the music industry growing for the next five years, but companies have to monetize service without cannibalizing business.
PORTLAND, Ore. (TheStreet) -- Streaming music won't stop the music industry's bleeding, but it may slow it just enough to let both artists and labels alike figure out its future.
A new report from English data firm Juniper Research finds that digital music industry will see worldwide revenue grow from $12.3 billion this year to $13.9 billion in 2019. Juniper's research indicates that even that grown hinges on the streaming music sector bringing in more cash as sales of digital downloads, ringtones and ringback tones continue to plummet.
That isn't exactly out of line with what Billboard and Nielsen Soundscan are seeing here in the U.S. During the first six months of 2014, Nielsen Soundscan found that on-demand streams through both audio and video services like Google's (GOOG) - Get Free ReportYouTube, IAC's (IACI) Vimeo, Spotify, Pandora (P)  and recent Apple (AAPL) - Get Free Report acquisition Beats Music are up 42% from the period last year. That's a jump from 49.5 million total streams to more than 70 million and includes a 50% leap in audio music streaming to 33.6 million. That still lags behind video streaming, which accounted for 36.6 million music streams in early 2014 and jumped 35% from last year.
That growth comes as any album that isn't released on vinyl dies a horrible death. Nielsen Soundscan equates 2,000 streams to one album, but even with that in the equation, album sales are down 3.3% through June. Take streaming out of the mix and you're looking at a 14.3% drop from the same time last year. The nearly 20% drop in compact disc sales over the last year is almost expected as CDs continue their post-'90s free fall, but the 11.6% drop in digital album sales and 13% drop in digital track sales is far more troubling.
Digital download sales fell for the first time last year and aren't coming back. People aren't loading up their smartphones with songs anymore and aren't carrying iPods anymore.
That's not great news for the music industry, which uses digital track sales as a crutch to limp toward respectable numbers. When you factor in "Track Equivalent Albums" -- a stat  that equates 10 of an artist's tracks with one album -- Katy Perry, Pharrell Williams, Lorde and Beyonce all had albums sell 1 million copies and go platinum this year. Take those individual tracks away and reduce album sales to strictly physical and digital albums in their entirety, and suddenly Beyonce, Lorde, Coldplay and Eric Church are the only artists to go gold and break 500,000 sales this year. The only album to go platinum by that measure? The soundtrack to Disney's Frozen, with 2.7 million copies sold in the first six months of 2014.
According to Nielsen, album sales of any kind plummeted from 755 million copies in 1999 to just 290 million last year. Compact disc sales have fallen steadily from 730 million in 2000 to just 165 million last year. This year, the Frozen soundtrack was the only digital album to sell 1 million copies -- or even more than 350,000.
Meanwhile, even as digital track sales fall, singles sales remain strong. Pharrell's Happy sold 5.6 million copies in just six months. Katy Perry and Juicy J's Dark Horse broke 4 million, but even artists a bit further down the chart are more representative of what anyone's actually listening to. DJ Snake, Iggy Azalea, Bastille and Aloe Blacc are absent from the first-half album charts, but all sold more than 2 million copies of their singles Turn Down For What, Fancy, Pompeii and Man.
Move it over to on-demand streaming, and those 2 million to 5 million sales turn into 40 million to 65 million audio streams and 70 million to 120 million video streams. Psy's Gangnam Style still managed 69 million video streams this year after making more than $1 million off of streaming royalties alone last year. Google CEO Larry Page watched Psy's viral hit rake in $2 per 1,000 pageviews and called it "a glimpse of the future." By that measure, the 122 million views Perry's Dark Horse received through June adds up to $244,000 alone. It isn't seven figures, but it's a whole lot of cash for one song doing six months of work.
Companies that aren't Google still haven't quite figured out how to make streaming generate a ton of money for them, but that doesn't mean they aren't trying. Juniper observed that offerings from streaming music providers, such as Spotify and Pandora, will increasingly find themselves competing with personalized services from bigger firms including Google and Apple.
As it stands, Pandora is already leaning more heavily on advertising, adding more commercials to its free service while raising the monthly cost to Pandora One subscribers from $3.99 to $4.99 earlier this year. While both Pandora (with 31% of the streaming market) and ClearChannel's (CCO) - Get Free ReportiHeartRadio (9%) have made their free services work with help from advertisers, they're starting to sound a whole lot like regular radio at a time when they can ill afford to. Newcomers like Apple's iTunes Radio, with 8% of the total streaming audience, will only get more dangerous as they develop a commercial-free strategy. Apple's been trying to make iTunes Radio pay off by coaxing users into purchasing downloads of the songs they're hearing. That strategy has backfired spectacularly, with only 2% of users ever pushing the "buy" button.
Amazon, meanwhile, worked its Prime Music streaming service into the $99 annual price of Amazon Prime -- which also includes free video streaming and two-day deliveries from Amazon's online marketplace.
Juniper notes that there are still large threats to the music industry from piracy in markets like China, but is especially wary of the industry eating itself as Apple, Amazon and Google press further into the streaming business. Apple's recent acquisition of Beats Music shows it's serious about taking the next step, while both Amazon and Google already have the streaming infrastructure in place to be a serious threat to Pandora, Spotify, Rdio and other strictly streaming services.
As the music industry continues to gravitate away from an ownership model and toward its streaming future, it'll take any gains it can get. A robust streaming ecosystem is great for everyone involved, but if cannibalization limits both artist and label options, the same losses plaguing physical album sales and digital album and track sales now could kneecap streaming in the not-so-distant future.
-- Written by Jason Notte in Portland, Ore.
>To contact the writer of this article, click here: Jason Notte.
>To follow the writer on Twitter, go to http://twitter.com/notteham.
>To submit a news tip, send an email to: tips@thestreet.com.
At the time of publication, the author held no positions in any of the stocks mentioned. This article is commentary by an independent contributor, separate from TheStreet's regular news coverage.