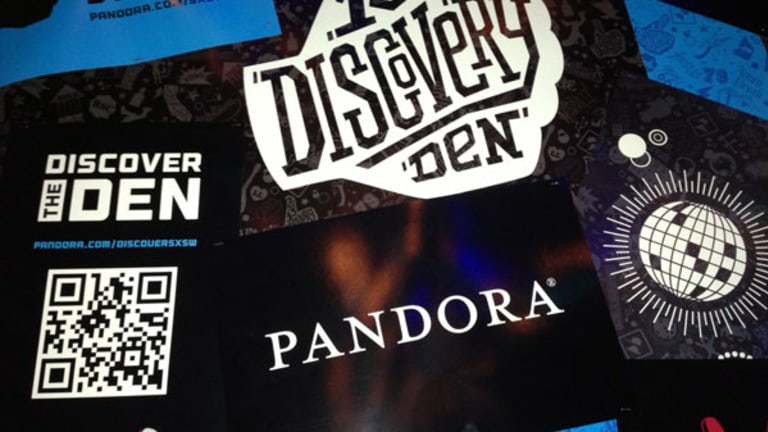 Pandora and 35 Billion Data Points of Light
Comments from Pandora's CFO at a recent investment conference shed light on what makes the Internet radio pioneer tick.
NEW YORK (TheStreet) -- Pandora's (P) CFO Mike Herring spoke at a Credit Suisse technology conference Wednesday.
While he didn't break any news, he did point something out that probably doesn't get brought up enough. And I'm just as guilty as the next guy.
Here's the comment in question, culled from the Webcast of the event:
And I think there is a sentiment that ... we will be a meaningful source of real revenue for the long-term instead of a short-term problem that's reducing album sales or downloads or something. I think that realization that what the future looks like is slowly coming to the content owners.
We have positive conversations and always have. The irony is, we actually work very closely with the labels for example on Pandora Premieres and the concerts we do and a lot of other pieces of our business where we have very friendly ... relationships ...
In that excerpt, Herring was speaking about Pandora's relationship with the music industry.
Often, the media -- and, this time, I implicate myself as much as anybody else -- creates an adversarial dichotomy between Pandora and the music industrial complex that doesn't necessarily exist. As Herring explains, it's not completely an us vs. them relationship.
First, as Pandora continues to cement itself as the Internet radio mainstay, it generates (and here I go using a combative term) leverage over the music industry in the royalty (cough, cough) fight.
In all seriousness, though ... downloads are going the way of physical sales. That's hardly Pandora's fault. And no matter how much the music industry holds out hope, Apple (AAPL) - Get Apple Inc. Report probably doesn't care if the ownership or access model wins out. It wins both ways.
This reality effectively forces the music industrial complex to do what it should have done at least a couple years ago -- embrace streaming. And, naturally, in this scenario, Pandora gets the first hug.
Second, promotions such as Pandora Premieres and Pandora Presents don't just fall out of the sky. They spring from mutual cooperation.
And they work.
Another tidbit from the conference that warrants mention:
You mentioned Arbitron, they currently don't measure streaming services like Pandora, now that they've been acquired by Nielsen ... we're optimistic that they'll embrace (the) future ... allowing us to be measured alongside broadcast radio, that's what we've always wanted ...
Though it rarely gets discussed on Wall Street or in the financial media, the notion of Pandora's ratings presented alongside terrestrial radio ratings is critical. The broadcast radio folks want absolutely no part of it, however it absolutely will happen.
Clear Channel's puppets in sales (e.g., the folks at Katz Radio Group) fought against Pandora gaining access to the systems that allow it to seamlessly become part of advertising agency buys. That happened anyway. It dealt another blow to traditional radio. And this will as well.
When prospective advertisers see an objective and parallel measure of how Pandora stacks up against individual radio stations in markets across the country, it's game over. There will be virtually no reason to do an ad buy that doesn't include Pandora. Every ad buy that matters will include Pandora.
But probably the most interesting, if not important thing Herring brought up deals with data:
... thumbs are now above over 35 billion thumbs since inception, that doesn't -- that's not just a measure of people interacting with our products, it's also an important source of data that we used to improve the product, it's a proprietary data source that just keeps getting bigger, just keeps getting more valuable and helping us to deliver the right song play list as you're listening to music.
Thirty-five billion thumbs up and thumbs down data points. That's nothing short of freaking incredible. In fact, Pandora has an enviable business on the basis of that data alone.
And, while it has harnessed this data to improve the user experience, it has barely begun unleashing the full force of the data to drive more advertising sales and help artists connect with their fans. That's all early innings stuff at this point. But it's getting off the ground fast, as evidenced by the recent increase in Pandora Presents shows.
It's also important to note that Apple isn't focused -- even a little -- in the areas that are Pandora's bread and butter. That's taking advertising dollars away from terrestrial radio and forging partnerships with music labels and musicians of all sizes. As Herring said at the beginning of his remarks:
Pandora has had a single-minded strategy around providing a high quality music, radio listening experience and thats allowed (Pandora) to flourish despite competition, (including) the most recent launch of iTunes Radio ...
--Written by Rocco Pendola in Santa Monica, Calif.
Rocco Pendola is a columnist for
TheStreet
. Pendola makes frequent appearances on national television networks such as
CNN
and
CNBC
as well as
TheStreet TV
. Whenever possible, Pendola uses hockey, Springsteen or Southern California references in his work. He lives in Santa Monica.