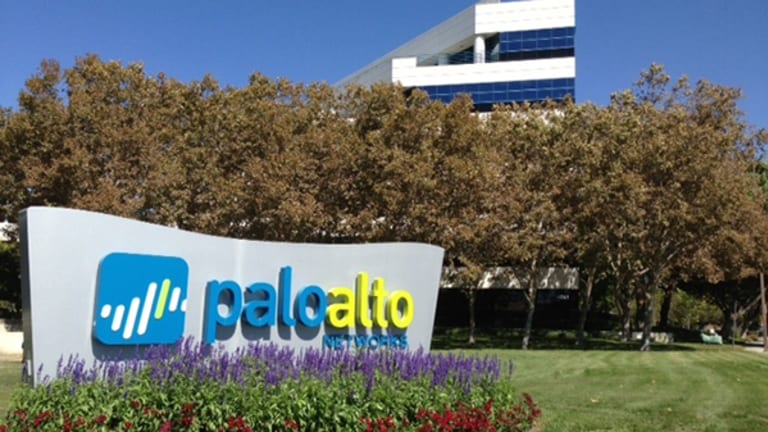 Palo Alto Networks -- Still a Solid Buy Despite Dominant Stock Performance
Given the rate at which Palo Alto is growing both revenue and earnings, these shares could reach $200 in the next 12 to 18 months, delivering 23% gains.
NEW YORK (The Street) -- Shares of Palo Alto Networks (PANW) - Get Report, a leading provider of cyber security and anti-hacking services, are on fire. The stock is up 33% year-to-date, dominating both the broader averages and the iShares North American Tech-Software ETF (IGV) - Get Report, which is up 10.5% on the year. Despite the strong performance, don't hold your breath for a pullback in the stock after the company reports fiscal third-quarter earnings results Wednesday. It's not likely to happen.
Palo Alto Networks closed Friday at $162.87, after netting a new all-time intraday high for the fourth straight day, reaching $163.21. And as impressive as the 33% year-to-date gains may seem for Palo Alto Networks' stock, it has had a roughly 134% advance in the past twelve months.  If you've held Palo Alto Networks' stock for the past three years, you're up more than 206%.
Why has the stock done so well? Cyber criminals aren't going away. And hackers have become more sophisticated today than they've ever been, especially given the growth in mobile devices and things that can easily be used to track and steal data from any remote location. Corporations demand better security services and products to protect their data. In other words, the more bad guys there are out there, the better it is for Palo Alto Networks' business.
Sure, Palo Alto is not alone. Competitors like Cisco (CSCO) - Get Report and Fortinet (FTNT) - Get Report understand these same opportunities and have positioned themselves to capitalize on emerging threats, too.
Still, Palo Alto Networks has several advantages. For instance, it sells proprietary hardware and software architecture that protects large applications running on corporate networks.
These security technologies include Web filtering and application control features designed to prevent hackers from accessing computers and taking down Web sites. Palo Alto puts the company and the network it protects in control of their environment. And for this, the company continues to enjoy extraordinary demand for its technology.
In the second-quarter, for instance, Palo Alto posted 53% year-over-year jump in revenue, beating estimates by almost $14 million.
Just as impressive, WildFire -- the company's subscription service, helped with a 29% jump in services revenue.
Combined, Palo Alto added some 1,500 new customers in last quarter, raising its consumer base to more than 22,500. That's a 40% increase over the past year.
With Palo Alto now reaching a point where almost half of its total revenue is recurring, this further minimizes some of the risk in owning the stock. Investors should expect even better results Wednesday. Topping expectations is something Palo Alto has become known for.
For the quarter ended April, earnings are expected to climb 82% year-over-year to 21 cents a share, while revenue of $223 million calls for 48% increase. For the full fiscal year ending July, estimates earnings of 78 cents a share implies a 95% year-over-year increase on revenue of $880 million, up 47% year over year.
With dominant numbers such as these, it's no surprise Palo Alto Networks' stock has been a winner. Better still, the stock has a consensus buy rating and an average price target of $165.
With the stock now around $163, it could see several upgrades given the rate at which Palo Alto is growing both revenue and earnings. Shares could reach $200 in the next 12 to 18 months, delivering 23% gains.
This article is commentary by an independent contributor. At the time of publication, the author held no positions in the stocks mentioned.