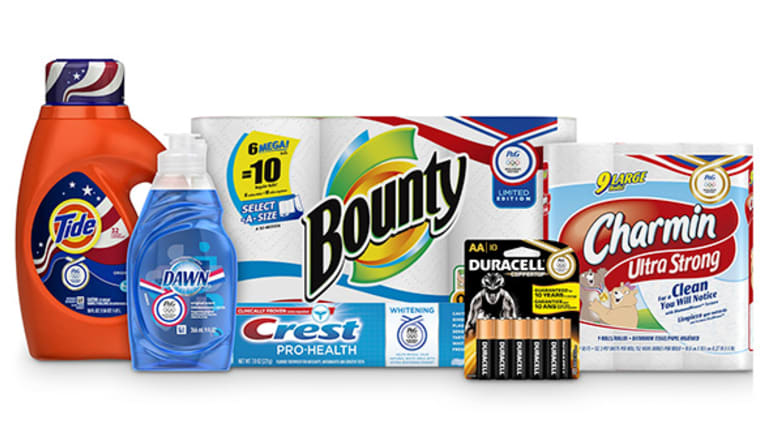 P&G Beats Wall Street Estimates but Trouble Still Looms
The consumer packaged goods giant has been divesting brands to focus on fewer categories.
Procter & Gamble (PG) - Get Procter & Gamble Company Report reported earnings per share for its third quarter of 86 cents Tuesday, beating Wall Street analyst estimates of 82 cents.
But while the short-term outlook is good, the Cincinnati-based conglomerate may be worrying long-term because the volume for its products is down substantially.
Except for fabric care and home care products, P&G saw volume declines in all of its major segments, including beauty, health care and baby, feminine and family care. Organic volume declined the most for the category of grooming, down 5%.
As of mid-day trading, the company's stock was down more than 2%, to trade at nearly $79.50 per share on heavy volume.
While the company has boosted the prices it charges for its products to compensate for the fact it is actually sells less of them, that trick can only work so long.
P&G, like companies on the food side of the aisle, will eventually need to find ways to grow again.
In fact, the consumer products group may need to make acquisitions of growth companies in its key segments.
In order to help turn around the company, Procter & Gamble is also jettisoning brands and divisions, in order to focus on its major brands such as Tide in key segments.
One of the more notable transactions was the sale of Duracell battery business, in a deal valued at roughly $3 billion, to Warren Buffett's Berkshire Hathaway (BRK.A) - Get Berkshire Hathaway Inc. Class A Report in 2014.
The European Commission in early February gave its stamp of approval on P&G merging 43 of its beauty brands with Coty (COTY) - Get Coty Inc. Class A Report via a Reverse Morris Trust transaction valued at $12.5 billion.
P&G, in an e-mail, said that it is still in the process of transforming its portfolio.
The company's CFO Jon Moeller noted in the third quarter earnings webcast that P&G has "divested, discontinued, or consolidated 55 brands, including the completion of the Duracell transaction at the end of February," over the past 18 months.
He said that P&G has "50 more brands in the exit process, including the 41 Beauty brands in the transaction with Coty, which we're on track to close the deal in the second half of the calendar year."
Moeller said that, on the whole, the conglomerate will exit 105 brands, representing about 6% of fiscal 2013 profit.
P&G declined to comment further on the matter.
P&G, however, does pay a healthy dividend yield. Stephen Powers, an analyst sat UBS, projected a dividend yield of 3.4% in a report issued on Tuesday.
In the third quarter, the company said it bought back $1 billion worth of stock and paid out $1.9 billion of dividends.
Meanwhile, the consumer products conglomerate said net sales or revenue was $15.8 billion, a decrease of 7% compared to the same period last year. The company blamed the slide on shifting foreign exchange rates and to a lesser degree Venezuela and divestitures.
As previously reported by TheStreet, Procter & Gamble has a "buy" rating and a letter grade of B+ at TheStreet Ratings because of the company's increase in net income, expanding profit margins, good cash flow from operations, largely solid financial position with reasonable debt levels by most measures and growth in earnings per share.