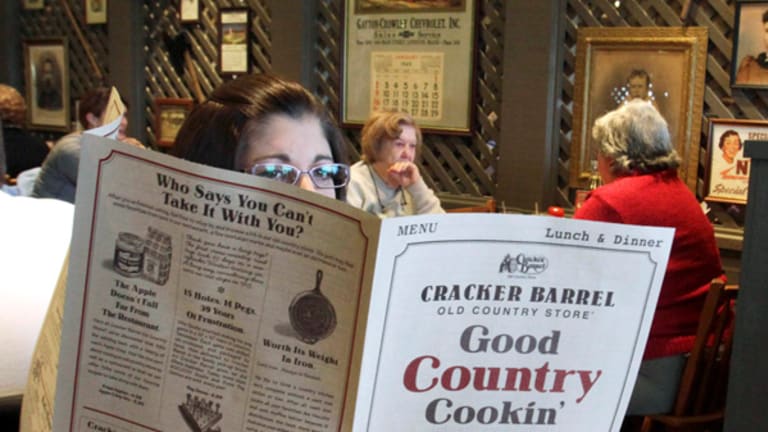 Owning Real Estate Is Part of Restaurants' Value
Great locations can be sold to raise cash or held just in case.
NEW YORK (TheStreet) -- As a value investor, I've long been fascinated by companies that own substantial amounts of real estate. Assets are a key component of value investing, for me anyway, and real estate can play a big role. In some cases, it may be raw land; in the case of restaurant names, it's land and buildings.
While owning land and buildings is certainly not an instant recipe for success as a restaurant investor, it can sweeten the deal. Since many of the companies I research and/or own have a value flavor, are in distress, or are trying to right the ship, it's important to know what is supporting book value; what owned assets might have some real value, could be of interest to potential acquirers, or could backstop the company in case of bankruptcy.
One of the calculations that I use in these situations is enterprise value to owned location, EV/OL, a homegrown calculation. This will not provide you with an apple to apples comparison across companies because all real estate is different and the value depends on quality, location and other factors.
While my EV/OL calculation cannot account for the many factors invoIved in assessing real estate, it can be used this as an indicator, a way of measuring the current value of a company solely on owned real estate. Keep in mind that the enterprise value calculation considers company debt, which is important because many names that own a lot of real estate may also have significant debt.
Take
Cracker Barrel
(CBRL) - Get Free Report
for instance. While it is not currently in distress, and has enjoyed an incredible run from less than $12 in late 2008, to $80. The company's real estate was a factor for me when I initially took a position. With a current enterprise value of $2.28 billion, the company owns 409 of its locations. That equates to an EV per owned location of $5.6 million. This calculation places no value on the business itself, future cash flow, or any other assets beyond real estate.
Here's the same calculation for some other restaurant names that own a significant amount of real estate; (this is by no means an exhaustive list of every chain):
While I'd never buy a restaurant name solely based on real estate, it can sweeten the deal. Take Denny's for instance. There's no way that the company's real estate is worth anywhere near the $8 million EV/OL calculation. But, this real estate can still be sold; it still gives Denny's some options as the company continues to pay down debt, and rebuild the brand. I owned Denny's until late 2012, and had a very nice run with the name. When I took the position, the company was fighting its way back, and has done a nice job so far in re-establishing the brand.
In Cracker Barrel's case, we know that in 2009 the company did a sale/leaseback transaction for 15 stores for $45.2 million, or just over $3 million per store. Keep in mind, this calculation considers nothing other than real estate.
If nothing else, the EV/OL calculation can give you an idea of how the market is valuing a name based solely on real estate. It is far from a perfect measure, by any means. It's Just another tool in the arsenal. Company owned real estate will not put people in the seats, will not drive comparable same store sales, combat rising food costs or counter bad management.
Finally, this piece is not intended to be bullish for restaurants. While I've owned WEN, DENN, RT, and CBRL in the past and made money in varying degrees on all of them, I have grown cautious with the sector, primarily because of the specter of rising food costs. At this point, I have exposure to two restaurant names, indirect ownership of
though
Biglari Holdings
(BH) - Get Free Report
, and
Cosi
undefined
, which is a long-shot turnaround play.
At the time of publication the author is long BH, Cosi.
This article is commentary by an independent contributor, separate from TheStreet's regular news coverage.
Jonathan Heller, CFA, is president of KEJ Financial Advisors, his fee-only financial planning company. Jon spent 17 years at Bloomberg Financial Markets in various roles, from 1989 until 2005. He ran Bloomberg's Equity Fundamental Research Department from 1994 until 1998, when he assumed responsibility for Bloomberg's Equity Data Research Department. In 2001, he joined Bloomberg's Publishing group as senior markets editor and writer for Bloomberg Personal Finance Magazine, and an associate editor and contributor for Bloomberg Markets Magazine. In 2005, he joined SEI Investments as director of investment communications within SEI's Investment Management Unit.
Jon is also the founder of the
, a site dedicated to deep-value investing. He has an undergraduate degree from Grove City College and an MBA from Rider University, where he has also served on the adjunct faculty; he is also a CFA charter holder.