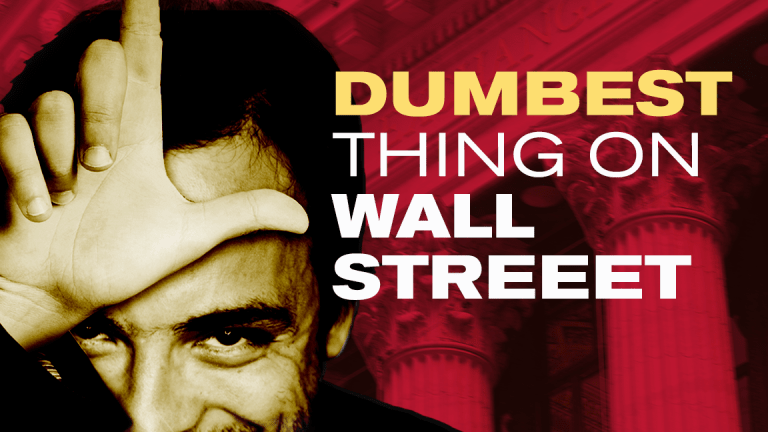 Overly Optimistic Tesla Bulls Are the Dumbest Thing on Wall Street
Tesla only has so long before those evangelists that got it on its feet begin to cast doubt. It's now or never, Mr. Musk.
A leopard never changes its spots. Neither will Elon Musk.
His electric car baby Tesla Inc. (TSLA) - Get Free Report has been one of the most hyped stocks in recent history, soaring over 1,650% since it was first listed in July 2010. During the same time, the S&P 500 Index has increased by about 150%.
For all its buzz, Tesla has under-delivered.
Tesla is burning through cash and failing to meet production goals, notably with the new Model 3. Soon enough, it's going to have to find a way to get its hands on more greenbacks to satisfy Musk's plan for auto domination. Tesla is on track to record negative free cash flow to the tune of $1.025 billion in the third quarter, according to FactSet. Talk about far from electrifying. 
Cowen analyst Jeffrey Osborne points out Tesla's failure so far to offer a detailed plan to manage its cash burn. Aside from an August $1.5 billion junk bond offering that should be realized in the third quarter, Tesla has not cleared up what's eating up its cash specifically.
The cash problem could get worse as the firm pours funds into creating broader infrastructure for the electric vehicle industry. Even Morgan Stanley's Adam Jonas, a noted Tesla bull with a $379 price target on its stock, called infrastructure the "elephant in the room" for EV manufacturers.
Tesla's cash problem might not be as nightmarish as some expect, as it could sell a large proportion of Model S and Model X units from inventory, Jefferies analyst Philippe Houchois told TheStreet. But even then, investors should expect slimmer margins on the Model 3 than older, more expensive units because the batteries in the Model 3 cost more to make compared to the retail cost. 
"Tesla is allocating capital to a business that will not offer returns but is integral to their business model," Houchois said. By siphoning capital into their batteries operations, Tesla is shooting itself in the foot -- it needs the batteries, but maybe it ought to reconsider if it needs to make the batteries. Bizarre stuff. 
To be sure, investors might still not get the answers they need on earnings day Wednesday.
Musk and his team have historically taken earnings calls as an opportunity to toot their own horn, breed excitement and prove they can effectively change the paradigm of human existence. At other times, Musk sounds as if he would rather be hanging out at the Space X campus instead of fielding critical analyst questions. 
"I don't think it can be another Tesla communications project where they throw out projects that will save the world," Houchois said. "They're going to have to be more granular [with Wall Street]."
Houchois has a sell rating on Tesla due to the risk of a liquidity crunch, production concerns and failure to properly utilize vertical integration.
Sure, Tesla is a young company with a wide umbrella of business activities (one being hawking SolarCity solar panels). But right now, it's known for its cars. It should be focusing on its cars. But it simply can't make the cars quick enough to support its infrastructure investment. 
Jonas wrote in an Oct. 19 note that "Tesla has made the biggest proprietary investment in superchargers and destination chargers globally...In most communities, we believe this infrastructure is larger than it needs to be." Tesla is building a network of chargers in anticipation of Model 3 cars effectively taking over the U.S. Why? There aren't enough to populate a suburban neighborhood, let alone run coast to coast.
With all the check marks against its business plan, prominent investor David Einhorn may be onto something with his Tesla call. 
Greenlight Capital's Einhorn continues to bet that Tesla's share price will drop in the future, telling his $7 billion activist fund's investors this week that the automaker and energy storage company's shares had an awful quarter and "deserves much worse."
"While the CEO [Elon Musk] makes bold claims about TSLA's superior prowess, continued production shortfalls, defects and product recalls disprove him," Einhorn said in a letter to investors obtained by TheStreet. "TSLA faces competition from existing [manufacturers] that have decades of scale manufacturing experience."
Greenlight Capital reportedly has a short position in Tesla, which means the fund profits if its share price drops.
Silly Tesla bulls -- you thought you had it all figured out. 
More of What's Trending on TheStreet: