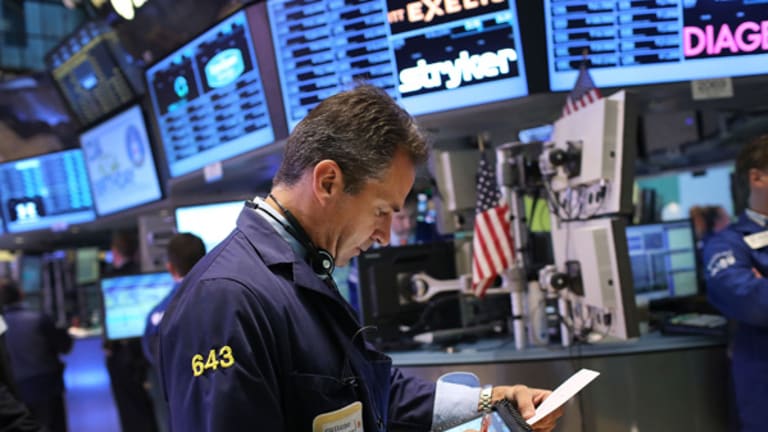 Overlooked in Apple Noise, Good News From Smaller Names
Some opportunities emerged in the mixed bag of tech stocks earnings Thursday.
NEW YORK (TheStreet) -- While many were focused on quarterly results from Apple (AAPL) - Get Apple Inc. Report and Amazon (AMZN) - Get Amazon.com Inc. Report Thursday, I was looking to those of some of the smaller, more underfollowed names. That's where I often find the most interesting opportunities.
While both Apple and Amazon disappointed investors yesterday, it was a mixed bag elsewhere in the markets. However, there's little doubt that this quarter in aggregate has had its share of disappointments and is raising questions about the real state of this economy.
In small-cap technology/electronics,
Electro Scientific Industries
(ESIO) - Get Electro Scientific Industries, Inc. Report
reported better-than-expected second quarter revenue after the market close ($80.2 million vs. $77.7 million) and earnings per share (23 cents vs. 19 cents), but gave guidance that the next quarter will likely be below consensus.
The company currently trades at just 1.35 times net current asset value, and ended the quarter with nearly $173 million or $5.93 per share in cash and short-term investments and no debt. Unfortunately, investors have not been rewarded by this name in 2012, but that's been par for the course for names in this sector.
AVX
(AVX) - Get AVX Corporation Report
also announced better-than-expected revenue ($360.8 million vs. $349.6 million) and earnings in-line with expectations. Shares were rewarded with a 4% advance.
Here's yet another small electronics name trading at less than 2 times net current asset value (1.37) and loaded with cash. AVX ended the quarter with $887 million or $5.23 per share in cash and short-term investments. Management however, warned that long-term orders are under pressure, given all of the economic uncertainties. AVX shares are down more than 50% year to date.
Benchmark Electronics
(BHE) - Get Benchmark Electronics Inc. Report
reported revenue in line with the consensus and earnings ($.31) a penny above consensus. However, the company issued guidance that suggested some difficulties ahead -- a recurring theme -- and shares were initially hammered, down as much as 18% intraday, before ending the day down just over 5%.
You can add BHE to the list of companies trading cheap relative to net current asset value at 1.03 times NCAV, and holding a large stake of cash, $326 million, or about $5.72 per share.
Overall, small electronics names appear to be very cheap, but they've been that way for quite a while now. At some point it begs the question as to whether this is just the "new normal." Still, it's difficult not to at least be enticed.
Consumer discretionary companies also had an interesting day.
Arctic Cat
(ACAT)
, the epitome of small discretionary names, has been a stellar performer in recent years. In fact it was not all that long ago it traded for less than 1.5 times net current asset value.
Since then, the company has often put up better-than-expected quarterly numbers and the stock was a five-bagger between the summer of 2010 and this past April. More recently, expectations have risen, leaving no room for disappointments.
Friday the company reported earnings that were a penny better than the $1.79 consensus, and revenue of $229 million that was 1.7% below the $232.8 million consensus. While that was not a bad quarter by any stretch, Mr. Market rewarded ACAT shares by giving them a 10% haircut.
Meanwhile,
Cabelas
(CAB)
, which has been virtually unstoppable the past 3 ½ years, had a rough day, falling 16%. This company has been better than a 10-bagger since late 2008, hitting on all cylinders, at times misunderstood by the markets.
Thursday's numbers were not that bad. Revenue was just 1.5% below expectations ($752.77 million vs. $741.17 million) and earnings were in line with the consensus. Company guidance moving forward was also fairly positive, and this company is still in growth mode, adding stores.
I chalk the drubbing shares suffered Thursday to profit taking more than disappointing numbers. We are in a period of great uncertainty; an election, the "fiscal cliff", you name it, and investors will take money off of the table at the drop of a hat. Or perhaps, with the incredible run Cabelas shares have had, at the specter of increasing capital gains rates.
There was good news elsewhere: underfollowed names such as
Deluxe
(DLX) - Get Deluxe Corporation Report
,
Lancaster Colony
(LANC) - Get Lancaster Colony Corporation Report
, and net/net
Ingram Micro
putting up better than expected numbers.
A mixed bag so far, but it's not over yet.
At the time of publication, the author was long ESIO, IM.
This article is commentary by an independent contributor, separate from TheStreet's regular news coverage.
Jonathan Heller, CFA, is president of KEJ Financial Advisors, his fee-only financial planning company. Jon spent 17 years at Bloomberg Financial Markets in various roles, from 1989 until 2005. He ran Bloomberg's Equity Fundamental Research Department from 1994 until 1998, when he assumed responsibility for Bloomberg's Equity Data Research Department. In 2001, he joined Bloomberg's Publishing group as senior markets editor and writer for Bloomberg Personal Finance Magazine, and an associate editor and contributor for Bloomberg Markets Magazine. In 2005, he joined SEI Investments as director of investment communications within SEI's Investment Management Unit.
Jon is also the founder of the
, a site dedicated to deep-value investing. He has an undergraduate degree from Grove City College and an MBA from Rider University, where he has also served on the adjunct faculty; he is also a CFA charter holder.