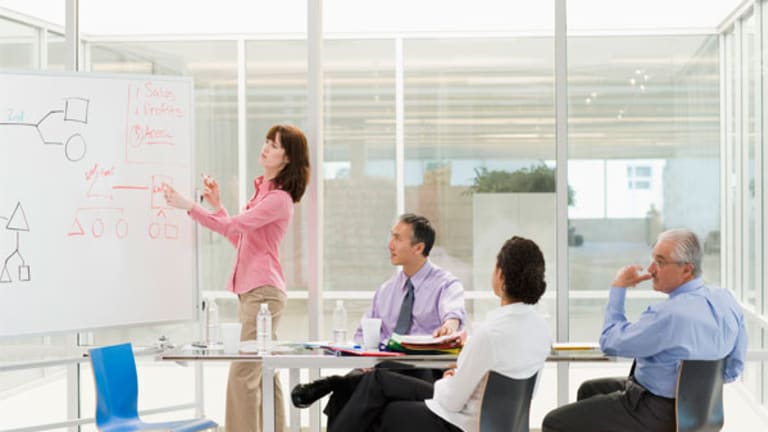 Oscar Night: Ask Noah
Noah Kass gives his take on this year's best movies.
The following commentary comes from an independent investor or market observer as part of TheStreet's guest contributor program, which is separate from the company's news coverage.
NEW YORK (
) -- Ladies and gents, I will be venturing away from the usual "Q & A" format to weigh in on one of my favorite yearly TV sports: Oscars Sunday!
Over the years my relationship with the Oscars has shifted. In a former life, I was an unemployed actor, working various temp jobs and mindlessly searching the trade papers for auditions. I watched the Oscars jealously, like an angered little boy, offended that the world hadn't recognized me.
My actor friends and I would gather together glaring at the television, attempting to impress one another by mumbling incoherent messages about the pointlessness of measuring artistic expression. Upon realizing it wasn't my lot in life to be the next Dustin Hoffman, my ever evolving Oscar relationship changed. I actually began to enjoy them.
Today, as your run of the mill movie buff, I'm all in! From Joan Rivers' red carpet to the final best picture announcement, I relish every single moment.
Do not worry, folks. I realize I am watching beautiful multimillionaires congratulate themselves on being beautiful multi-millionaires. Regardless, it is fun. The Oscars are a wonderful distraction for all of us. They allow us to escape into fantasy, and for at least a few hours take life a little less seriously.
I fancy myself an amateur movie critic, so with this in mind, here are the 2012 Best Picture nominees, through the "ASK NOAH" lens! I warn you I am a tough and biased reviewer.
The Artist
Memory: I attended this cinematic experiment with my beautiful girlfriend Jessie at a fancy art house movie theatre. The popcorn was ridiculously expensive but unusually tasty.
Review: Great idea. Perfectly executed. Unbelievably boring. There was basically no talking, because of that, I basically had no interest.
Extremely Loud and Incredibly Close
Memory: I was very excited to see this film. I went after work with one of my best friends, Michelle, and the dynamic duo of Christina and Jared.
Review: It was a really great book. Sadly, I felt that greatness was lost in translation. I spent most of the movie snoring away.
Hugo
Memory: It was a Saturday morning, and I wanted to see a movie alone. I remember being embarrassed having to wear those funny 3-D glasses.
Review: This film was a mix of special effects and realism. There were whole stretches of time when I lost the storyline. I wasn't quite sure what the point of the film was. I love Scorsese. I did not love this.
The Tree of Life
Memory: Everything about this movie remains a mystery to me. I have been told that I slept through this one as well, yet all I remember was feeling adrift and sad afterwards.
Review: This movie hardly made any "real" sense to me. The first hour felt like pure flashback hell. The second hour was bizarre, upsetting and I am not quite sure if I was watching a film or having continuous nightmares. Brad Pitt was strong, but I would not recommend the film.
War Horse
I did not see this movie, but the play was incredible.
The Help
Memory: I saw this movie in Long Island with my parents. After, at dinner, I had the best chicken Milanese in the history of the world.
Review: It was okay but personally, I do not enjoy having Emma Stone teach me about race relations but I do get the appeal. This film was very well-made, yet it didn't exactly change my perspective on history or race relations. A few solo performances in this film were deemed Oscar nominee-worthy from the start, almost as if they were written that way purposely? Hmm?
The Descendants
Memory: Alone again. Of note, I snuck a Starbucks peppermint tea and turkey sandwich into the theatre. This wasn't easy, especially for someone as uncoordinated as I.
Review: I enjoyed seeing George Clooney stretch himself as an actor, and the director Alexander Payne has never made a bad picture. The Descendents is an effective morality tale about family and grief. It works.
Midnight in Paris
Memory: I have seen this movie in the theatre, on television, traveling by bus and on a plane. It follows me everywhere.
Review: Great picture! Woody Allen's homage to 1920's Paris is witty, charming, and highly inventive. The film is personal and passionate, yet it feels light, and never takes itself to seriously.
Bonus "Ask Noah" lens: "Annie Hall," "Manhattan," "Midnight in Paris" -- top three Woody Allen films of all time.
Moneyball
: My Winner!
Memory: I saw this movie Jessie, and I remember feeling very concerned that she would not follow the film due to its sports-filled subject matter. Gender bias, my apologies. It was then I recall thinking that I must really care about her.
REVIEW: Moneyball is the best film I have seen in a long time. It's more than just a movie about the inherent inequities in baseball's salary structure; it is the portrayal of a man sincerely reflecting on the weight of his choices, and how they will affect himself and his family. It reminded me that integrity and innovation are often so closely linked.
Enjoy the Oscars this Sunday, and keep sending comments and questions to "ASK NOAH" at
nskass@gmail.com.
Have a profitable and peaceful week,
Noah