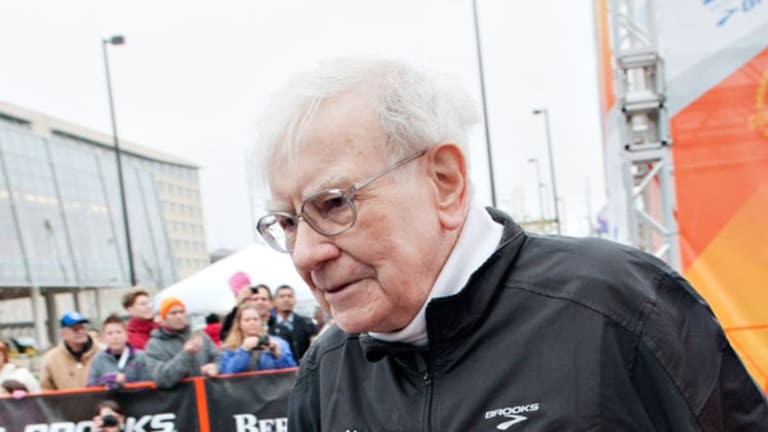 Ortel: Buffett's Optimism Is Fool's Gold
Guest contributor Charles Ortel of research firm Newport Value Partners is an unrepentant bear with tips on how to spot a fake economic recovery.
Editor's note: Charles Ortel is managing director of Newport Value Partners LLC, which provides independent investment research to professional investors.
NEW YORK (
) -- On the third anniversary of the "Flash Crash," America's most famous and cheerful optimist -- the sage of Omaha -- remains steadfast in his belief that the best days for the investing class lie ahead.
Fresh from a
tour de force
performance at the Berkshire Hathaway Annual Meeting, Buffett
is cheerleader-in-chief for the "don't bet against America" theme
.
Are there any reliable economic facts that support an opposing view?
With great respect, I believe Buffett has actually been enabling the sale of "fool's gold" to the retail investing public since his epic
New York Times
op-ed titled
was published on Oct. 16, 2008.
To refresh our recollection, the
Dow Jones Industrial Average
closed at 8,577.91 on Oct. 15, 2008 (the day before his powerful public message) and eventually fell to 6,547.05 on March 9, 2009. Yes, this famed index is now flirting with record highs but it is denominated in nominal terms and consists of a revolving door of components, some of which left peremptorily in the financial crisis.
Also see: Kass: Is Berkshire Ready to Hibernate its Bear? >>
In my view, economic and market activity since 1999 is markedly different than it was during the last great rally that ran from August 1982 through December 1999. Investors who refuse to study the important differences between conditions now and conditions then are flying blind over hazardous territory. Worse, these stalwart investors will not be compensated fairly for taking the mammoth risks they face.
The Demographic Miracle That Is Not Returning Anytime Soon
The intrinsic growth America experienced from 1982 through 1999 was unprecedented in modern economic history.
Advertising experts explain that persons aged 25 to 54 constitute "the prime purchasing demographic." People in this age group generally are more active buying goods and services and engaging in other activities that can stimulate economic growth. From 1982 through 1999, the total population grew at an average annual rate of 1.1%, but the prime purchasing demographic accounted for 73.4% of annual population growth.
Also see: Warren Buffett Dissing Gold? >>
TABLE 1: Share of Annual Average Population Growth in the United States Accounted for by Persons Aged 25 to 54
In contrast, from 2000 through 2010 (the latest year for which consistent figures are available), total population grew at 0.9% on average each year and the prime purchasing demographic accounted for only 15.6 % of annual population growth. Growth in intrinsic (unfinanced) end-use demand was likely much lower per capita from 2000 to 2010 than it was from 1982 to 1999.
To a limited extent, recent data on companies confirm the suspicion that demand patterns inside the U.S. are quite different than they were during the miracle boom period. Reports I have read so far concerning bellwether companies such as
General Motors
(GM) - Get Free Report
,
General Electric
(GE) - Get Free Report
,
United Technologies
(UTX) - Get Free Report
,
Boeing
(BA) - Get Free Report
,
Caterpillar
(CAT) - Get Free Report
,
Honeywell
(HON) - Get Free Report
,
3M
(MMM) - Get Free Report
,
DuPont
(DFT)
, and
Alcoa
(AA) - Get Free Report
are instructive.
Data in these reports support a cautious view regarding profitable growth inside America during the highly unusual period from March 2009 forward. In this recent period, central bank intervention suppressed benchmark interest rates and governments injected record amounts of fiscal stimulus into the global economy.
Excluding growth fueled by acquisitions, most of these large corporations have not been able to achieve consistent growth in U.S. revenue, U.S. pretax income and U.S. cash flow in their core manufacturing and service businesses (excluding finance).
Also see: Buffett: Planes, Trains and Investment Pains >>
If these hoary names could not flourish from 2009 through 2012, how will they and others do so in a more normal environment where credit growth is crimped and where benchmark interest rates rise above consumer price inflation?
Growth in Borrowing Has Fueled Recent Economic 'Progress'
Let's face it -- Americans are hooked on debt. The best available statistics show that all sectors in our economy combined (households, businesses, financial institutions, and governments) have piled on borrowings ever since the conclusion of World War II.
During the 68-year period from 1945 through 2012, America's debt load has climbed in 66 years or 97.1% of the time. As of December 2012, our total debt was $53,950.8 billion or 344% of America's economic output for calendar year 2012.
Also see: Buffett's 'Elephant Gun' Ready to Fire >>
We must not be distracted following trends in government debt as a percentage of economic output. Instead, we must understand that each important sector within the American economy is addicted to borrowing.
TABLE 2: Total Debt Compared to Gross Domestic Product and to Spending on Consumer Nondurable Goods, 1945 to 2012
We believe even these sobering statistics do not tell the complete tale.
Gross domestic product is a deeply flawed jumble of estimates that likely overstates the "contribution" to productive economic behavior made by government. By 2012, total government spending grew to reach 34.4% of GDP -- estimates of the value of such spending are simply not the same as those for spending on consumer nondurable goods where there is fierce price competition.
By 2012, total debt reached a level equal to more than 21 times the amount of money spent in a year by the entire American population on all purchases of consumer nondurable goods (up from about 6 times during the period 1945 to 1981).
Soon, America will enter a challenging period where we will actually have to begin repaying a portion of our total debt.
The Looming Return of 'Real' Benchmark Interest Rates
Capitalism does not work well inside a nation when central bankers push nominal interest rates below prevailing levels of price inflation.
To see this clearly, take a close look at the pattern of "risk-free" interest rates and consumer price inflation inside America.
Also see: Berkshire Hathaway Shareholder Meeting: Blog Recap >>
Table 3: Annual Average Yield on 10 Year U.S. Treasury Notes Compared to Urban Consumer Price Inflation, 1962 to 2012
In the U.S., the
system exerts sizeable pressures on market prices for
all
assets. Depressing benchmark interest rates below the annual pace of consumer price inflation punishes long-biased investors in many asset classes. Since 2008, investor returns measured in "real" terms have actually fallen and increased in volatility though they can look attractive considered in nominal terms.
Anticipating the Shift of Tectonic Plates Underlying the Global Economy
Warren Buffett is no Pollyanna -- he does draw attention to the threat posed by
the re-emergence of a long dormant "invisible hand," as this CNBC article reports,
that will materialize when central bankers are forced into ending their recent experiments.
In 2013 new piles of wealth are building up in rising nations. Shrewd investors and sovereign wealth funds must be close to fashioning a more solid alternative than the stress-fractured circus that overleveraged central banks, deficit-wracked dysfunctional governments and an incurious mainstream press have foisted on unsuspecting retail investors.
The next chapter has been coming for several years now. When it finally does arrive, the pain administered by rising real interest rates and debt contraction for the U.S., Europe and Japan could be far worse than during the Great Depression.
According to Federal Reserve estimates, American households own just $29.3 trillion in liquid, financial assets.
When the penny finally drops that America's credit is already sorely overextended, what solvent entity stands ready to inject trillions into the American balance sheet to regularize our national equity?
What group of Americans will be able to earn enough to shoulder the massive stated and contingent liabilities we have to our senior population cohort -- those aged 55 and up?
The time for deep cynicism about reports of progress and promise is finally at hand.
At the time of publication, neither the author nor his firm held any positions in any of the stocks mentioned.
This article is commentary by an independent contributor, separate from TheStreet's regular news coverage.
Charles Ortel serves as Managing Partner of Newport Value Partners, L.L.C. Newport, established in 2007, provides value-added research to executives and to investment firms.