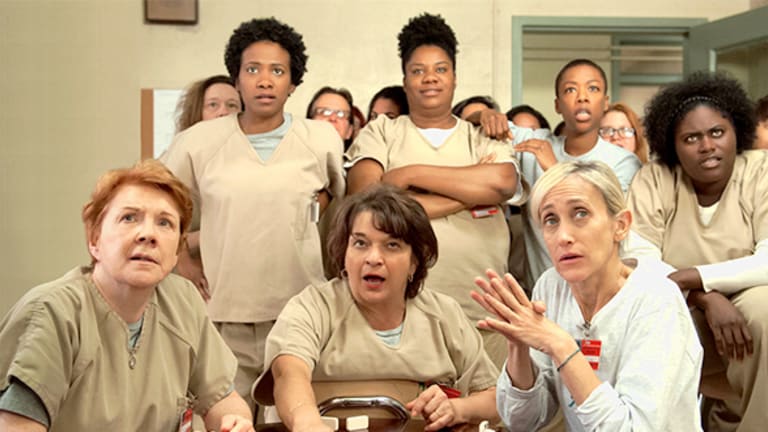 Original Content Is Why the Netflix Price Increase Doesn't Matter
Netflix could lose 500,000 customers or more this year by bumping its monthly fee $2 but it can make up for the loss elsewhere.
Video streamer Netflix (NFLX) - Get Netflix Inc. Report stands to lose hundreds of thousands of customers a month as it gradually raises prices for older domestic accounts this year but original programming such as Orange is the New Black and House of Cards will lure new customers -- and maybe win back those who quit.
Netflix shares slipped 2.7% to $91.31 in late afternoon trade Tuesday after Nomura analyst Anthony DiClemente Monday lowered his price target on the stock to $115 from $125. DiClemente said the company could lose as many as 480,000 of its 45.7 million U.S. subscribers this year because of the rate hike.
"Longer term, we remain positive on Netflix, given our belief that the company will continue to accrue significant scale benefits as it further entrenches its position as the dominant global distributor of content," DiClemente wrote in the note.
During its first-quarter earnings release, Netflix said it would begin to increase prices gradually on long-term customers from $7.99 for two-screen, high-definition service to its new $9.99 price. Subscribers can keep the price with standard-definition streaming on just one device at a time or upgrade to ultra-HD for four simultaneous screens at $14.99 per month.
When customers must begin paying the higher price depends on how long they've subscribed to the service, the company said.
The price increase could yield Netflix as much as $520 million, DiClemente wrote.
Still, Netflix this year said costs could increase by $1 billion next year as it continues to spend on content and expand abroad, where growth is slowing. It's also facing stiff competition from Amazon (AMZN) - Get Amazon.com Inc. Report , which in April introduced a monthly streaming-only service for $8.99 on top of its annual Amazon Prime subscription that costs $99.
Both Amazon services are cheaper than Netflix's $9.99 standard fee.
Wedbush Securities analyst Michael Pachter said Netflix might even lose more subscribers than Nomura predicted but its wide variety of original series and films will likely boost new subscriber numbers or lure the disgruntled viewers back.
"It's like peeling off a Band-aid over a seven- or eight-month period," Pachter said in a phone interview. Pachter said the company may have decided to raise the cost for existing customers piecemeal to give its support workers more time to deal with irked consumers or to soften the blow for investors.
Pachter has an underperform rating on the stock because he said he feels it's overvalued. Wedbush's 12-month price target on the stock is $45.
More than price hikes, Pachter said Netflix's biggest problem is releasing all episodes of a series' season at one time. Binge watching, he said, could allow customers to keep their account only as long as it takes to see the episodes. Customers can then cancel until new episodes are posted.
Still, Pachter said he's a Netflix fan.
"I would never even think about quitting," he said. "They manage their business intelligently."