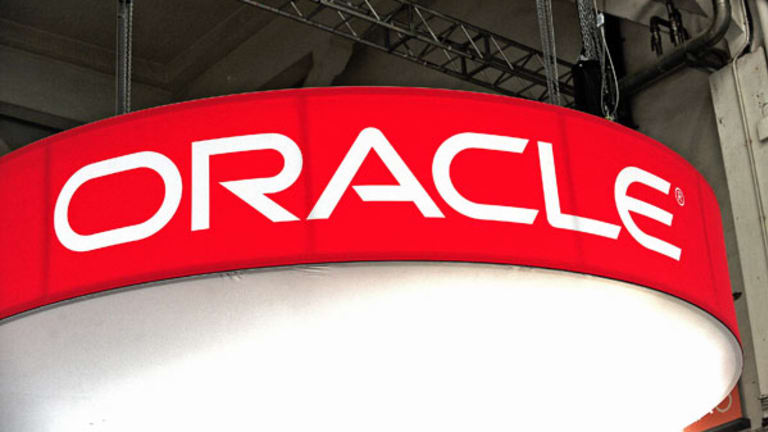 Oracle Sees Blue Skies, So Do I
Oracle misses analysts' estimates -- but don't count out the company just yet.
NEW YORK (TheStreet) -- Oracle (ORCL) announced fiscal third-quarter results Wednesday afternoon that completely missed the mark. Revenue came in at $8.97 billion, below the $9.38 billion that analysts polled by Thomson Reuters expected; per-share earnings of 65 cents were a penny shy.
The market responded quickly. Within minutes after the close, Oracle sank nearly 8%, dipping under $33 from a close Wednesday of $35.76 -- a far cry from its mean one-year target estimate of $38.28 a share.
For new software licenses and cloud-software subscriptions -- its bread and butter -- revenue was down 2% to $2.3 billion. Total software revenue was up 4% to $6.67 billion, and hardware-systems revenue declined 16% to $1.24 billion. Services revenue fell 8% to $1.045 billion.
President Mark Hurd tried to put a positive spin on it. "The Oracle Cloud is the most robust and comprehensive cloud platform availablem with services at the infrastructure (IaaS), platform (PaaS) and application (SaaS) level," he said in a press release. "In Q3, our SaaS revenue alone grew well over 100% as lots of new customers adopted our Sales, Service, Marketing and Human Capital Management applications in the Cloud."
New interest in Oracle cloud products doesn't seem to be there, if sales are falling -- or does it?
Let's look on the bright side. Led by CEO Larry Ellison, Oracle has a lot going for it.
The company is expected to release its new T5 microprocessor and M5 system this month. Oracle says its T5 is the fastest microprocessor in the world and explains that its new M5 system can employ up to 32 microprocessors, meaning it can run an Oracle database 10 times faster than the M9000, which the M5 replaces.
Granted, the company faced issues regarding the strength of the U.S. dollar. Had that not been a factor, Oracle's EPS would have been 1 cent higher, meeting analyst expectations. Its revenues overall would have been 1% higher, and its revenue from new software licenses and cloud software subscriptions would have come in 2% higher.
There is always the chance that Oracle is just at a slow quarter. After all, despite disappointing revenues, the company has been hiring people like mad -- roughly 4,000 over the past 18 months, many of which were hired in sales. And consider its recent acquisitions of Taleo and RightNow -- that could pay off. Don't forget, over the last year, Oracle has repurchased 350 million shares, or $10.6 billion. I mean, this is a company that is gearing up to compete against big players in the IaaS market, like
Amazon
(AMZN)
and
IBM
(IBM)
.
Those factors could lead Oracle to success going forward.
The track record is there. This is a stock that was trading as low as $25.33 last May. Even at $33 a share, that is an increase of more than 30%. While it is possible that Oracle is at the end of its run and the market is simply correcting itself, I think it is more likely that this is a brief downturn in an otherwise strong history. It is too soon to say whether the poor revenue from software and cloud subscriptions could be a tell-tale that the company's strategy of acquiring smaller companies just isn't working.
Last week, the company purchased private cloud infrastructure management
. Oracle described Nimbula's products as complementary to what the company currently offers and said that such products would be integrated into its existing offerings. So, it is quite possible that Oracle has identified a need and bought Nimbula to correct the issue.
In Oracle's conference call, the company said that it was not at all pleased with its revenue growth and reaffirmed its belief in its existing portfolio, saying it has a lot to leverage in its pipeline. The company acknowledged that it has some work to do, noting specifically that it needs to train all the new hires in making the sales the company needs. Oracle also said that customers may have held off on buying new hardware in anticipation of its upcoming product releases.
I think those arguments may have some merit. I say buy now before the market realizes Oracle is really a sleeping giant.
--Written by Renee Butler in Seattle, WA
At the time of publication the author had no position in any of the stocks mentioned.
Follow @ReneeAnnButler
This article was written by an independent contributor, separate from TheStreet's regular news coverage.
Renee Butler is a freelance financial journalist based in Seattle. She has written hundreds of articles and blog posts on hedge funds, the financial markets, investing trends and company developments. Her articles have appeared on MSNBC, MarketWatch, the Motley Fool, The Street and Seeking Alpha, among others. Butler is a member of the National Press Club and the Society of Professional Journalists, and holds advanced degrees in business, financial management, psychology and sociology.