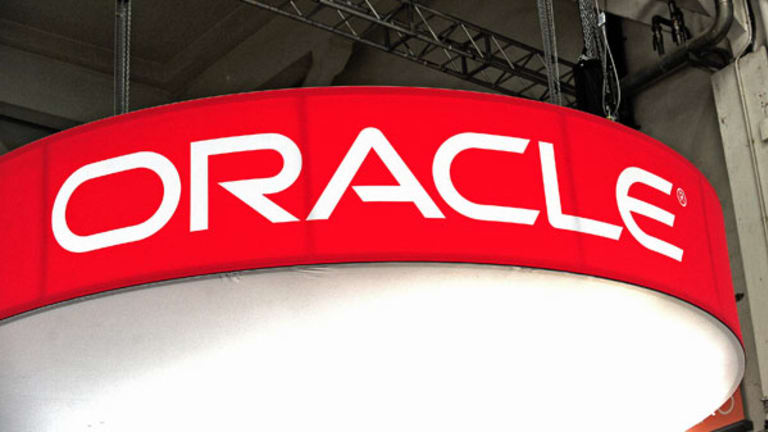 Oracle Morphs Into a Technology Octopus
Perhaps the most aggressive acquirer among technology companies, Oracle expands its reach into the marketing of software.
NEW YORK (TheStreet) -- It's a challenge to define Oracle (ORCL) - Get Oracle Corporation Report. Whatever it is, it's growing by leaps, bounds and acquisitions.
Perhaps that's why shares of this gargantuan of information technology, software development and hardware systems have done quite nicely in the last two quarter of 2013. Its shares trade around $38, as of Monday's close, and for the year to date they are up 14%.
Now Oracle wants to dominate the digital marketing business as well. Instead of pitching its products to big corporate executives and chief technology officers, ORCL is targeting its market campaigns directly to corporate divisions and individual departments, much like its main competitors.
Perhaps that's why on Dec. 20 it announced it would spend about $1.5 billion to buy Responsys (MKTG) , a barely profitable company that provides email and cross-channel marketing solutions that enable companies to engage in relationship-based marketing across various interactive channels.
[Read: KKR Turns Activist with Marvell Technologies Stake]
Responsys offers its on-demand software and professional services to retail and consumer, travel, financial services and technology industries. It also sells to marketing agencies primarily through a direct sales force in North America, the Asia Pacific and Europe. The company was founded in 1998 and is headquartered in San Bruno, Calif.
This acquisition confirms earlier indications that Oracle is planning on going head to head against Salesforce.com (CRM) - Get salesforce.com, inc. Report and Adobe Systems (ADBE) - Get Adobe Inc. Report when it comes to how it sells technology solutions and IT services to a more targeted audience.
Responsys does that remarkably well. When you visit its Web site you can learn all the details.
The new school of marketing success is target marketing orchestration, and it is worth billions of dollars to technology purveyors such as ORCL. Earlier in 2013 ORCL bought another company that focuses on effective target marketing -- paying just under $1 billion for Eloqua, now the centerpiece of Oracle's marketing cloud.
This gives ORCL more innovative marketing automation and revenue management solutions to help modern marketers target the right buyers, easily execute campaigns, get the best leads to sales and deliver the highest return on its customers' marketing investment.


"Eloqua is now a part of Oracle's comprehensive Customer Experience Cloud designed to help companies transform the way they market, sell, support and serve their customers," Oracle explains on a page dedicated to its Eloqua acquisition.
This should make its competitors sweat bullets. With the addition of MKTG to its arsenal, ORCL will be able to help clients launch the kind of attention-grabbing personalized email marketing campaigns that not only attracts attention but increases sales and drives revenue for its growing base of customers.
Clearly, Oracle's incursion into the business of effective marketing is a sort of fast track to sales growth. It also demonstrates that its corporate leadership under President Safra Ada Catz and Executive V.P. of Product Development Thomas Kurian is breaking the mold of how Oracle will be making its profits.
As a result, I anticipate the estimated average sales growth forecast by analysts for Oracle's current quarter -- which now stands at about 4.3% -- will be raised. If revenue for the quarter ending in February 2014 was estimated to be about $9.35 billion before the MKTG acquisition, perhaps it'll be lifted to $10 billion.
[Read: New Year's Eve Revenue Resolution]
That would make sense for a company with a market cap of about $171 billion, which puts ORCL well ahead of the market cap of other tech titans such as Cisco Systems (CSCO) - Get Cisco Systems, Inc. Report. As the chart below dramatically illustrates, ORCL shares have had a terrific six-month runup and may be ready for a slight cooldown.
Yes, you're looking at about a 26% pop since July, which is amazing for a traditionally stodgy stock like ORCL. But even at the current share price it sells at a forward (one-year) PE of less than 12 and a price-to-earning-to-growth (PEG) ratio (five-year expected) of a modest 1.21.
The tentacles of Oracle are reaching out to capture the most promising technologies and marketing systems to speed its growth and fatten the wallets of its customers. Like a well-positioned octopus, it can reach out and grab the best prey available. With its $37 billion in total cash (as of Nov. 30), it can easily pay the price.
At the time of publication the author had a position in CSCO.

This article was written by an independent contributor, separate from TheStreet's regular news coverage.
Marc Courtenay is the founder and owner of Advanced Investor Technologies, LLC, as well as the publisher and editor of www.ChecktheMarkets.com.
Courtenay holds a Master's of Science degree in Psychology from California Polytechnic State University, and is a former senior vice-president of Investments for two major brokerage firms. He's been a fiercely independent investment "investigator" and a consulting contributor to the investment publishing world for over 30 years. In addition to his role as an investment publisher and analyst, he serves as a marketing consultant to the investment media industries.
In his role as a financial writer and editor, he specializes in unique investment strategies, growth with income stocks, overlooked investment themes, tax-advantaged themes, risk management, technologies to capture gains and reduce losses, real estate related opportunities,effective wealth preservation techniques, and the use of ETFs for diversification and asset allocation. He also follows and frequently writes about technology, health sciences, energy and resource companies. Because of his training and background in Clinical Counseling and Psychology, he enjoys writing about investor behavior, the herd mentality, how to turn investment mistakes into investment breakthroughs and the stock market's behavioral trends and patterns.