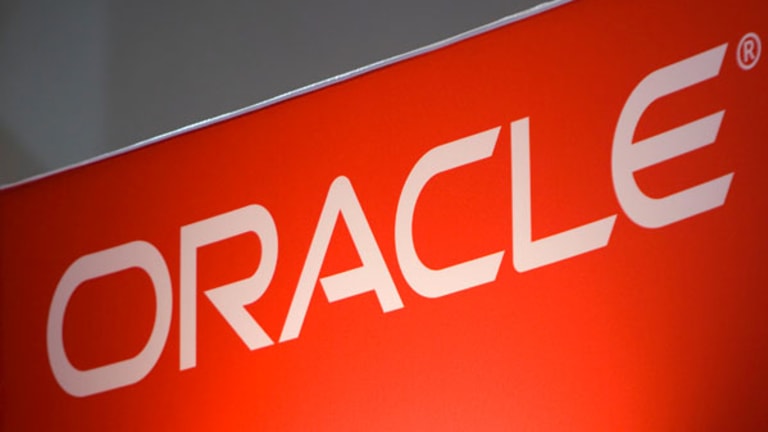 NEW YORK (
) -- Owning
Oracle
(ORCL) - Get Oracle Corporation Report
stock this year has been an unpleasant experience. With the S&P 500 and Dow Jones Industrial Average indexes posting gains for the year that exceed 17% and the
NASDAQ composite
(CVX) - Get Chevron Corporation Report
delivering even better results, it is tempting to look at the
negative
total return Oracle investors have suffered this year and conclude that it is time to move on. This is a completely understandable perspective, but is it the best course of action right now?
There certainly has been plenty to trouble Oracle's shareholders this year. Concerns arising from the global macroeconomic environment have been exacerbated by Oracle-specific developments. In back-to-back quarters the company has released results that have failed to meet investor expectations and following these announcements, stock owners have suffered sharp losses.
For the company's most recent quarterly results, Oracle's management highlighted the headwinds of a strengthening US dollar and cited softness in Latin America and EuroPac markets as contributors to the disappointing results. Oracle also acknowledged productivity issues with its sales force during the period, echoing a refrain from its previous quarter's results.
Like other mature technology companies, Oracle's business model has to adapt to a changing environment. The company now faces a world in which competition is stiffer from competitors that are swifter. Oracle's ability to compete in this new environment is in question right now. Is the lack of sales force productivity a transitory development as the company suggests, or is it a troubling sign of a more competitive environment? Is Oracle too late to make a splash in the cloud and as a result falling behind key competitors like
Salesforce.com
(CRM) - Get salesforce.com, inc. Report
and the upstart
Workday
(WDAY) - Get Workday, Inc. (WDAY) Report
?
Without definitive answers to these questions and the equity markets advancing handsomely, I understand the temptation to dump the stock now and move on. That said, I think there is real value in Oracle's shares at current levels and I don't think it is time to abandon the investment just yet.
There are a few reasons to be optimistic. First of all, Oracle has a large cash hoard and is producing cash at an impressive rate: the company has nearly $7 per share of gross cash on its books and is generating free cash flow of over $13 billion annually. Of course, this doesn't make Oracle unique - many mega cap tech companies including
Apple
(AAPL) - Get Apple Inc. (AAPL) Report
,
Microsoft
(MSFT) - Get Microsoft Corporation (MSFT) Report
and
Intel
(INTC) - Get Intel Corporation (INTC) Report
have balance sheets that are cash rich. What does differentiate the company is the company's demonstrated willingness and ability to utilize considerable amounts of its cash in productive ways. After paying an accelerated special dividend at the end of last year to front run changes to the tax code, the company recently reinstated its dividend sooner than anticipated. The company also doubled the amount it pays per share. Admittedly, the dividend yield is only 1.5%, but it is a constructive step in the right direction. When considered with the company's move to increase its sizable share repurchase program it demonstrates Oracle's willingness to return cash to shareowners.
Oracle will also continue to reinvest some of this money in the future growth of its business and the company has demonstrated an above-average ability to execute successful acquisitions. Though there have been missteps, more often than not the company has maintained discipline and focus in its acquisition strategy. I expect its acquisition strategy to continue to be a net positive for shareholders going forward.
Finally, the recent announcements of partnerships with Salesforce.com, Microsoft and
NetSuite
(N)
provide some hope that outright competition in this space may give way to more co-opetition. I don't think any of these partnerships are true game changers for Oracle, but I do think they signal the initiation of a new phase in the dynamics of this market.
So, what is the bottom line? I think current owners of Oracle stock that have endured a rocky first half of the year will do well to stay the course. For those without a position in stock, I think Oracle is particularly interesting at current levels. If the company can steady its business execution, continue its shareholder-friendly cash deployment, and maintain discipline and prudence in its acquisition strategy then I will remain constructive on Oracle stock. If any of these elements dissipate then my interest in owning the stock will quickly fade.
--Written by Craig Gentry, chief investment strategist at
.
The author has no personal ownership or investment banking relationships.
Craig Gentry is Executive Vice President and Chief Investment Strategist at Destination Wealth Management.