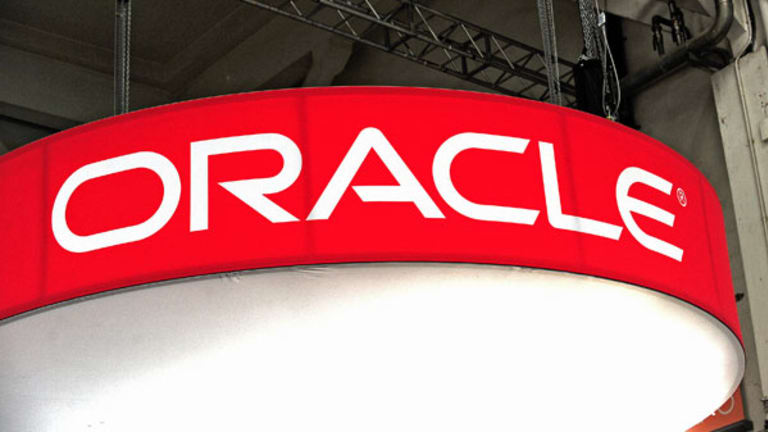 Oracle: Ignore the Gloom; This Cloud Has a Golden Lining
Analysts are cautious in the lead-up to Oracle's earnings release this afternoon. Here's why no panic is necessary.
Oracle (ORCL) - Get Oracle Corporation Report is slated to report earnings for the fourth quarter of fiscal 2016 this afternoon after the markets close. The last three weeks have been tricky for the company as a brewing scandal sent share prices crashing. And analysts are not overly optimistic about today's release. However, with its share price in the basement, could Oracle actually be a great bargain loaded with profit potential?
On June 1, Oracle shares slid by more than 4% after a former senior finance manager claimed in a wrongful termination lawsuit that she had been fired after threatening to blow the whistle on shady accounting practices related to the company's cloud services business. The company returned fire by defending its practices and stating its intention to file its own suit alleging malicious prosecution.
This could just be a case of sour grapes. However, damage has already been done, and shares have floundered around $38 ever since.
But not for long.
Today Oracle is expected to report strong growth in what is quickly becoming the most important segment of its business: the cloud. Until now, Oracle made a large chunk of its cash from selling software licenses. However, the company has been transitioning to selling software and platforms on demand via the cloud, which requires recurring, smaller payments, rather than hefty upfront sums. Analysts worry that the sudden decline in licensing sales will put a dent in revenue.
Although late to the cloud computing game, Oracle has been playing catch-up big time with the recent announcements that it will purchase cloud software companies Opower (OPWR) for $532 million and Textura (TXTR) for $663 million. These large acquisitions bring a portfolio of clients, including solid utility companies such as Exelon and PG&E.
Currently, the cloud accounts for only 8% of Oracle's revenue, but that's quickly growing at a compound annual rate of 30%, according to analysts at UBS. And the company's software-as-a-service and platform-as-a-service cloud businesses have seen an increase in bookings by roughly 80%.
That will begin to pay off soon. Cloud computing is quickly becoming the paradigm for both commercial and personal applications, and by refocusing its business in this segment, Oracle is primed for profits.
Although revenues are expected to decline from $10.7 billion for the fourth quarter of fiscal 2015 to $10.5 billion, Wall Street is still somewhat optimistic about Oracle's earnings per share. The consensus is forecasting a rise to 82 cents per share, versus 78 cents in the year-earlier period.
Business transition periods are never easy, especially with a 90-degree shift in its sales model, as Oracle has seen. However, it's a change that's necessary for Oracle if it's to remain one of the world's most innovative technology companies. This is why the stock is currently a major steal. Buy shares of Oracle now, when the stock price is still reeling from lawsuit sparring and gloomy predictions for its now-outdated licensing business. As the company continues to shift from selling software licenses to selling cloud-related services, investors should be prepared to profit.
---
85% Accurate Trader gives his Personal Guarantee: "Give Me 9 Minutes a Week and I Guarantee You $67,548 a Year."
Oracle is one of the most innovative companies around, and its stock is set for even more gains. But what if I told you there is a way to make $67,548 per year - or more - without stocks, just by following this simple step-by-step process? The trader who is sharing this secret has been right more than 8 out of 10 times, turning $5,000 into more than $5 million for himself. Click here to see how easy it is to follow his lead and collect thousands of dollars in "Free Money" every month.
This article is commentary by an independent contributor. At the time of publication, the author held no positions in the stocks mentioned.