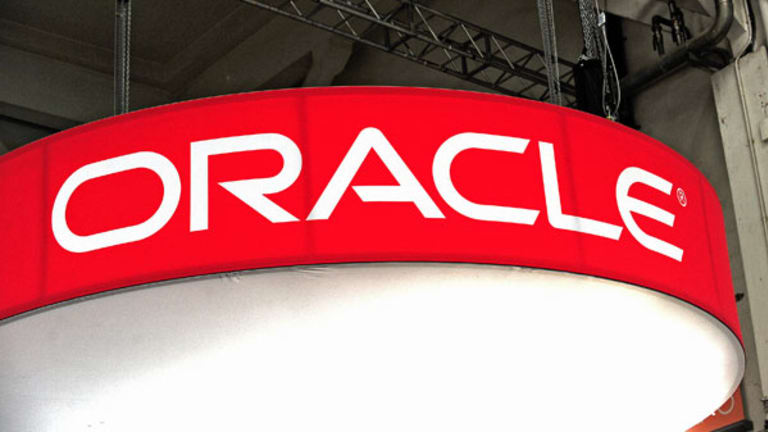 Oracle Giving Investors More of What They Want to See
The tech giant's acquisition of Opower is its second purchase of a cloud software company in the past week.
The tech giant's acquisition of Opower is its second purchase of a cloud software company in the past week.
At Oracle (ORCL) - Get Report , M&A is propelling the tech behemoth's speedy shift to the cloud. 
The Redwood City, Calif.-based software maker announced Monday that it has agreed to acquire Opower (OPWR) for $532 million, or $10.30 per share, in cash.
Shares of the cloud-based software provider were up 30.5% Monday mid-day to $10.31, while Oracle stock was up about 0.2% to $39.92.
"The focus is on cloud," MKM Partners analyst Kevin Buttigieg said via phone. "I do think that's what investors want to see."
Opower represents Oracle's second acquisition in less than a week. Last Thursday, it announced that it was buying Textura (TXTR)  for $663 million.
Though such acquisitions aren't necessarily needle-moving for the tech giant, they underscore a solid M&A strategy that has propelled Oracle's transition to cloud from a more traditional on-premise license model.
Cloud refers to the idea of storing data and information through an off-premise software model. Off-premise software can be operated remotely while on-premise software is installed and run at a specific building or organization.
"Oracle really recognizes that the cloud is moving so fast, and they're bulking up in the cloud, which they have to do because their on-premise business is declining," said Jim Cramer, TheStreet's founder and manager of the Action Alerts PLUS portfolio. "Oracle is taking no prisoners when it comes to the cloud."
"They have an unbelievable balance sheet. They can do what they want," Cramer added. "They're putting their money where their mouth is. They have said cloud is where it matters. This is just another really smart acquisition." 
Over the years, tech behemoths such as Oracle, Microsoft (MSFT) - Get Report , Amazon.com (AMZN) - Get Report and IBM (IBM) - Get Report have been competing to expand their footprint in the cloud services industry.
(Amazon, in particular, has been an early pioneer of the cloud computing model by creating the business model in 2006 through its Amazon Web Services AWS unit. Today, the division is becoming the jewel of the entire Amazon umbrella.)
Buttigieg said Oracle has been pursuing similar types of smaller, tuck-in purchases with the goal of expanding its technology capabilities, adding that Opower and Textura fit right into this category. Opower and Textura build cloud-based software for the utilities and construction sectors, respectively.
"Years ago, they used to do a very large acquisition once a year,"Buttigieg said of Oracle. "They have gotten away from doing that in order to beef up capabilities in the cloud."
Rather than pursuing big-bang, multi-billion dollar acquisitions, Oracle has now made it its priority to expand its cloud offerings in infrastructure, applications or vertical industries, Buttigieg said, adding that MKM Partners has a neutral rating on Oracle due to sector-wide challenges that relate to the industry's shift to the cloud.
As Oracle transitions to a cloud-based model, investors want to see the tech giant make this shift more rapidly, he said, explaining that M&A does exactly that and this is why acquisitions are well-received by the market.
"If there was a mega deal, [Oracle] might be interested in it. But typically, Oracle is relatively price-sensitive," he said, explaining that it doesn't shell out an expensive multiple of 10 times revenue or more for its acquisitions.
"I don't think anyone would want to see [another] large on-premise deal,"Buttigieg added. Oracle's last mega-deal was its $5.3 billion purchase of Micros Systems in 2014 -- though the acquisition was largely on-premise, it also paved the road for Oracle to enter the hospitality sector.
Following a rush ofmega-acquisitions in the early 2010s by Oracle, IBM and SAP (SAP) - Get Report , there have been relatively deals involving cloud software companies as these strategic buyers integrated their respective acquisitions. Recent speculation that Salesforce.com (CRM) - Get Report could be taken out also led these buyers to stay on the sidelines, since such a deal would have significantly changed the complexion of the sector.
As a result, the second half of 2016 could see a return of M&A, following the take-private deal for Cvent (CVT)  by Vista Equity Partners. industry watchers say. They point to Marketo (MKTO) , Cornerstone OnDemand (CSOD) - Get Report , SPS Commerce (SPSC) - Get Report and ChannelAdvisor (ECOM) - Get Report , among others, as likely takeout candidates.