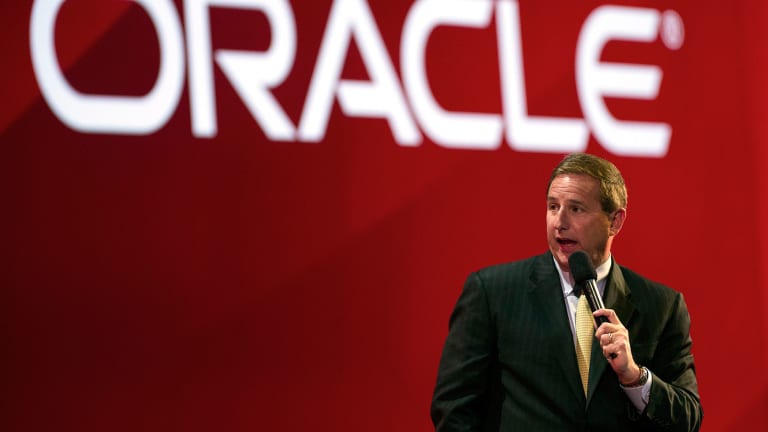 Oracle Gains on Better-Than-Feared Results and Guidance: 5 Key Takeaways
The software giant topped estimates and offered in-line EPS guidance. Its chairman also had some more choice words about Amazon.
Though Oracle (ORCL) - Get Report didn't exactly knock the cover off the ball with its latest results and guidance, it did enough to calm investors who were fearing the worst.
After the bell on Monday, Oracle reported November quarter (fiscal second quarter) revenue of $9.56 billion (flat annually and up 2% in constant currency) and non-GAAP EPS of $0.80. Revenue was slightly above a $9.52 billion consensus; EPS, benefiting from stock buybacks and a slightly better-than-expected tax rate, topped a $0.78 consensus.
On the earnings call, co-CEO Safra Catz guided for February quarter revenue to rise 2% to 4% in constant currency (CC), with forex acting as a 4% headwind. That implies revenue will be flat to down 2% in dollars, compared with a consensus for roughly 1% growth. EPS is expected to be in a range of $0.83 to $0.85, which is in-line with an $0.84 consensus.
Oracle also reiterated that its expects its fiscal 2019 (ends in May 2019) EPS to grow by a double-digit percentage in CC, and that its CC-based fiscal 2019 revenue growth will exceed fiscal 2018 growth of 3%.
With expectations fairly low following a market correction and Oracle's issuing of soft guidance in September, and with some analyst estimates likely not baking in such a large forex hit, markets are giving a thumbs-up to the numbers. Oracle rose significantly in after-hours trading on Monday and was up about 3% on Tuesday morning, taking it to roughly even for the year.
Here are some notable takeaways from Oracle's earnings report and call.
1. Cloud App Sales *Appear* to Have Been Solid
It's hard to know precisely how Oracle's cloud app (SaaS) sales fared, since Oracle is no longer separately breaking out either its SaaS or its cloud app platform and infrastructure (PaaS and IaaS) revenue. However, the company did report its "cloud services and license support" revenue -- it combines SaaS, IaaS and PaaS revenue with Oracle's considerable support revenue for traditional software licenses -- rose 3% to $6.64 billion. That's slightly above a $6.63 billion consensus.
On the call, co-CEO Mark Hurd stated Oracle's annualized ERP and HCM SaaS revenue was up by a mid-20s percentage to $2.6 billion, and that its apps for industry verticals saw 35% revenue growth. ERP/HCM SaaS bookings growth is said to have accelerated to a high-30s percentage,
The numbers come amid what remains a pretty healthy environment for enterprise software spending in general, and SaaS spending in particular.
2. Traditional Software and Hardware Sales Continue to Fall
Oracle's "cloud license and on-premise license" revenue, which remains driven in large part by traditional software license sales, came in at $1.22 billion. That's slightly above a $1.19 consensus, but represents a 9% annual drop, as the adoption of cloud apps and database services (both Oracle's and those of third parties) continues weighing on this line item.
Meanwhile, Oracle hardware business continues to lose share. Though enterprise server and storage spending has benefited from an upgrade cycle this year, Oracle's hardware revenue fell 5% to $891 million last quarter, after having dropped 4% in the August quarter.
In October, archrival SAP (SAP) - Get Report reported its traditional software license revenue fell 9% in Q3 to €937 million. SAP also reported its cloud subscription and support revenue (boosted some by M&A) grew 40% to €1.32 billion.
3. Oracle Remains Eager to Buy Back Stock
A quarter after spending $10 billion to buy back 212 million shares, Oracle spent another $10 billion to buy back 203 million shares. Catz noted that Oracle's buybacks have lowered its share count by over 12% during the last 12 months.
The buybacks have also (in spite of healthy free cash flow) put a dent in Oracle's balance sheet. The company ended the November quarter with $58 billion in debt, partly offset by $49 billion in cash.
4. Spending Discipline Is Boosting Earnings
Oracle's GAAP sales/marketing spend rose just 1% to $2.1 billion, and its R&D spend was roughly flat at $1.47 billion.
The company also seems to be making gradual progress in its efforts to boost cloud gross margins (GMs). Catz disclosed Oracle's cloud services and license support GM was flat annually at 86%, even though cloud revenue (carries a lower margin) is growing faster than license support revenue.
5. The War of Words with Amazon Continues
At last month's AWS re:Invent conference, AWS chief Andy Jassy stated Amazon.com (AMZN) - Get Reportplans to finish migrating from Oracle's database software to AWS' Aurora and DynamoDB databases by the end of 2019, if not sooner. Jassy also used his re:Invent keynote to poke some fun at Oracle chairman Larry Ellison, who earlier this year bragged about how Amazon continues to rely on Oracle, while highlighting the rather large difference between AWS and Oracle's cloud infrastructure shares.
Ellison tried to return fire during the Q&A session of Oracle's call -- at least until the analyst who had asked the question that prompted Ellison to take several shots at Amazon cut him off. Among other things, Ellison claimed that Amazon's Aurora database and Redshift data warehousing service are just repackaged open-source products, that Oracle's 18c database (it automates some of the tasks that cloud rivals handle via managed database services) gives it a major technology lead over Amazon and that migrating from Oracle to Amazon is "incredibly expensive and complicated."
Needless to say, Amazon would probably beg to differ with some of Ellison's claims. AWS claimed in April that Aurora is the fastest-growing service in its history, and has long argued that Aurora brings enterprise-class security and reliability for the open-source MySQL and PostgreSQL databases. At re:Invent, Amazon unveiled several new database services, including a managed time series database called Timestream and a solution that allows DynamoDB to be scaled more easily.
Oracle's database revenue was up 4% last quarter. Ellison's remarks come less than three months after Thomas Kurian, Oracle's product development chief, resigned amid reported disagreements with Ellison over making more of Oracle's software available on competing/more popular cloud infrastructure platforms. A month ago, it was learned that Alphabet/Google (GOOGL) - Get Report has hired Kurian to be its new cloud chief.
Amazon.com and Alphabet are holdings in Jim Cramer's Action Alerts PLUS member club. Want to be alerted before Jim Cramer buys or sells AMZN or GOOGL? Learn more now.