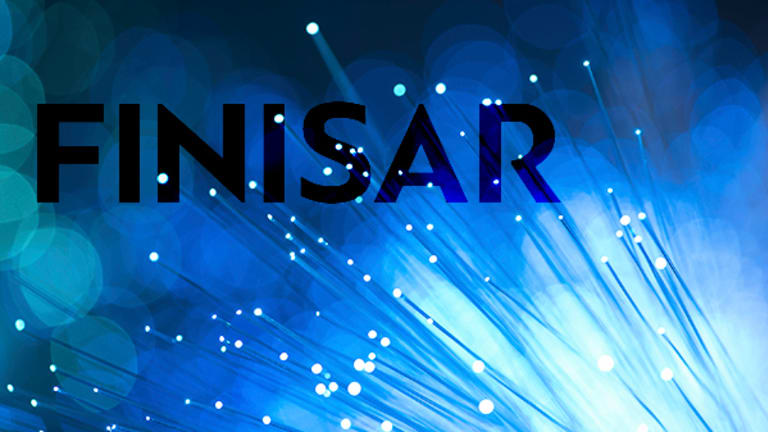 Optical Component Stocks Are Worth a Look Following Finisar's Tumble
Though Finisar and a couple of other component vendors have offered disappointing outlooks, strong demand from cloud giants should continue propping up the industry.
This column originally appeared on March 10 on Real Money, our premium site for active traders. Click here to get great columns like this.
For all the good news that optical component suppliers have seen over the last 12 months or so, it's been hard to forget the fact that many of the telcos that have historically accounted for a big portion of optical equipment spending aren't seeing much growth, and spending accordingly. Or that the industry in the past has been quite cyclical, with major growth spurts followed by sharp downturns.
Memories of such downturns were likely fresh on the minds of many optical investors on Friday, as Finisar (FNSR) - Get Finisar Corporation Report fell 22.7% in response to weak results/guidance and took a slew of peers lower with it. But with some of Finisar's problems company-specific and multiple growth drivers still in place for component vendors, bargain-hunters able to stomach some near-term pain might want to give the group a look.
Finisar reported fiscal third quarter (January quarter) revenue of $380.6 million (up 23% annually) and adjusted EPS of $0.59, below consensus analyst estimates of $390 million and $0.62. The company also guided for April quarter revenue of $360 million to $380 million (up 16% annually at the midpoint) and EPS of $0.50 to $0.56, below a consensus of $393.4 million and $0.58.
Shares plunged to their lowest levels since September in response. Peers Oclaro (OCLR) - Get Oclaro, Inc. Report, NeoPhotonics (NPTN) - Get NeoPhotonics Corporation Report, Fabrinet (FN) - Get Fabrinet Report, Acacia Communications (ACIA) - Get Acacia Communications, Inc. Report and Advanced Optoelectronics (AAOI) - Get Applied Optoelectronics Inc. Reportrespectively fell 7.4%, 6.8%, 6.2%, 3.9% and 3.3%. Acacia tumbled in response to soft guidance last month, and NeoPhotonics plunged in December due to a Q4 warning. Oclaro, Fabrinet and AAOI have delivered more encouraging numbers.
On its earnings call, Finisar partly blamed its guidance on annual telecom price cuts, seasonality related to the Chinese New Year and lower demand for transceiver modules sold to Chinese telecom equipment makers. The last issue has much to do with the disqualification of a 100-gig Finisar by Huawei, due to a firmware issue. Finisar mentioned it hopes to have the issue resolved by the end of this quarter.
However, the company also mentioned that Chinese 100-gig demand was hurt by some orders expected prior to the Chinese New Year "that didn't happen." It also noted that Chinese ROADM deployments that were once expected by early 2017 have been pushed out, and that sales of 10-gig and slower transceivers will drop due to lower enterprise data center demand. Spending on on-premise enterprise IT infrastructures is steadily falling as adoption of public cloud infrastructures grows, and Finisar CEO Jerry Rawls observed most enterprise data centers "aren't making a big transition to 100-gig."
And outside of China, it doesn't help that many big telecom carriers are keeping a lid on capital spending as they contend with landline disconnections, voice-over-IP adoption, mobile price pressure and smartphone and broadband saturation. The fact that many of their 4G buildouts are largely complete is also letting them pare spending. Verizon has set a 2017 capex budget of $16.8 billion to $17.5 billion, below reported 2016 capex of $17.6 billion. AT&T's capex budget is at $22 billion, slightly below 2016 spending of $22.4 billion.
That's the bad news. The good news is that the biggest growth driver for component vendors -- giant investments by cloud giants such as Alphabet's (GOOGL) - Get Alphabet Inc. Report Google, Amazon (AMZN) - Get Amazon.com Inc. Report , Facebook (FB) - Get Meta Platforms Inc. Report and Microsoft (MSFT) - Get Microsoft Corporation Report in their data center infrastructures -- remains very much intact. These companies have been actively deploying 100-gig links for the switches that aggregate traffic for their many thousands of servers, as well as for the optical networks used to interconnect their data centers.
Alphabet, Facebook and Apple (see below) are holdings in Jim Cramer's Action Alerts PLUS Charitable Trust Portfolio. Want to be alerted before Cramer buys or sells GOOGL, FB or AAPL? Learn more now.
Some of them are now also exploring the use of 400-gig links within their networks, and (as shown this week by the unveiling of Facebook's Tioga Pass server design) beginning to place 100-gig links on individual servers. Video traffic growth, cloud infrastructure adoption and the fact that cloud data centers often feature hyperscale architectures that involve large amounts of traffic being shuffled between server/storage nodes are all boosting bandwidth needs.
In January, Facebook set a 2017 capex budget of $7 billion to $7.5 billion, far above reported 2016 capex of $4.5 billion. After spending conservatively earlier in the year, Google's capex totaled $3.1 billion in the fourth quarter, up 46% annually. Amazon's cash capex, which goes towards both data centers and warehouses, rose 46% last year to $6.7 billion, and it doesn't look as if the company is taking its foot off the pedal. Chinese Internet giants such as Alibaba and Baidu are also
There are also some other growth drivers. Though Chinese telecom capex seems to be getting lumpier, Beijing is still pushing carriers to spend heavily to build out their 4G and optical networks. And it looks as if Finisar and Lumentum (LITE) - Get Lumentum Holdings Inc. Reportare both supplying lasers that will help power 3D sensing technologyApple (AAPL) - Get Apple Inc. Reportis baking into the iPhone 8's front camera. On Finisar's call, Rawls said his company "shipped many thousands" of lasers for 3D sensing last quarter, and expects "strong demand from this application" in the second half of the year.
And while they're trying to curtail their spending, non-Chinese telcos often have little choice but to invest in 100-gig optical buildouts in response to rising web traffic (especially for video). Finisar expects to get a fiscal 2018 (ends in April 2018) boost from a Verizon 100-gig metro network buildout, after parts used by Verizon equipment supplier Ciena (CIEN) - Get Ciena Corporation Reportare qualified.
Finally, in spite of the sizable run-up many component names saw over the course of 2015 and 2016, their multiples are often reasonable. After factoring post-earnings estimate cuts, Finisar trades for less than 12 times its consensus fiscal 2018 (ends in April 2018) EPS estimate. NeoPhotonics and Acacia respectively trades for 8 and 13 times 2018 EPS consensus estimates. Lumentum, which shot higher last month thanks to iPhone 8 reports, trades for a relatively steep 18 times its fiscal 2018 (ends in June 2018) EPS consensus.
Given their run-ups, component vendors could be in for further pain in the short-term, as momentum traders bail in response to an uptick in bad news and other investors with large paper profits decide to cash in their chips. But unless the cloud giants start hitting the brakes on their massive buildouts, the industry conditions that have propelled the shares of component firms higher should remain in place.