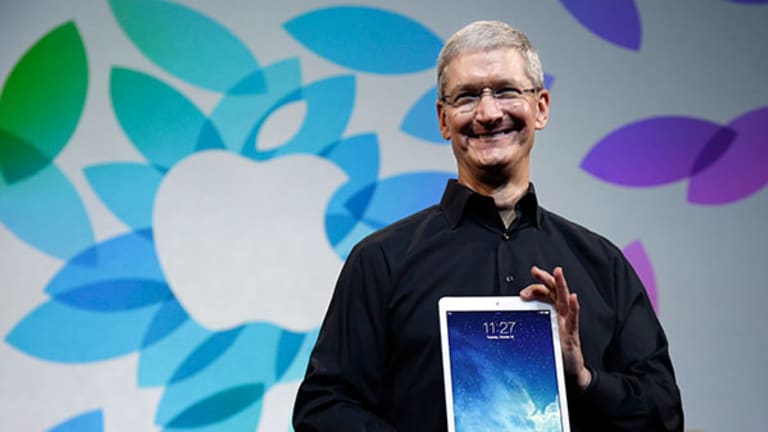 [video] Opportunity Apple Leaves Spells Doom for Microsoft, HP (Update 1)
Mobile device players in the 'other' category will never catch up to Apple, Samsung and Google.
Mobile device players in the 'other' category will never catch up to Apple, Samsung and Google.
Updated from 9:30 a.m. ET to include CNBC video and additional analysis on Page Two.
NEW YORK (TheStreet) -- Toward the end of my Black Friday hit on CNBC, Simon Hobbs spoke of an "opportunity" for companies who do not premium-price their products the way Apple (AAPL) - Get ReportAAPL does.
Here's the CNBC hit where Hobbs refers to me as "a man of ... great wealth." I'm not sure where he got that from, but, nevertheless, this Apple discussion from Black Friday helps place context around the present article. It's what spurred my thinking and triggered my focus on the "other" category I concentrate on throughout. 
So, yes I conceded that Hobbs is correct. Opportunity exists for everybody from Samsung to Amazon.com (AMZN) - Get ReportAMZN to Microsoft (MSFT) - Get ReportMSFT to Hewlett-Packard (HPQ) - Get ReportHPQ to come in somewhere under Apple on price. But what's does going after this so-called opportunity actually accomplish?
If you're Samsung and Google (GOOG) - Get ReportGOOG, it brings market share. That's not Apple's strategy. It's not the type of approach I can get behind; however, it works. Samsung and Google have claimed their turf, gobbling up market share as vendor and platform, respectively.
In smartphones, Samsung and Google's Android trounce Apple for global market share. In the U.S., the Android platform beats Apple handily, while Apple holds a comfortable lead over Samsung as a smartphone OEM.
It's a similar story in tablets. Worldwide, Apple's the top vendor. Android, led by Samsung hardware and other fragmented players, provides the dominant platform.
So far, we have three viable strategies:
Apple as the premium smartphone and tablet vendor and platform.
Samsung as a (or the) major market share player in all areas, particularly global smartphone sales.
Google licensing Android to anybody who wants it as to extend the footprint of its ecosystem, chiefly its prolific advertising network and emerging software and services.
Amazon employs a fourth seemingly viable strategy.
Because Jeff Bezos has a pulse, he has no intention of competing directly with Apple, Samsung or, for that matter, Google. Instead, he uses Amazon hardware -- right now its line of Kindles -- to provide a direct conduit for AMZN e-commerce sales. Much like Google, Bezos uses e-readers and tablets -- and maybe, someday, smartphones -- to enhance a multi-billion dollar core business.
While my confidence in Bezos leads me to believe it does, there's no evidence AMZN's strategy works as well as Google's. Amazon doesn't provide numbers that illustrate how many dollars in sales Kindles generate.
On one hand, Apple's iOS platform dominates e-commerce traffic and sales. As IBM (IBM) - Get ReportIBM reported over the weekend, iOS users spent more per order ($127.92) on Black Friday than Android users ($105.20).
OTOH, we do not know (yet) how Kindles fared. But, beyond that sort of surface scratch data, we'll probably never know what really matters. Does Amazon super-serve its most loyal customers with e-commerce-focused Kindles? In other words, are Amazon devotees spending so much on their Kindles that they make up for weakness throughout the rest of the iPad-dominated food chain? That weakness being Kindle owners who don't use their Kindles to shop or, like me, have them collecting dust in some corner somewhere because they have gone iPad-exclusive.
In any event, we'll call the way Amazon "competes" in the tablet market a fourth viable strategy (with qualifications).
From there, we have the "other" category.

According to IDC, for Q3 2013, "Others" accounted for 35.3% of the worldwide tablet market. Behind Apple, Samsung, Asus, Lenovo and Acer, there's a smattered fragmentation of names such as Amazon, Microsoft and HP alongside ultra low-end white label tablet makers.
That's opportunity?
Scrapping for 35% of a market served by one company with a potentially viable strategy, a handful of billion-dollar behemoths who have lost their way and dozens of relative degenerates who might not even rank a step above your local black market street corner purveyor of consumer electronics?
The worldwide smartphone scene shows the same thing. "Others" own over 40% of the market. But, again, what does that accomplish on an individual company basis? Does anything mired in that scrum translate to the type of long-term investment case you might make for Apple, Google or Amazon?
For goodness sake, domestically, according to comScore, the Windows Phone platform can't even muster 5% market share. It's stuck at 3.3% for the period ended September 2013, up from 3.1% three months prior.
Does anybody have any faith whatsoever that Microsoft can take 5% to 10% market share in smartphones or tablets? Or that HP can get its act together and get on the radar in tablets? Or that some other random company will emerge and hit a number worthy of a headline? And, if this happens, will it actually matter?
And, furthermore (!), are these effectively random others (outside of Amazon) selling anything that matters to go along with their inferior, corner-cutting and relatively low-priced devices? According to one analyst, 90% of iPad buyers over the weekend also picked up an Apple-branded smart cover. I know I did. My wife surprised me with an iPad Air. Within hours of receiving it I was at the Apple Store picking out my smart cover. I was hardly alone. Again, an experience, not to mention high-margin, impressive and, to top it off, well-made accessories the "others" simply do not have. 
The more I think about it, I'm not even sure if being part of the fight in this "other" category qualifies as opportunity, namely for relative has-beens like Microsoft. It's an opportunity by default; as to say, management at places such a Microsoft and HP have no idea what to do or how to proceed otherwise. They'll stake out obvious territory as opposed to actually reimagining and then reinventing their businesses from the inside out, not the outside in.
The more I think about thinking about it, the sadder it gets. It's a game of chase these once-iconic names have absolutely zero chance of coming close in, let alone winning. Picture yourself chasing the peloton at the Tour de France. That's what this pack of "others" is up against. Insurmountable. Waste of time. Waste of resources.
However, as they misguidedly spend money on dead-end smartphones and tablets and pose with false bravado against Apple, they keep telling investors how "excited" they are about their new products. Often the same products that didn't work last year. Half-truths and delusional thinking won't make them, lame tweaks and all, work any better this year.
--Written by Rocco Pendola in Santa Monica, Calif.
Rocco Pendola is a columnist for
TheStreet
. Pendola makes frequent appearances on national television networks such as
CNN
and
CNBC
as well as
TheStreet TV
. Whenever possible, Pendola uses hockey, Springsteen or Southern California references in his work. He lives in Santa Monica.