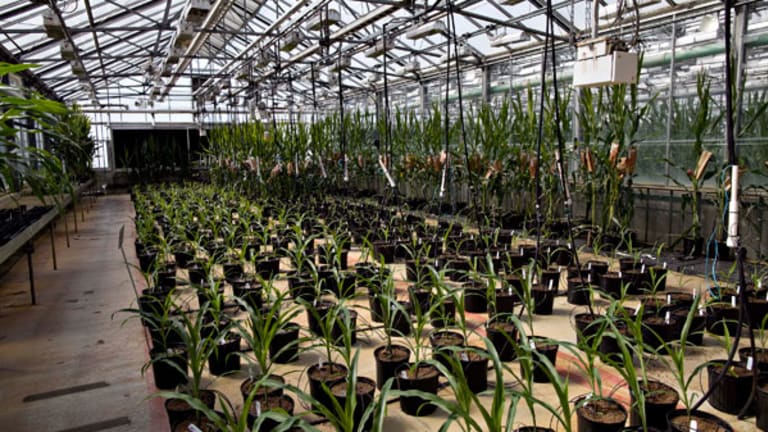 Opportunities in Agriculture
Expect weakness short term, which may present a buying opportunity for long-term investors.
NEW YORK (TheStreet) -- Agricultural land values have enjoyed a phenomenal run-up over the last several years, with land values in the U.S. Corn Belt in particular seeing substantial gains driven by macro fundamentals .
In recent months, however, we have observed several signals that suggest a short-term pullback in land values may be on the horizon. We likewise expect weakness in agricultural-equipment manufacturers such as Deere & Co. (DE) and AGCO Corp. (AGCO) . While these developments should make investors cautious in the short term, we believe they will bring solid investment opportunities for those with a long-term outlook.
In the first half of 2013, Argentine farmland operator Cresud (CRESY) sold off a sizable portion of its agricultural land portfolio, with total value amounting to more than that of all land sold in 1998-2011. The sales came in spite of a generally cool local real estate market, hampered by government hostility toward foreign currency transaction.
The company reported a handsome increase in operating income due to the land sales, which to a certain extent masked the difficult realities of increasing machinery and agrichemical costs, as well as falling commodity prices.
Brasilagro (LND) , a similar farmland operator based in neighboring Brazil, likewise, reported unloading almost 50,000 acres of farmland, a large portion of its portfolio. While Brasilagro also benefited from the sale in the short term, the gains came along with reports of troubling double-digit increases in per-acre production costs.
We believe the 2013 sales in South America signal that operators are anticipating local market weakness, which may have similar implications for the increasingly interconnected markets in the U.S. and elsewhere.
In October, Alico (ALCO) -- one of the largest private landowners in Florida -- announced the sale of a majority stake at a 14% discount relative to the previous day's closing price. While the sale itself didn't come as a surprise, the price may indicate a desire by Alico owners to cash out due to tax incentives or personal reasons.
Despite great fiscal second-quarter earnings and a bull market, Deere has underperformed significantly. The farm-equipment manufacturer's fortune is closely tied to the prices of major crops, and those prices have plummeted. The chart below shows the historical relationship between corn futures and Deere's stock price.
The correlation in overall trend is historically strong and reasonably supported by fundamentals, and so in the absence of evidence to the contrary, we expect the relationship to continue to hold. That suggests that, if corn prices don't rebound shortly, the price of Deere's stock should follow suit in the not-too-distant future.
Of course, the fundamental thread that connects the fate of grain prices and equipment manufacturers is the basic return on investment of operating a farm, which is intimately connected to the value of farmland. So ultimately the million-dollar question comes down to where the price of corn and other major grains is headed.
After a summer of record corn yields, the answer is likely that prices will stay low short term. On the other hand, in a previous article, we made the case that the overall trend is overwhelmingly positive due to rapidly increasing consumption in developing countries. We believe that is still the big picture outlook, and will continue to be for years to come.
Our final analysis is that investors interested in purchasing agricultural land may want to hold off until the market weakens, and be prepared to strike when it does. Likewise, investors looking to gain exposure through agribusiness stocks should wait until levels are in line with lower commodity prices.
Because agricultural land will continue to be a strong overall performer in the coming decade, a potential pullback in the coming year should be seen as an excellent opportunity for investors looking at a horizon of 10 years or more.
At the time of publication, the author had no position in any of the stocks mentioned.
This article was written by an independent contributor, separate from TheStreet's regular news coverage.