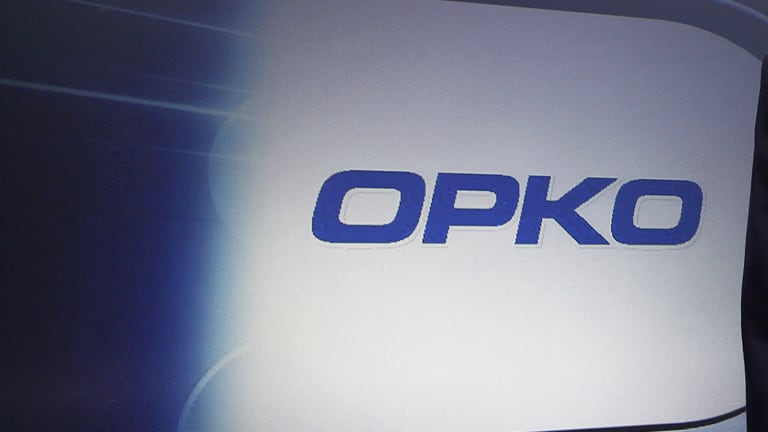 Opko Is a Buying Opportunity After FDA's Approval of Kidney Drug
Banking on its Rayaldee treatment, this once-quiet pharmaceutical company has stepped up its investor profile with its first analyst day and a recent move to Nasdaq.
Banking on its Rayaldee treatment, this once-quiet pharmaceutical company has stepped up its investor profile with its first analyst day and a recent move to Nasdaq.
Spurred on by a recent Food and Drug Administration approval for its Rayaldee extended-release therapeutic for chronic kidney disease patients, once-quiet Opko Health (OPK) - Get Report has stepped-up its investor profile with its first analyst/investor day and a recent move to Nasdaq.
But can Rayaldee move the shareholder value needle for this $5 billion market capitalization specialty pharmaceutical company in a skeptical market for biotechnology issues?
Just over three years ago, Opko purchased the rights to Rayaldee and another Phase III drug for just $100 million upfront, plus future royalties. After a somewhat-rocky Phase III clinical trial and FDA review process, Opko is set to launch Rayaldee this year, with the help of Germany's Fresenius in Europe and four other markets and through a new internal sales team in the U.S.
Rayaldee will be Opko's first major drug: an attempt to carve-out a $1 billion-plus portion of the $12 billion existing therapeutic market for late-stage chronic kidney disease patients, now served only by over-the-counter products and generics.
It was just over a year ago that Opko announced a deal to acquire publicly traded Bio-Reference Laboratories for just under $1 billion in stock by the time the deal closed in August. After hiring a new chief executive, Dr. Greg Henderson from Mount Sinai Health, Opko reported what seems to be positive first-quarter results for its diagnostic group, though it may not be until later this year when true comparables can be seen for the Bio-Reference purchase.
Although diagnostic-lab stocks have historically added shareholder value primarily through consolidation and economies of scale, Opko's plan is to use Bio-Reference's 400-plus strong sales force to sell the 4Kscore prostate cancer diagnostic and the Claros 1 point-of-care assay platform.
Up next for this group will be the sales impact of current procedural terminology codes for 4Kscore published and effective Jan. 1.
Regulatory track records are always key to becoming a successful pharma company, and Opko is off to a good start with Rayaldee. Future major milestones for Opko on the research and development side include: Phase 3 data being released this year for hGH-CTP for hGH deficiency; Phase 3 progress for both Alpharen tablets and Rayaldee in stage 5 chronic kidney disease patients; and Phase 1 progress for Oxyntomodulin in diabetes/obesity, the largest medical need market addressed in Opko's R&D pipeline.
In addition, Opko just announced a pending acquisition of Transition Therapeutics, including three Phase 2 pipeline candidates in the diabetes, and neuropsychiatric and prostate health markets.
Now with a higher profile among biotech investors, future clinical news may have an expanded effect on Opko's shares over the next one to two years, particularly in the renal area, following on Rayaldee's marketing results.
Opko shares have benefited from connections with Dr. Philip Frost, due to his high profile among investors and past successes with Ivax and Key Pharmaceuticals and other smaller stocks and venture plays. Opko itself serves as a type of venture firm with 10 strategic investments, nine of which are publicly traded, which have been valued at about $90 million combined. 
However exciting and profitable Opko's investment and acquisition activity in the small-cap arena has been in the past, now that the company is reaching for larger-cap investors, these may be serving more as a distraction than adding value. Meanwhile, the impact from Opko's acquisition of Bio-Reference has been muted, and investors may have to wait for a rebound in this stock until the company can bolster this business unit with new products, strategic acquisitions, or even a spin-off or sale.
This article is commentary by an independent contributor. At the time of publication, the author held no positions in the stocks mentioned.