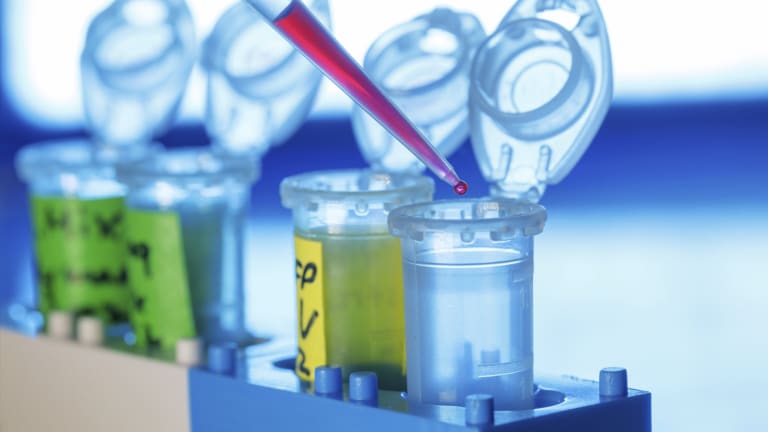 Jim Cramer Thinks This Big Biotech Stock Can 'Power Higher'
Cramer has been a big believer in Opko Health, which has been on a run since Pfizer put down nearly $300 million for one of its drugs. More upside possible?
NEW YORK (TheStreet) -- Drug-maker Opko Health (OPK) - Get Opko Health Inc. Report has had a good run of late, hitting a three-year high in February, but it has room to run higher. Strong, savvy management plus an upcoming new drug application still make Opko an attractive investment opportunity.
Jim Cramer, Mad Money star, co-portfolio manager of Action Alerts Plus, a charitable trust portfolio, and Real Money columnist, also thinks Opko is a good buy -- and has for a long time. 
"I remain steadfast in my conviction that Opko is a must buy," he said in late January. Since Cramer recommended the stock, it's gained 26%. It could continue to go up. Cramer recently tweeted: "I think OPKO can still power higher."
The company is helmed by -- arguably -- the Warren Buffet of biotech, Dr. Phillip Frost. Let me explain why that's important.
The stock has nearly doubled since December on the news of Pfizer (PFE) - Get Pfizer Inc. Report offering $295 million up front to license Opko's long-acting growth hormone, currently in development, called HGH-CTP.
That licensing deal with Pfizer for an as yet unapproved drug added some zip to Opko shares, but the interesting thing is that Opko got control of HGH-CTP when it acquired Prolor for $480 million a year-and-a-half prior. If we take into account the $275 million in milestone payments that are included in the Pfizer licensing agreement, Opko could profit on Prolor before even selling any growth hormone. More interesting still is that Frost personally owned 9.8 million shares of Prolor through his investment trust before his company put up close to half a billion to acquire it. He also chaired Prolor while chairing Opko. He owns it before he buys it and licenses it for even more. Keep that pattern in mind.
And there's much more to come. 
Looking at a chart of Opko may lead you to believe that it could run out of steam any minute, so what else can drive it higher?
Opko is on the cusp -- within weeks or even days -- of submitting a new drug application to the FDA for its lead candidate Rayaldee, a vitamin D formulation for patients with chronic kidney disease.
In the words of Charles Bishop, CEO of Opko's renal division during the company's March 2 earnings call, "We are completing the calculation of the datasets from all three trials and will proceed to submit the NDA as soon as possible expected later this month."
That was in March. It's now April. Two pivotal phase 3 trials already met their endpoints. All Opko has to do is collect the data and submit the papers.
Rayaldee has a target patient population of over 4 million in the United States alone, so any news on the NDA could produce yet another spike for Opko shares.
But beyond even the Pfizer deal on HGH-CTP and Rayaldee's imminent NDA, Opko is something of a biotech holding company, with Frost handpicking the companies he wants to invest in. On the radar lately is Cocrystal Pharma (COCP) - Get Cocrystal Pharma Inc. Report, a biotech focusing on antivirals, most notably hepatitis C. Cocrystal is Opko's second-largest holding in its biotech portfolio at 8%. While Frost himself does not chair Cocrystal, he does sit on its board along with Opko's Executive Vice President and board member Steven Rubin. Frost owns close to half of the company and just bought more shares in late March.
The Rubin/Frost tagteam is key, as Rubin also sat on Prolor's board prior to the acquisition.
Opko has a thing for private biotechs as well, and for bringing them public. One of the companies it has in its portfolio is SciVac, an Israeli company that like Prolor that has a third-generation hepatitis B vaccine already on the market in some countries, though not yet approved in the U.S. Frost recently took SciVac public via merger. Opko owned 45% of SciVac, and will now own 31% as a result of the deal.
So not only is Opko on the cusp of a major FDA NDA and fresh off a deal with Pfizer, it is a successful holding company for other biotechs with a penchant for acquiring them outright or merging them with other entities.
Occasionally, Frost extends his capital outside the biotech space as well. He just did this two weeks ago with Tiger Mediaundefined, once a Chinese firm, now incorporated in Delaware and merged with a previously private data company. Frost owns nearly 35% of the combined company. It's hard to say what Frost has in mind for this operation, but just as Buffet-followers track the Oracle of Omaha's moves with great interest, biotech investors should track Frost. It will be interesting to see where he takes this one, and if it has anything to do with Opko.
Rubin, Opko's vice president, who was also on Prolor's board prior to the acquisition and who also sits on Cocrystal's board, has been on the board of Tiger since 2009.
This article is commentary by an independent contributor. At the time of publication, the author held OPK.