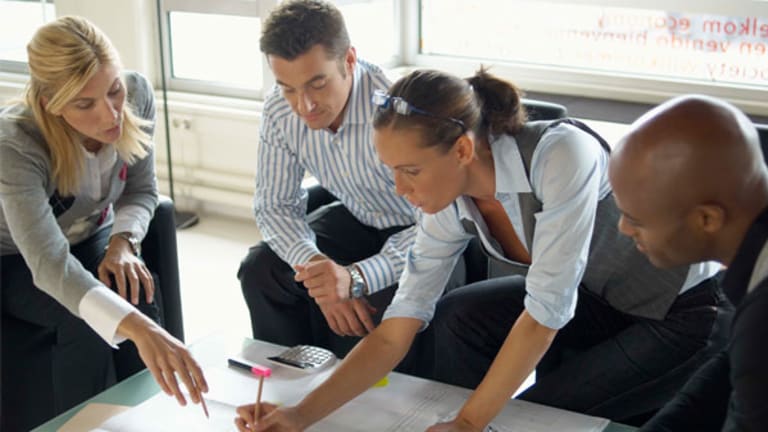 Opinion:Thain's Undoing Was Thinking He's Worth It
Lack of boundaries between his own interests and those of Merrill Lynch turned John Thain's success into a failure.
The stunning announcement of John Thain's departure from
Bank of America
(BAC) - Get Bank of America Corp Report
yesterday, less than a month after merging
Merrill Lynch
(MER)
into the bank would have been unthinkable a few weeks ago.
After announcing the shotgun marriage of Merrill Lynch with Bank of America in September, hours after Lehman Brothers collapsed, the sterling reputation of John Thain was cemented: This was a CEO who could do no wrong.
Revelations leaking out of Bank of America in the last few days, and Thain's departure today, alter his image -- perhaps irreparably. Observers now wonder how this quiet, smart overachiever could have shown such poor judgment. After all, this is a man who rose through the ranks at
Goldman Sachs
(GS) - Get Goldman Sachs Group, Inc. Report
, turned around the
New York Stock Exchange
(NYX)
and merged it with Euronext and then had headhunters and corporate boards falling over themselves offering him numerous CEO spots.
There are 5 puzzling decisions Thain has made in recent weeks that ended up being his undoing:
1. He decided to move up Merrill's bonuses which are typically paid in January to December, prior to the closing of the merger with BofA. The payouts amounted to $15 billion, only a 6% drop from last year. Bank of America sought an additional $20 billion from the Treasury days later.
2. He did not come to BofA CEO Ken Lewis immediately to disclose Merrill's fourth-quarter loss after a sharp erosion of Merrill's book of business.
3. He left New York to go on a family ski vacation in Vail at the time news broke about the Merrill bonuses.
4. He planned to attend the upcoming Davos meeting, even though the financial industry is once again under extreme strain and BofA has advised against it.
5. He reportedly ordered an expensive redecoration of the Merrill corporate offices using his personal decorator in early 2008 at the same time he was preaching cost cuts to his new employees. (Among the expenses reported: $87,000 for an area rug, $11,000 for a "Roman shade" and $243,000 in salary and bonuses for Thain's driver last year.)
The last detail prompted short-seller Doug Kass to draw comparisons with now-imprisoned former CEO of
Tyco
(TYC)
, Dennis Kozlowski, who famously approved a $6,000 shower curtain for the corporate apartment he stayed at in New York. (Kozlowski actually looks frugal compared to Thain.)
What's interesting about to the comparison between Thain and Kozlowski is that both were highly regarded prior to these scandals. At the time of his hiring, new Merrill CFO Nelson Chai complemented Thain's intelligence: "When you're the smartest guy in the room, which he typically is, you come at things from a different altitude."
How could someone so smart, make these poor decisions? And if it can happen to Thain, who will be the next golden CEO to drop? How can you spot the next smart executive to fail?
Sydney Finkelstein, a Professor of Management at Dartmouth's Tuck School of Business with whom I've worked on consulting projects, published a 2004 business best-seller called "Why Smart Executives Fail" that looked at 60 successful CEOs who later failed, including Kozlowski, Enron's Ken Lay and Jeff Skilling and George Shaheen of dot-bomb Webvan. The book is a great read -- and very current, given what we're living through.
Finkelstein summarizes what he calls the "Seven Habits of Spectacularly Unsuccessful Executives." One of those habits seems very relevant to John Thain: "They identify so completely with the company that there is no clear boundary between their personal interests and their corporation's interests." This was the habit that derailed Kozlowski, in Finkelstein's opinion. Here's a brief except from the book on this trait:
"We want business leaders to be completely committed to their companies, with their interests tightly aligned with those of the company. But digging deeper, you find that failed executives weren't identifying too little with the company, but rather too much. Instead of treating companies as enterprises that they needed to nurture, failed leaders treated them as extensions of themselves. And with that, a 'private empire' mentality took hold.
"CEOs who possess this outlook often use their companies to carry out personal ambitions. The most slippery slope of all for these executives is their tendency to use corporate funds for personal reasons. CEOs who have a long or impressive track record may come to feel that they've made so much money for the company that the expenditures they make on themselves, even if extravagant, are trivial by comparison. This twisted logic seems to have been one of the factors that shaped the behavior of Dennis Kozlowski of Tyco. His pride in his company and his pride in his own extravagance seem to have reinforced each other."
In the case of Thain, he signed off on these expensive corporate renovations after Merrill "won" the battle to get him as CEO (remember
Citigroup
(C) - Get Citigroup Inc. Report
wanted him too). At the time he took over the company a year ago, he was one of the kings of Corporate America. He might well have felt justified in green-lighting these expenses and using his own decorator.
It's also interesting to note that, in all the criticism of how Ken Lewis of BofA failed to do sufficient due diligence on Merrill prior to announcing the deal, no one has criticized John Thain for insufficient due diligence on Merrill prior to taking the top job. At the time of his hiring, he assured the press that he'd been given complete access to Merrill's books. Apparently he did a poor review. When Merrill's fortunes started to go south, no one went back to ask Thain about this oversight.
What this sorry episode teaches all analysts, media, and investors is that we need to appreciate success and achievement but always remain skeptical. We shouldn't be afraid to ask tough questions even about "untouchable" CEOs like
Apple's
(AAPL) - Get Apple Inc. Report
Steve Jobs,
JPMorgan Chase's
(JPM) - Get JPMorgan Chase & Co. Report
Jamie Dimon, or
General Electric's
(GE) - Get General Electric Company Report
Jack Welch. Past success no longer guarantees future success in today's world.
Unfortunately for BofA shareholders, no one had warning signs about Thain until the last 72 hours. (And let's not forget that, if you're a Merrill shareholder, you are overjoyed that Thain sold this company at such a premium and kept the fourth-quarter loss under wraps until the deal went through.)
One thing's for sure: If you're a company insider and you hear about a big corporate office renovation, starting looking for work and start selling your insider stock right away.
Neither Eric Jackson nor his fund own stock in Merrill or BofA.
Eric Jackson is founder and president of Ironfire Capital and the general partner and investment manager of Ironfire Capital US Fund LP and Ironfire Capital International Fund, Ltd.