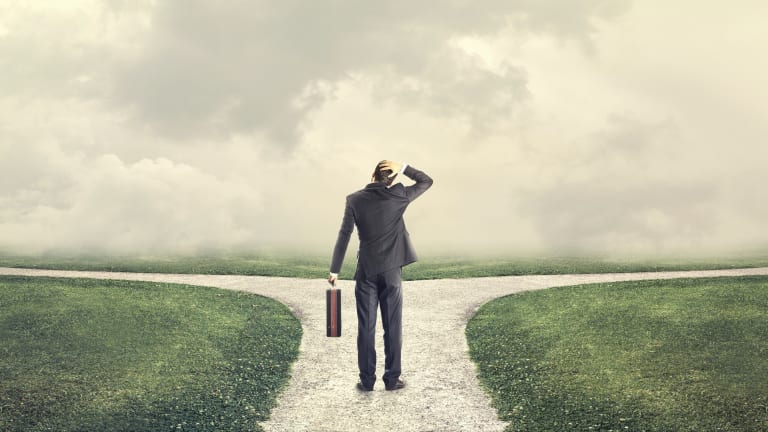 There Is a Troubling Divergence in the Stock Market Right Now: Market Recon
This meeting is routine no more.
"Panic is a natural human response to danger, but it's one that severely compounds the risk." -- David Ignatius
Panic at the Disco
There is a two-day FOMC policy meeting this week. Earnings season is in full bloom. The Senate will likely vote on the repeal of the Affordable Care Act this week. All of that, at least for today, matters less than will today's "routine meeting" in St. Petersburg, Russia as far as trader focus is concerned. The meeting includes the energy ministers of Russia (the host), as well as several OPEC giants. The purpose? This long-planned get together was meant to monitor the progress made by the 14-nation cartel along with 10 oil producing nations from outside the group in implementing already agreed upon production cuts. These cuts were meant to add up to 1.8 million barrels a day, and have been extended through April 2018.
This meeting is routine no more. Crude prices have been volatile, as traders have scrambled to find support levels. The problem? Markets simply doubt OPEC's ability to greatly influence the supply side of the pricing mechanism. While all indications are that deeper cuts will not be discussed at this time (that would have been bullish for oil), Nigeria and Libya will have to be talked about. These two nations were exempt from the original deal due to internal strife, and both have ramped up production greatly in the months that followed. Both nations have given the larger group the impression that they are willing to limit their respective production once both their production and their need for revenue stabilize. What that means exactly will be a point of negotiation. Then there's Iraq and the United Arab Emirates, both of whom are believed to be falling short of meeting their production cut pledges, and Ecuador. Ecuador has made noise lately that its need for revenue may outweigh its own pledge to the group cut/freeze.
Last, but certainly not least, there's the group that OPEC and Russia have absolutely no control over: U.S. shale producers. This group has largely increased production all year, taking advantage of any opening to gain market share while external producers cut back. This group drills at lower breakeven points than ever before, creating quite the problem for a cartel that appears to be in obvious decline. Where do oil prices land long-term? I see a long-term top for WTI in the $53 to $54 range, but that may be overly optimistic. The $47 level which had performed as support in the past, is seriously in play now as resistance. How the Saudis and the Russians handle any news flow out of today's meeting will dictate which gateway opens next, that $47 spot, or door number two, which is down around $43 (actually $42.75). We'll know soon enough.
Troubling Divergence
A few weeks ago, on a TV interview, I was asked about the state of the broader equity markets as we passed through the half-year mark for 2017. One point that I made was that I took comfort from what I felt was confirmation of the S&P 500's 8% half-way performance by the Dow Jones Transport Average's nearly 7% performance at the time. If you haven't noticed on your own what has transpired since, you may not want to look. Over the last 10 business days, the S&P 500 has continued to advance (+1.86%), while the "Transports" have come in (-2.09%) a bit. The divergence has intensified throughout last week. The airlines as a group, as well as the railroads, took nasty haircuts. Truckers, maritime transport, and delivery services all hit bumps in the road.
What gives? Well, the focal point may have been what came out of second-quarter earnings releases that we have seen from a couple of railroads. Shares of CSX Corp (CSX) - Get CSX Corporation Report simply rolled off a cliff last week. Oh, they beat earnings projections alright. It was the guidance that did the shares in. The firm guided full-year expectations for growth lower than what was consensus, not to mention the fact that the firm also announced that it was evaluating its strategy for distributing cash to shareholders. Huh? Is the 1.6% dividend yield safe? Beats me. Then, after Union Pacific (UNP) - Get Union Pacific Corporation Report beat on both lines last Thursday, the firm was downgraded from a "Buy" to a "Hold" by Deutsche Bank on Friday. Deutsche also cut its target price for UNP from $132 to $110, which was close enough to the last sale at the time.
The problem here is what you might expect, concerns for U.S. industrial production over the second half of the year. For transports to do well, the U.S. economy needs to grow. The velocity of money will need to be robust. Corporate earnings are the driver of equity prices, no matter what anyone else tells you. Technicals are useful from a trading perspective, but for investors, earnings themselves will ultimately be driven by two forces. Those forces are macroeconomics, and policy. These are also the forces that drive currency valuations and interest rates. In short, this is the meat and potatoes. Everything else is flavoring. If the macro is not performing well enough, as signaled by sketchy numbers across many data-points over the last few months, then there will be cracks in performance.
If the strength in equity markets is not backed up by the domestic economy, then what does one do to protect oneself? I think the focus will have to stay on multinational corporations for now. With a stumbling domestic economy and a U.S. dollar that only seems to weaken, one would have to cast a suspect eye not just on the transports (that's just a symptom), but the small caps as well. The S&P 500 is up 11.5% year to date. The Russell 2000? Not bad, up 6.3%. Is that a proper pricing in of current growth levels? Maybe, only if the dollar holds these levels against the euro, the yen and the yuan. Otherwise, probably not.
Interesting Question
I don't know how many of you read the Wall Street Journal on Saturday mornings. I actually think that's the best time to relax and do some thinking. If you ran across the piece by Ben Eisen and Akane Otani this week, then you also asked yourself the question: "Is the economy expanding fast enough to support corporate earnings, but slow enough for the Federal Reserve to keep rates relatively low"? Great question. I think that this is exactly what is transpiring in front of us right now. We see retail sales stumble. Consumer level inflation walks backwards. Industrial production comes in both hot and cold, but mostly cold. Inventory building is no longer necessary to run a business. Apparently, neither is paying your people enough of a wage in order to retain them.
Yet, manufacturing surveys continually look good. Service sector numbers, even better. Housing? Not bad. There is strength in spots. The economy in general is growing at the same mild pace that it has for nearly a decade. I mentioned in the above paragraph that policy is major force in determining equity values. That is simple truth. We hear again from the Fed this week. They have clearly defined their intent. Both equity and debt markets are calling their bluff. Right now, futures markets are pricing in only a rough 47% chance that the FOMC can increase the fed funds rate one more time this year. That, right there, is key to the broader market. What is Fed at this time? A headwind, a tailwind? Out of the way? Not that last one. The balance sheet? That's written in stone. The fed funds rate is the one movable part in the equation. Then again, this is just one man's opinion.
Macro
09:45 - Markit Manufacturing Flash PMI (July):Expecting 52.2, June 52.1.
09:45 - Markit Services Flash PMI (July):Expecting 54.3, June 54.2. The current trends for headline expansion are expected to remain in place for the Markit Flash PMIs for both the manufacturing and service sectors. While a severely negative print for either one of these prints could get some notice, U.S. market watchers have never really taken to Markit's data the way that they have to what the ISM releases. These numbers are likely to pass by quietly today.
10:00 - Existing Home Sales (June):Expecting 5.58 million, May 5.62 million. Traders will watch for this, the largest slice of the housing pie today. This item has been running at a remarkably consistent annualized pace of roughly 5.5 million for the better part of a year and a half now, though now the series does seem to be finding support nearer to the higher end of that rather tight range.
Sarge's Trading Levels
These are my levels to watch today for where I think that the S&P 500 and the Russell 2000 might either pause or turn.
SPX: 2497, 2485, 2475, 2365, 2457, 2449
RUT: 1451, 1445, 1439, 1433, 1424, 1417
Today's Earnings Highlights (Consensus EPS Expectations)
Before the Open: (ARNC) - Get Arconic Corp. Report ($0.26), (HAL) - Get Halliburton Company Report ($0.18), (HAS) - Get Hasbro, Inc. Report ($0.45), (ITW) - Get Illinois Tool Works Inc. Report ($1.64), (LII) - Get Lennox International Inc. Report ($2.76), (MAN) - Get ManpowerGroup Inc. Report ($1.76), (VFC) - Get V.F. Corporation Report ($0.29)
After the Close: (GOOGL) - Get Alphabet Inc. Class A Report ($8.28), (APC) - Get Anadarko Petroleum Corporation Report (-$0.35), (CE) - Get Celanese Corporation Report ($1.76), (HMN) - Get Horace Mann Educators Corporation Report ($0.09)
Get Morning Recon delivered directly to your inbox each market day. Click here to sign up for e-mail delivery of Stephen "Sarge" Guilfoyle's Morning Recon, Jim Cramer's Daily Booyah! or other great free newsletters from TheStreet.
More of What's Trending on TheStreet:
Chipotle Is Doomed Unless It Takes This One Dramatic Measure
At the time of publication, Stephen Guilfoyle had no positions in the stocks mentioned.