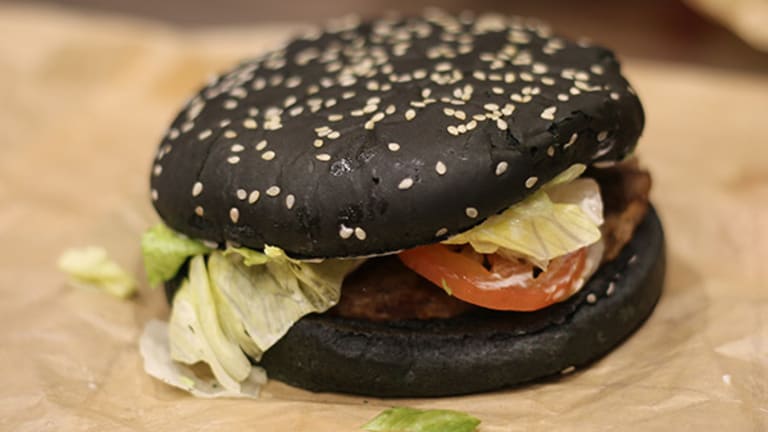 Op-Ed: Why Chipotle's Decision to Open a Burger Joint Is Ridiculously Stupid
Chipotle needs to get its head on straight.
Chipotle needs to get its head on straight.
What in the world is Chipotle (CMG) - Get Report thinking!? 
The bruised and battered better burrito joint confirmed Thursday that the first Tasty Made burger restaurant will open this fall in Lancaster, Ohio. Chipotle said the Tasty Made menu will be limited to burger, fries and milkshakes.
Here is why Chipotle's decision to try and play the role of a bootleg Shake Shack (SHAK) - Get Report is ill-conceived.
The core Chipotle brand is far from fixed.
Chipotle's well-paid management team should be 1,000% focused on returning its namesake brand to full health in the wake of several high-profile food safety incidents last year. Judging by Chipotle's second quarter results, efforts to restore large amounts of goodwill among consumers via free food giveaways, intensified marketing and a new rewards program are not working to a sizable degree.
The company's second quarter earnings nosedived 80% from the prior year to 87 cents a share. Wall Street estimated earnings of 93 cents a share. Revenue fell 16.6% to $998.4 million, missing Wall Street's $1.05 billion estimate. Same-store sales plunged 23.6% in the quarter, and are down about 21% so far in July.
"While the second-quarter sales declines weren't as bad as the first quarter, it's pretty clear that senior management has their hands full fixing the core business. It's tough to build excitement for a new restaurant opening when the current business is declining at what's still an alarming rate," points out Technomic Advisory Group Senior Principal David Henkes.
Instead of trying to develop a new menu for a burger and fry joint that will find it incredibly hard to compete with a red-hot Shake Shack, Chipotle should be testing more new Mexican themed items for its namesake chain to build some excitement. The recent debut of chorizo is unlikely to save the day. 
Company has done squat with its existing emerging brands.
In covering Chipotle extensively through the years, I have learned that they approach the incubation of new brands (and of course, cultivating the menu at Chipotle) very cautiously. The company only has 15 Asian cuisine inspired Shophouse locations, and 5 Pizzeria Locale spots. These brands were launched several years ago -- both of them had promise back then, and still have promise now, but not as much given more aggressive new entrants in the fast casual market such as Pieology, Blaze Pizza and Sweetgreen.
If Chipotle wants to find new sources of growth, and try to lure back in shareholders that have vacated, it's sitting on two good concepts currently that deserve more capital investments and attention.