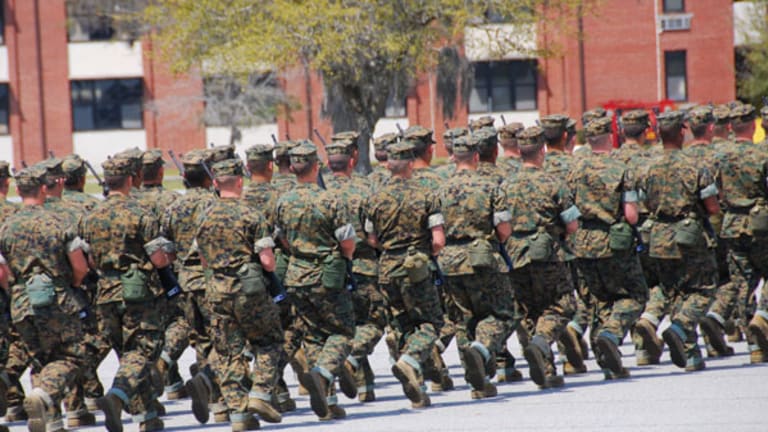 Publish date:
One of the Big Four Defense Stocks Is Priced to Buy
The Big Four defense stocks have been riding high lately, but one of them looks particularly attractive right now.
The Big Four defense stocks have been riding high lately, but one of them looks particularly attractive right now.
Editor's note: Our Pre-Memorial Day special examines military-related stocks and how to buy, sell or trade them. This feature includes a video by Gregg Greenberg, Defense-Stock Domination; and articles by Marc Courtenay One Priced to Buy; Robert Weinstein Bigger Guns, Bigger Profits; Richard Saintvilus Boeing's Offense Is Defense; Richard Suttmeier Sequester Survivors; and Richard Cox Bullish Earnings Support Defense.
NEW YORK (
) -- First off, here's your current-events quiz for the day. Who is the U.S. Secretary of Defense? If you don't know off the top of your head, don't feel bad, because I didn't either.
Chuck Hagel was sworn in as the 24th Secretary of Defense on Feb. 27, 2013, becoming the first enlisted combat veteran to lead the Department of Defense. You may recall that he was elected to the U.S. Senate in 1996 and represented Nebraska until 2009.
Secretary Hagel was also a businessman earlier in his career. During the 1980s he co-founded
Vanguard Cellular Systems
, which became one of the largest independent cellular networks in the country. Secretary Hagel also served as president of
McCarthy & Company
, an Omaha, Neb.-based investment bank.
He understands war, the defense industry and -- from what I've read about him -- big business and international economics. As a senator, Hagel chaired the Foreign Relations International Economic Policy, Export and Trade Promotion Subcommittee and the Banking Committee's International Trade and Finance and Securities Subcommittees.
Also see: 10 Best Defense Aerospace and Defense Stocks for 2013 >>
So when it comes to the Big Four defense contractors,
Boeing
(BA) - Get Report
,
Lockheed Martin
(LMT) - Get Report
,
Raytheon
(RTN) - Get Report
and
Northrop Grumman
(NOC) - Get Report
, all should feel more secure with Secretary Hagel's background and credentials.
The question I'd now like to pose is, which of these companies is the most attractively priced?
Each has had a nice run higher in 2013. Lockheed Martin currently has the best dividend yield-to-price (around 4.3%) and Boeing has the lowest (1.97%). Shares will cool down in a stock market correction.
Also see: Blue Skies Ahead for Boeing 787 >>
NOC goes ex-dividend on May 23, 2013, which means you would have had to own it by the close of the market on May 22 to be eligible for this quarter's dividend.
If you're considering NOC at this point, you should be able to lock in a yield-to-price of around 3.03%. NOC shares were recently trading for more than $80, up nearly 20% this year. Its price-to-earnings ratio of 10.3 is less than the
S&P 500's
17.7. This is an important metric for value investors.
By comparison, Boeing, which hit its 52-week high of $99.47 on Wednesday, May 22, has a P/E ratio of 18.5. Yet its price-to-earnings-to-growth (PEG) ratio (5-year expected) is slightly more than 1, which gives the impression that BA may be undervalued. Go figure!
Boeing not only has a healthy defense business, but it also has a lucrative commercial aviation business. Its 787 Dreamliner has been in the news lately due to a host of technical and mechanical issues, but
United Continental
(UAL) - Get Report
, the only U.S. carrier using the plane, resumed 787 flights Monday.
The 2-hour 20-minute flight from Houston to Chicago went smoothly, with two prominent passengers riding in economy class to underscore their confidence in the plane's safety: United Continental CEO Jeff Smisek and Boeing CEO Jim McNerney.
Also see: Blue Skies Ahead for Boeing 787 >>
Raytheon makes electronics and integrates mission systems. It's also the world's largest producer of guided missiles.
Think of it as the company that makes the "brains" and the operating systems for a wide variety of sophisticated surveillance, monitoring, simulation and weaponry systems that many nations rely upon. It has been in the news lately, having been awarded some lucrative government contracts.
Two big news releases from RTN's
easy-to-navigate Web site bode well for the company and for investors
.
Raytheon, with 2012 sales of $24 billion and 68,000 employees worldwide, received "full-rate" approval from a Defense Acquisition Board for production of RTN's Standard Missile-6 (SM-6).
This is what I'd call a big-ticket item, but the press release didn't disclose the costs of purchasing the SM-6 or how many the Defense Dept. will be purchasing.
My best guess is the government ordered hundreds of millions of dollars worth of the SM-6, and I base that on RTN's own response to the "full-rate" approval.
"SM-6 is a game-changing, transformational fleet defense missile, and we're on track to reach initial operating capability this year," said Wes Kremer, Raytheon Missile Systems' vice president of Air and Missile Defense Systems. "This is a monumental moment for the SM-6 program and signifies a new era of fleet defense for our naval warfighters."
Announced on the same day (May 22, 2013) was news that it will unveil a new onboard navigation simulator at the CANSEC 2013 Defense and Security Exposition, May 29-30, in Ottawa, Canada. Raytheon says the simulator will allow operators to train with the same system they will use at sea.
Raytheon Anschuetz, a Germany-based subsidiary of Raytheon, developed the system in partnership with Canadian-based
Virtual Marine Technology
.
These are just two of the reasons why analysts expect RTN to experience only a slight drop in earnings-per-share (EPS) and sales growth in the current year. In the quarter ending March 31, the company reported a 1% decline in year-over-year revenue growth. At the same time, it reported an 8.9% increase in quarterly earnings growth.
For the previous three quarters RTN beat analysts' EPS estimates by an average of 15.57%. The most recent quarter (ending March 31) the company did it again, besting expected EPS by a whopping 16.4%. It appears that the company guides conservatively and aims to top expectations.
When I look closely at RTN, I like what I see. It is a fiscally conservative company that places a great deal of emphasis and money on research and development. Its range of products and services is nothing short of impressive, which helps explains its sterling 23% trailing 12-month return on equity.
The following five-year chart illustrates why its stock price has done well and why I'm still bullish on RTN.
RTN
data by
A picture does paint a thousand words, and the picture above influences me to choose Raytheon as the defense contractor that's "still priced to buy" even though it hit a 52-week high this week.
With its $2.20-per-share annual dividend (last quarterly distribution was on April 1) the current dividend yield-to-price is a delectable 3.32%. I anticipate the next dividend payday to be July 1, and with a modest payout ratio of only 34%, RTN has some wiggle room to increase the dividend and further reward shareholders. It's current and forward (one-year) P/E ratios are only slightly greater than 11, a modest figure.
A reasonable investment strategy for shares of RTN would be to buy a tranche during the current market conditions. If the shares correct appreciably between now and the next earnings date (July 22, 2013), use it as an opportunity to buy your second tranche. It's a smart bet for dollar-cost averaging.
Like all of the big defense companies it literally pays to own RTN and patiently hold it. With an industry-friendly defense secretary in D.C. and the
Fed
keeping its monetary policies in super-accommodation mode, all of the Big Four should do quite well going forward. I just happen to think RTN is the best deal.
At the time of publication, Courtenay had no positions in stocks mentioned.
This article is commentary by an independent contributor, separate from TheStreet's regular news coverage.