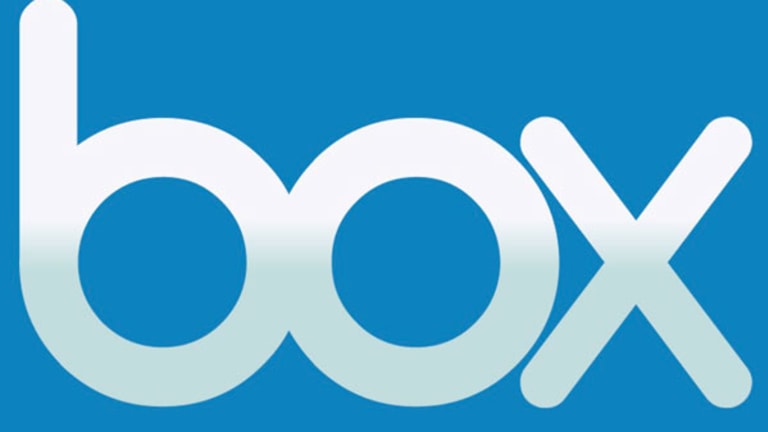 One Number to Question in Box's IPO
Box prominently features its 25 million registered users, but gives no insight in why investors should be interested in that figure.
Updated from 12:13 p.m ET to include additional information throughout.
NEW YORK (TheStreet) - Cloud storage startup Box prominently features its 25 million registered users in its prospectus for an initial public offering, but the company provides no insight as to why investors should care about that figure.
Box highlights three metrics at the opening of its initial public offering prospectus: It has 34,000 paying organizations, 25 million registered users and 2.5 billion content interactions every three months. It is unclear why investors should pay any attention to the company's oft-emphasized disclosure of 25 million registered users, given a lack of context to that figure in Box's IPO prospectus.
Box Files for $250 Million IPO
Box Is a Feature and Not a Company
Here are the facts: Box has 25 million registered users - or unique Box user ID's -- across 225,000 businesses. The company also discloses that it has 34,000 paying organizations which generated most of the company's $124.1 million in annual revenue. Box doesn't state its total paying users. However, Box does say that 93% of total registered users are non-paying users, indicating that 7%, or 1.75 million customers, pay for the company's services.
It is easy to get a sense of how much money Box makes from its paying users. However, a major question left un-addressed in Box's prospectus is what investors should make of the company's 25 million total registered users, 93% of which aren't paying customers.
One disclosure on pg. 86 of Box's prospectus indicates active users may be far less than registered users.
"Of the registered users who accessed Box in the three months ended January 31, 2014, over 2.5 million did so via a mobile device, compared to the more than 1.5 million registered users who did so during the three months ended January 31, 2013, representing year-over-year growth of 73%," Box said.
While year-over-year mobile access figures look positive, it is concerning that only 10% of total registered users accessed Box via mobile device in its most recent quarter.
Are those 25 million registered accounts really indicative of Box's ability to grow in coming years? After all, were Box to convert every registered user to a paying subscriber, the company's revenue might grow greater than ten-or-twenty-fold. Increasing users through new free trials, or conversions of existing free trials is likely one of the more important issues investors will focus upon in Box's IPO. 
"We offer a limited version of our service to users free of charge in order to promote additional usage, brand and product awareness, and adoption. Some users never convert from a free version to a paid version of our service. Our marketing strategy also depends in part on persuading users who use the free version of our service to convince decision-makers to purchase and deploy our service within their organization," Box states in its S-1.
Box also features its free customer acquisition channel as the second bullet point when discussing its "growth strategy." Clearly, free accounts are important to Box.
"To the extent that these users do not become, or lead others to become, paying customers, we will not realize the intended benefits of this marketing strategy, and our ability to grow our business and revenue may be harmed," the company warns.
Will Registered Users Pay Up?
A key question is whether Box's 25 million registered users will turn into paying users? Box doesn't appear to give the context investors need to make that judgment.
The company doesn't disclose figures on conversion from registered users to paying users. Because the company appears to count every subscriber in its near 10-year history as a registered user, there is also a lot left to investors' imaginations. Have those accounts been active in the past 12-months? Is the growth rate of registered users rising or falling year-over-year?
There simply isn't any detail. Other disclosures are confounding, at best. 
"[Our] 25 million registered users include employees from 99% of Fortune 500 companies, including companies in highly regulated industries such as healthcare and life sciences, telecommunications, energy and financial services," the company states.
Why that is important for investors is unclear. Box is stating that among its 25 million registered users, there is at least one employee from 99% of Fortune 500 companies... Not that 99% of its registered users are employees of Fortune 500 companies. Budweiser (BUD) - Get Anheuser-Busch InBev SA/NV Report could probably make a similar claim if it wanted.
A Social Media Metric in a Cloud IPO?
Box's disclosure of its 'registered users' is reminiscent of the Facebook's (FB) - Get Meta Platforms Inc. Class A Report 800 million monthly active users (MAUs), Twitter's (TWTR) - Get Twitter, Inc. Report 215 million MAUs, and King Digital Entertainment's 324 million monthly unique users (MUUs), all disclosed in each of those company's prospectuses.
In the case of Facebook and Twitter, MAUs have been used by investors as a proxy for each company's engagement and consequently, the prospects of their respective social networking platforms. MAUs have also been used as a simple means to derive a valuation.
In other words, each Facebook and Twitter user is worth a certain dollar figure given the respective $165 billion and $29.2 billion market caps of both companies. Declines or acceleration in user activity on desktops and mobile devices are a key data point that investors follow when assessing Facebook and Twitter's earnings and the value of both firm's user bases.
Box, in contrast, won't present any direct insight on the activity or conversion of the its 25 million registered users. Investors would be hard pressed to put a dollar value on total registered users.
Crystal Clear on Box's Paying 7%
To provide investors an understanding of the company's ability to generate revenue from paying subscribers, Box describes its total billings, its billings growth rate, and the company's retention rate on paying subscribers. Those disclosures are easy to understand.
Billings grew by 103% between Box's fiscal 2013 to its fiscal 2014 results. Billings grew from $85.7 million to $174.1 million, a deceleration in growth from the previous year's 182% billings growth rate. Retention rate, which Box defines as the year-over-year change in the company's annual contract value (ACV) for customers with contract value of $5,000 or more, rose 136% year-over-year.
Box doesn't disclose figures such as average revenue per paying user (ARPU) or average revenue per paying account (ARPA), but, back of the envelope math would put ARPU for paying users at about $70 a year, and ARPA per organization at about $3,650.
The median paying account might be higher or lower, and it is worth noting that Box counts organizations as prominent as The BBC, Eli Lilly (LLY) - Get Eli Lilly and Company Report, Molson Coors (TAP) - Get Molson Coors Beverage Company Class B Report, Gap (GPS) - Get Gap, Inc. Report, eBay (EBAY) - Get eBay Inc. Report and Chevron (CVX) - Get Chevron Corporation Report as customers. No single customer accounts for 10% of Box's total revenue, the company said in its S-1.
"Our paying business customers include more than 40% of Fortune 500 companies and 20% of Global 2000 companies," Box also states.
Those details provide a solid picture the earnings Box derives from its 34,000 paying organizations and approximately 1,750,000 paying users. They say virtually nothing about Box's overall 25 million registered users.

Box's 2010 Case Study
Box takes another crack at explaining its business by way of an analysis of every customer the company acquired in fiscal 2010, including customers that did not renew their subscriptions but remain customers today. That may have more bearing on the value of company's 25 million registered users because many of those 2010 customers might have started with a free trial.
In fiscal 2010, Box recognized $2.8 million in revenue and incurred variable costs that resulted in a negative contribution margin for its group of 2010 customer acquisitions. By fiscal year 2014, the company had recognized $14.4 million in revenue from those 2010 customer acquisitions.
According to Box's analysis, that represented a compound annual revenue growth rate of 69.2%, and a positive contribution margin of 34%. Those 2010 subscriber acquisitions also increased their total annual contract value (ACV) by 42% from the previous year, driven by a rising deployment of Box's products in the fourth quarter.
The case study is a bit confusing, and it's hard to know what to make from the disclosure given how much of Box's growth occurred in the past two fiscal years. Furthermore, Box says it is unable to provide a measure of the lifetime of its customer relationship, or the average duration of a customer relationship.
"Because we are still in the early stages of our development, we do not yet have enough operating history to measure the lifetime of our customer relationships. Therefore, we cannot predict the average duration of a customer relationship for the 2010 Cohort or for customers acquired in other fiscal years," Box states. The company also cautions investors that it can't guarantee similar ACV growth or contribution margin for newer subscriber acquisitions.
The study indicates that Box did see a solid good payback in 2014 from its offering of free trials in 2010. But deriving any additional insight - or an understanding of the what to do with the company's 25 million registered users - is a tall order.
Box makes no disclosure of the churn, conversion, usage, activity of its registered users over time, and it relies upon a limited case study of 2010 subscriber acquisitions to explain how the business can earn money from its free customer acquisition channel.
King Digital's Uncertainty Discount
King Digital Entertainment, which makes the addictive Candy Crush mobile game, discloses its 324 million MUUs in its prospectus, but the company also details a business model that is probably the best template for how prospective Box investors should value the company's 25 million registered users.
Don't give much credence to King Digital's 324 million MAUs, and don't read much into Box's registered users.
King Digital disclosed 324 million MUUs as of the end of 2013; however, it also disclosed the company had just 12 million monthly unique payers (MUPs), which describes the number of users that made a purchase of the company's virtual goods in the previous 30-days.
Those MUPs account for virtually all of King Digital's $1.88 billion in annual revenue and its impressive $567 million annual profit. MUPs also represented approximately 4% of overall MUUs, indicating that the company is highly reliant upon a small number of users for its revenue and earnings.
It is no surprise the company's IPO price range is at an extremely low earnings multiple when compared to comparable internet IPO's. 
Box is similarly concentrated, with 7% of its overall registered users generating the bulk of its revenue. The company, however, is deeply unprofitable.
Bottom Line: Box is seeking to go public with a story about its 25 million registered users. However, the only thing investors can count on is the company's 34,000 paying organizations.