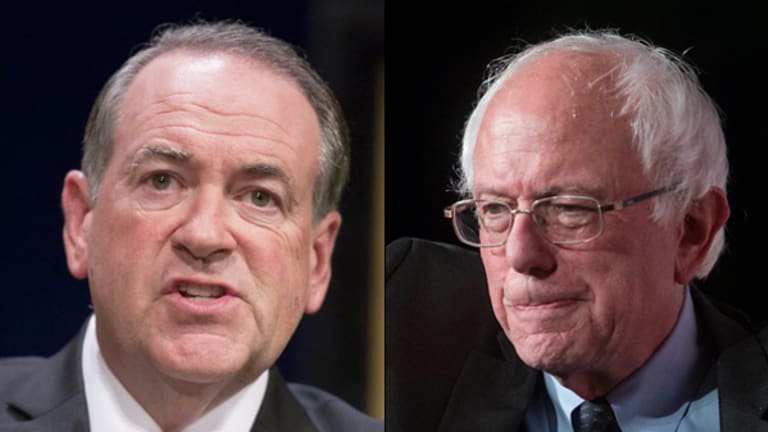 One Issue Mike Huckabee and Bernie Sanders Can Agree on: Break Up the Big Banks
What would Jesus do with too-big-to-fail financial institutions?
Guess which Democrat and Republican Presidential nominees agree that breaking up the country's biggest banks is the right thing to do.
Give yourself major political savvy points if you said televangelist minister and former governor of Arkansas Mike Huckabee and Vermont Senator and avowed socialist Bernie Sanders.
A recent Washington Post ABC News poll revealed that 67% of Americans would back a president who favors stricter regulation of Wall Street, compared to 24% who want someone who opposes stricter regulation. The poll noted that 72% of Democrats favor stricter regulation of financial institutions, and that 68% of independents and 58% of Republicans do as well.
So it's likely that the banks will come up as questions for the Republican candidates at CNBC's debate on Wednesday. Most of the candidates -- there are 13 besides Huckabee - are proponents of easing limits on banks.
Huckabee, on the other hand, told CNBC on Oct. 16, that it was "very likely" that he'd reinstate Glass-Steagall, the Depression-era statute that said investment banks couldn't have a commercial banking arm.
"You've erased the line between traditional banks and investment banks," Huckabee said. "I'm not saying there shouldn't be some regulation. You don't want a referee that tries to totally control the game."
That's pretty close what Sanders has been heard to say, arguing for the reinstatement of Glass-Steagall. "Congress does not regulate Wall Street. Wall Street regulates Congress," the Senator has argued.
Restoring Glass-Steagall would require big bank holding companies such as Citigroup, JPMorgan Chase and Bank of America to break into distinct entities -- one holding its investment banking practices and the other for its commercial arms, including businesses like consumer lending.
On the Republican roster, Huckabee is joined by brain surgeon Ben Carson, who has said Glass-Steagall has its merits. Speaking to the Heritage Foundation in May, Carson argued that "Glass-Steagall kept the banks from playing fast and loose with money. We kind of did it in the 1990s and it took 20 years to catch up to us." (Though Carson would also want to create a flat tax program similar to Biblical tithing-perhaps he is thinking of Jesus driving the money changers out of the Temple in this case.)
Democratic long-shot Martin O'Malley has also endorsed restoring Glass-Steagall. "We need to separate the casino, speculative, mega-bank gambling that we have to insure with our money, from commercial banking -- namely, reinstating Glass-Steagall," O'Malley said at the first Democratic debate Oct. 13.
Most of the other Republican candidates have steered clear of the issue.
Donald Trump has suggested that Dodd-Frank is an example of over-regulation -- though he reportedly said that Former Fed chief Paul Volcker is a "terrific guy." Volcker came up with the concept of a key provision in the statute named after him that seeks to limit speculative trading by big banks.
Jeb Bush, Marco Rubio and Ted Cruz have all targeted the Consumer Financial Protection Bureau, an agency created by the Dodd-Frank Act that writes rules for mortgages and other credit products. The candidates' complaints have focused on how the bureau hurts small businesses, small banks and mortgage borrowers-while stopping short of calling for a return to Glass-Steagall, apparently no candidate is comfortable with calling for the biggest banks to become bigger.
There have been some head scratchers in the Republicans' approach to the bank debate. Rubio recently significantly overstated the number of banks that have gone out of business since the law was passed. Bush said he'll work with Congress to repeal "significant portions" of the Dodd-Frank, arguing that it "perpetuates too-big-to-fail institutions," presumably because each big bank's "systemically important" designation in Washington creates a perception that an institution would be bailed out in a future financial crisis.
Unlike Sanders, Democratic presidential frontrunner Hillary Clinton has not called for dismantling large financial institutions but her multi-point plan would "empower regulators to break up big banks if we thought they posed a risk." It's worth noting that regulators already have that power -- thanks to Dodd-Frank -- and so far haven't used it.
Huckabee, in keeping with his ministerial background had more to say about Wall Street in his earlier CNBC interview. When asked why he thought no individuals were prosecuted in the wake of the financial crisis, he continued to promote his outside-the-Beltway persona, noting, "Contributions flow to Washington and Washington keeps doing the dance. Washington is like a strip club. You've got people tossing dollars and people doing the dance. It was a casino."
The next Republican Presidential debate starts at 8 p.m. ET this Wednesday, 10/28, but TheStreet.com will be covering it all week! Tune in for stories, videos, and more, and make sure to follow us at @TheStreet on Twitter for live commentary during the debate.