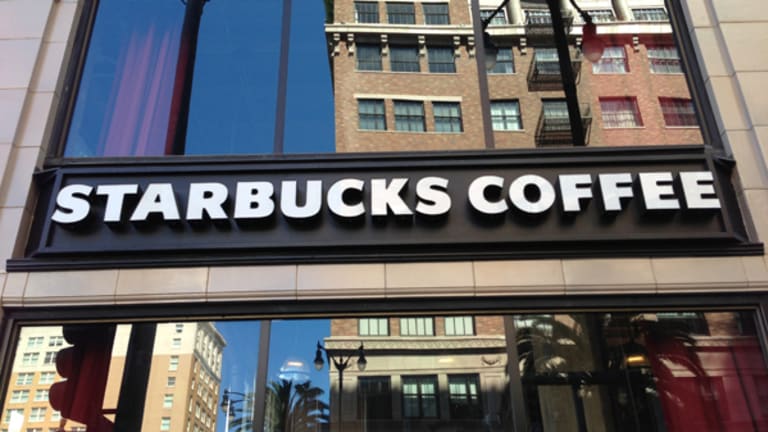 One CEO Belongs in the Outhouse, Another in the Penthouse
Question Sears's CEO all you want, but there's little room for criticism of Starbucks' Howard Schultz.
NEW YORK (TheStreet) -- I love TheStreet's Brian Sozzi. In fact, he might be the most refreshing mind/personality on Wall Street. In fact, Sozzi alone more than justifies the cost of a Real Money subscription. Dig a free 14-day trial and you'll see what I mean.
However, for a moment, I thought Sozzi had lost his mind on Starbucks (SBUX) - Get Starbucks Corporation Report.
When I saw him posting pictures of empty pastry displays at Starbucks' stores I was taken aback. Almost offended. Starbucks isn't Sears Holdings (SHLD) .
While Sozzi might suggest I'm letting love and personal attraction get in the way of good sense, I, as somebody who has written about emotional investing in Apple (AAPL) - Get Apple Inc. Report at $700, disagree.
If there was ever a CEO beyond reproach, it's Howard Schultz at Starbucks.
I'll broadcast what actually is -- thankfully -- a sensible take on SBUX from Sozzi at the end of this article, but first let's compare statements from Schultz and his (apologies if you spit your drink through your nose when you read this) peer Sears CEO Eddie Lampert.
Starting with Lampert, who, within the context of ranking corporate leaders, belongs in the outhouse. Not just any old outhouse, but one of those germ-ridden portables they set up at state fairs or outdoor concerts. The kind where there's no toilet paper left after ...
Anyhow, here's a portion of what Lampert had to say the other day at the Sears corporate blog in a post with a title that would make a dog chase its tail -- Are the new ideas about how retail is changing really new?:
... we launched a major transformation of Sears and Kmart years ago because we saw then that people had fundamentally and permanently changed how they shop as a result of the internet, social networking and mobile devices ... we ... have invested such a high proportion of our companys resources into innovations like the Shop Your Way membership program and our buy online, pick up in store programs, which are the foundation of our Integrated Retail strategy.
When we were among the first to pioneer these ideas, many people outside of our company found them revolutionary. Many others questioned what we were doing. Today, changes like these are what people expect everywhere they shop.
If I could live in perpetual hallucination like that, I'd be set. In fact, I might invite Lampert to go shrooming with me this weekend.
On the flip side, here's some rhetoric (using the term to mean art form, not hollow, unpersuasive B.S.), from Schultz:
Holiday 2013 was the first in which many traditional brick-and-mortar retailers experienced in-store foot traffic give way to online shopping in a major way ... As our solid traffic growth and record Q1 results demonstrate, Starbucks unique combination of physical and digital assets positions us as one of the very few consumer brands with a national and global footprint to benefit from the seismic shift underway.
If you pay any attention to retail at all -- and, clearly, Lampert thinks you don't -- you immediately notice the striking contextual and intellectual distinctions between the two sets of statements.
Shop Your Way has been -- and I think we can clarify this as an objective statement -- a failure.
Did it ever dawn on Lampert that riding the hind end of trends set by other companies, particularly Amazon.com (AMZN) - Get Amazon.com, Inc. Report, might not be the proper way forward for Sears? That it's simply not the tonic necessary to revive the pathetic sector of retail Sears has played a major role in decimating. That, if it hasn't worked after all of this time, maybe it's not as forward-looking, innovative and "revolutionary" as he thinks it is.
Meantime, Starbucks devised and has, with wild success, implemented truly impressive efforts that have been in the works for a while. So when Schultz speaks of an "inflection point" in retail today, don't be fooled -- he was thinking about it, really hard, yesterday. But he wasn't merely thinking, he was acting accordingly. Crafting solutions appropriate for his company's set of potential problems.
The roots of Starbucks' mobile and digital efforts date back to 2008 -- at least -- and the efforts of its former CIO Stephen Gillett. Gillett brought Starbucks' current Chief Digital Officer, Adam Brotman, on board as the company's mobile efforts lifted off.
That's transformation. Innovation. Revolutionary.
Pardon my bluntness, Eddie Lampert, but be quiet. And I'll tell you to be quiet every day from now until you step down from a one-time national treasure and put somebody in charge who has a clue.

Somebody who doesn't delusionally throw words such as "transformation," "innovation" and "revolutionary" around until they're doing something like waiting to officially count as revenue $1.4 billion loaded worldwide on Starbucks cards. Not trying to sugarcoat tens of millions of dollars' worth of losses. Not trying to pass off long-standing failure as don't hold your breath forthcoming success.
They got an apartment with deep pile carpet/And a couple of paintings from Sears/A big waterbed that they bought with the bread/They had saved for a couple of years/They started to fight when the money got tight/And they just didn't count on the tears.
--Billy Joel, "Scenes From an Italian Restaurant"
But, back to Sozzi ... here's how he characterized Shop Your Way over the weekend via text:
You are giving discounts to your lowest income consumers to purchase the lowest of margin items. They aren't shopping the entire store. If you want to be a club, charge a membership fee like Costco so at least u have a recurring revenue base that pads the discounts on the merchandise. Rewards cards work at CVS (CVS) - Get CVS Health Corporation Report, Walgreens (WAG) , GNC (GNC) - Get GNC Holdings, Inc. Class A Report, Vitamin Shoppe (VSI) - Get Vitamin Shoppe, Inc. Report because of repeat, loyal business to clean and safe stores.
And his take, via email, on Starbucks, which, IMNSHO, is a bit too cautious and skeptical of Schultz's greatness, but prudent nevertheless:
Although a high class problem to have, I think long lines amid an expanding menu are creating rapid out of stocks of food and less of a hot food attachment rate at Starbucks.
How do I know?  I have studied it playing out in Starbucks increasingly since mid-2013 and hear it from random people sampled. All of this is happening as Wall Streets full year earnings estimates are handily above the companys guidance. Now, Starbucks downplayed that throughput issues are impacting sales, but I need to ask further questions during an upcoming chat. If I hear processes are being tweaked to service lines quicker and ensure items are in stock, it will alleviate a key element in the downgrade.
A downgrade, which Sozzi stresses is to "hold from buy" and, in practical terms, means ...
sell some shares in our -- 2013 Top Pick -- Starbucks, freeing up capital for a possible re-entry or to use elsewhere, but stay exposed as the long-term outlook remains bright.
I can get with that. There's never anything wrong with taking profits, namely in high flyers. 
And I can also get with what TheStreet's Jim Cramer said about Schultz and Starbucks last week, also on Real Money:
... because the headline writers and the Quick Draw McGraws didn't wait to hear the guidance for the future they didn't know that Starbucks had sold a huge number of gift cards, far more than anticipated and that will produce a huge shift of revenues into the first quarter, far more than what might have been missed in the quarter just reported.
Remember, we care more about a company's future, not its past and this gift card news was nothing short of fantastic for the earnings projections. You could not have learned about it from the headlines though, you needed to hear it on the call.
And what a call it was. Among the best in the business. Like Cramer says, listen to the conference calls. In fact, here's a link to the Webcast of the SBUX one currently under inspection. If you don't walk away with the same feeling of confidence in Schultz that investors have in Bezos at Amazon, I reckon you can see the turnip truck's brake lights a wee bit better than I can.  
--Written by Rocco Pendola in Santa Monica, Calif.
Disclosure: TheStreet's editorial policy prohibits staff editors, reporters and analysts from holding positions in any individual stocks. Rocco Pendola is a columnist for
TheStreet
. Whenever possible, Pendola uses hockey, Springsteen or Southern California references in his work. He lives in Santa Monica.