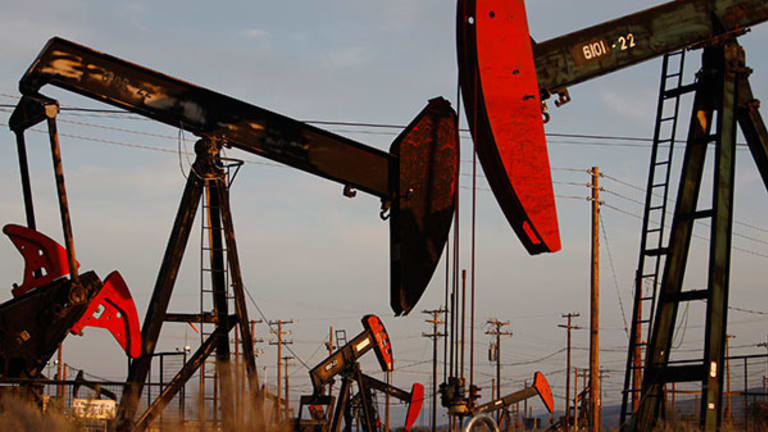 One Big Reason Oil Companies Remain Attractive Despite Low Crude Prices
Energy sector dividend payments have been more resilient than one might expect during periods of significant oil price volatility.
NEW YORK (TheStreet) -- Global markets are awash in surplus oil. The price of the black gold dropped more than 50% from its peak and as a result oil company stocks have come under significant selling pressure.
Meanwhile, dividends are headed in the other direction.
According to Bloomberg, there are 43 companies in the S&P 500 energy sector, of which 39 paid a regular cash dividend as of December 31, 2014. Since June 2014, the beginning of the recent collapse in oil prices, 15 of the total dividend payers in the group (or 38%) actually increased their dividend per share, while the remaining constituents kept their dividend payout constant. In the past seven months, there have been no dividend cuts by any of the energy sector constituents of the S&P 500.
Most energy companies are more likely to cut capital spending in difficult times rather than reduce dividend payments. Chevron for example, has dropped from its July 2014 high of $134/share to just about $102 today, a nearly 25% decline. The company announced on Friday that it will cut its share buyback program and capital expenditures. However, according to news reports, Chief Executive Officer John Watson stressed that Chevron's dividend, currently at $1.07 per quarter, remained the "highest priority" for the company's balance sheet.
Energy sector dividend payments have been more resilient than one might expect during periods of significant oil price volatility, as last shown during 2009 when overall energy sector dividends rose in spite of oil prices declining by 54%. In today's declining oil price environment, dividend stress will be experienced by the smaller, less diversified oilfield-service providers. At this point there does not appear to be a significant risk of dividend cuts by the large-cap, integrated companies that generate sufficient free-cash flow to cover their dividend commitments, and that represent the largest payers of dividends on an absolute and percentage-of-the-index basis.
While the stock prices of the oil companies may continue to experience turbulence, the importance of maintaining and increasing their dividends is one big reason investors should take a long-term view and focus on underlying value, not just the price per share at any given moment.
This article is commentary by an independent contributor. At the time of publication, the author held no positions in the stocks mentioned.
Eric Ervin is President and CEO of Reality Shares, Inc. This article expresses his opinions and may not necessarily represent those of Reality Shares, and is not to be deemed an offer or sale of any investment product.