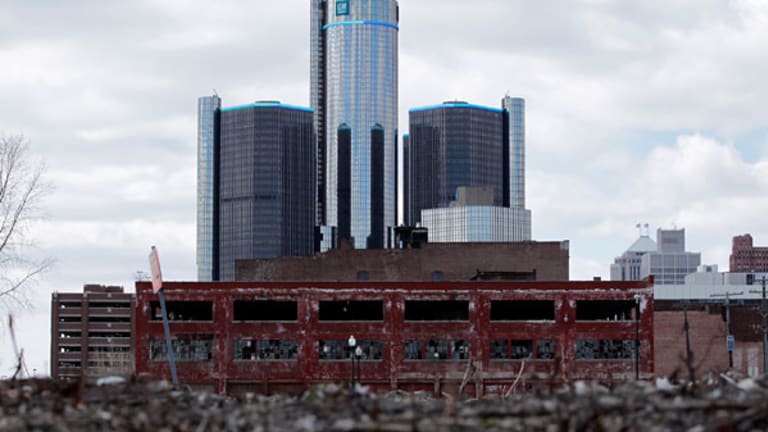 Detroit Real Estate Draws Interest from Google, JPMorgan
See who's investing in the Motor City, which is still in Chapter 11 bankruptcy.
NEW YORK (TheStreet) -- In less than a year after it filed for Chapter 11 bankruptcy, Detroit is attracting real-estate investors and interest from companies, including Google (GOOG) - Get Free Report, JPMorgan Chase (JPM) - Get Free Report and Quicken Loans.
International real-estate investors include Experience International, a London-based property-management company, and Fernando Palazuelo, a Peruvian developer. Chinese investors are coming, too. They have been making bulk purchases of cheap properties, many of which cost $25,000 or less.
"In recent years, Detroit has received a lot of attention internationally due to its affordable real estate opportunities," said Harmel Rayat, president of Telia Jevan Properties, a Vancouver-based private-investment firm, whose High Income Real Estate business encourages investments in rebuilding communities.
"Given an automotive industry that is back on the rise, it's no surprise that Chinese companies are snatching up buildings sight-unseen with the expectation of a massive ROI (return on investment) within 15 years," Rayat added. 
Earlier this month, Detroit Mayor Mike Duggan announced the formation of a 17-person committee to advise the city on an "innovation district," an area that is anchored by one or two large institutions and that tries to draw technology-related businesses.
Detroit has been included in Google's Tech Hub Network, a group of seven North American cities that will receive technical and financial support from the Internet giant.
Last month, JPMorgan Chase announced that it will invest $100 million to help strengthen Detroit's redevelopment efforts through grants and low-cost loans over five years. The money will be used to train city residents for new jobs and for blight removal, and to make mortgage loans more accessible to home buyers.
Quicken Loans, one of the country's largest online retail mortgage lenders, is building a data center and office complex in Detroit's Corktown district. The complex -- dubbed the Quicken Loans Technology Center -- is scheduled to be completed in January.
"The hope is that property values will regain lost momentum, job growth will return, and the Detroit boomtown of the past will return, as the city is revived. This area still has its problems," Rayat said. "But early investments in a city that is deep in disarray may prove profitable in the long run."

WATCH: More feature videos on TheStreet TV
Micron's Best Days Are Ahead of It, but Wait to Buy the Stock
Walgreen Shakeup From Investor Pressure Due by August
Flying Between U.S. and China Is Booming -- Too Bad It's Not Profitable
At the time of publication, the author had no position in any of the stocks mentioned.
This article represents the opinion of a contributor and not necessarily that of TheStreet or its editorial staff.