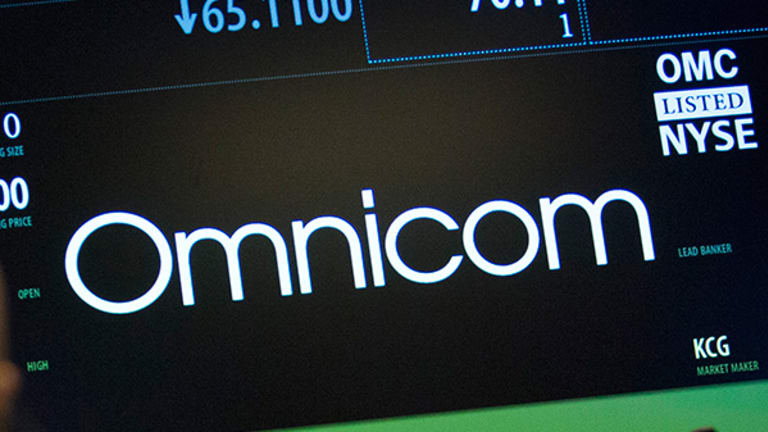 Omnicom Group (OMC) - Get Omnicom Group Inc Report shares dropped Tuesday morning even as it posted a year-over-year increase in its first-quarter net income and revenue, driven by growth in almost every geographical market.
The New York-based advertising and media-planning company reported $218.4 million in net income on just under $3.5 billion in revenue for the three months ending March 31, up from $209.1 million net income on $3.47 billion in revenue from the same time last year.
Earnings per share stood at $0.90, an increase from the $0.83 per share from the first quarter of 2015.
Zack's Equity Research said in a report that Omnicom just missed the research firm's revenue estimate of slightly over $3.5 billion, but beat Zack's earnings per share estimate of $0.87.
The stock was trading down 1.2% to $84.22 in midday trading Tuesday.
The lion's share of Omnicom's revenue, more than 60%, came from its North America market, according to information given to investors. The smallest market source for revenue is Africa and the Middle East, which comprised 1.6% of the corporate communications company's first-quarter revenue. Of its services, advertising brought in the most company, accounting for a little over half of the total revenue.
Omnicom could be reached for immediate comment Tuesday.
Compared to 2015's first quarter, Omnicom's organic revenue, which is different from total revenue since it doesn't include income gained through mergers or the impact of foreign currency exchange rates, grew across all markets except for Latin America. Omnicom saw its largest gain of 5.1% in the Asia-Pacific market while it saw a decrease of 7.8% in Latin America.
Zack's pointed to the organic revenue growth as a key statistic for the company.
The company's first-quarter earnings before interest, taxes and amortization increased to 3.8% to $420.4 million from $405 million in the 2015 first quarter.
On April 6, Omnicom closed a $1.4 billion debt offering. The proceeds will be used to pay off a separate $1 billion in debt that matured Friday along with general corporate purposes, according to a filing with the U.S. Securities and Exchange Commission.