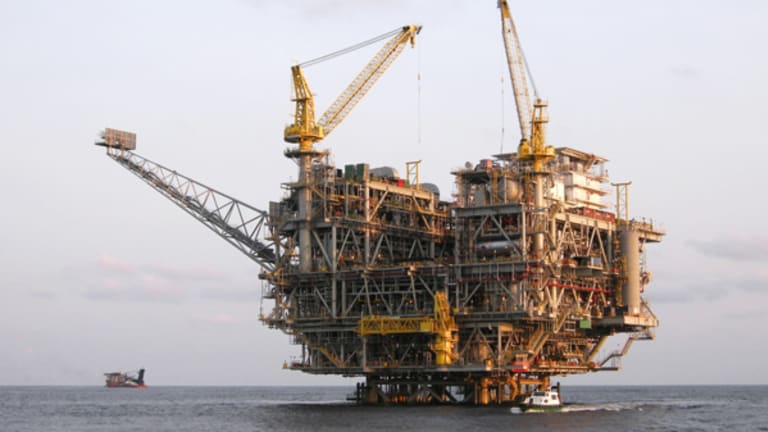 Oil's Uncertain Future
As the Russians escalate conflict and the Chinese economy declines, the future direction of oil is uncertain.
NEW YORK (TheStreet) -- Oil prices, as measured by the United States Oil (USO) - Get United States Oil Fund LP Report exchange-traded fund, remain uncertain and pulled in opposite directions as a result of weakness in the Chinese economy and support from tension in Ukraine.
Because of Russian aggression toward Ukraine PowerShares DB Energy (DBE) - Get Invesco DB Energy Fund Report prices spiked higher on supply concerns. Meanwhile, the United States Natural Gas (UNG) - Get United States Natural Gas Fund LP Report ETF is lower.
The problem is supply: If war breaks out between Russia and Ukraine and the U.S. and NATO nations are involved, it could jeopardize supply routes throughout Asia. Russia is a large producer of gas and oil and a war with the West would disrupt pipelines, disrupting Europe, part of Asia and the Middle East.
Disrupting those supply lines could hinder the supply of oil to the world, causing prices to spike significantly higher. The Ukrainian government has asked western powers to stop Russia's attempt to annex Crimea.
Bad as the Russia-Ukraine situation is, China's demand worries have begun to outweigh those supply concerns, causing the price of oil to sharply fall this week. Recent Chinese economic figures have come in below expectations and investor sentiment has taken a hit due to the country's first-ever corporate debt default.
Last week, China's Chaori Solar indicated it was "reassessing its credit risk" (i.e. defaulting), which sparked alarm as investors believed the government would guarantee debt for companies of all credit ratings.
The possibility of more defaults signals that credit markets could tighten in the future and lead to a potential slowdown in economic activity. As China is already fighting to stay above a 7% annual growth target, further complications hurt not only the domestic economy but also energy demand.
Investors see a China that is tangibly declining, while the conflict between Russia and the West is still largely a war of words and speculation.
If Crimea is annexed to Russia this weekend, it may be the catalyst to bring oil higher. Until then, industrial production numbers out of China on Thursday should control the direction of energy prices.
At the time of publication, the author had no position in any of the funds mentioned.
This article represents the opinion of a contributor and not necessarily that of TheStreet or its editorial staff.