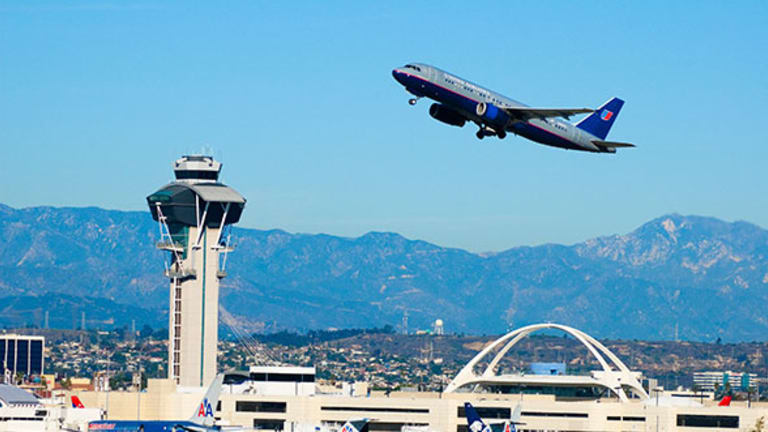 Oil Users Like Airlines Are Stocks to Buy as Energy Prices Drop
The good news for investors is the bad news for oil companies.
The good news for investors is the bad news for oil companies.
NEW YORK (TheStreet) -- Some oil stocks could be great buys if and when oil prices fall below $30. While a drop of another $15 or $20 may not be that far away, investors are likely to have their best shot atmaking money off of oil now by investing in companies that use lots of increasingly cheap fossil fuel.
Certainly, many oil companies don't look attractive now. Occidental Petroleum (OXY) - Get Report, Marathon Oil (MRO) - Get Report and SandRidge Energy (SD) - Get Report are down 40%, 60% and 95%, respectively, since oil prices started plunging last year and are hemorrhaging red ink.
More could be spilt too. Analysts, like Edward Morse, a Citigroup commodities analyst, sayoil could fall to $20 a barrel before any turnaround. That's a reasonable territory to be in when crude has averaged $24.58 since 1869, in 2010 dollars, and there are plenty of factors driving oil prices in that direction. There's a global glut of oil, U.S. inventories are high, world production is strong and Iran's oil is coming to gas stations everywhere. 
This, however, is just the picture big oil users want to see. Several stand out. Among them are Delta Air Lines (DAL) - Get Report, Amerco (UHAL) - Get Report and JetBlue (JBLU) - Get Report. American Airlines (AAL) - Get Reportdeserves mention too as a dark horse extraordinaire.
Delta's stock has been flying high since oil prices started falling last year and could do even better going forward. Recently, the company said it would spend 30% less on fuel in the second half of the year and the company put in place a $6 billion stock buyback plan.
Better still, Delta's current hedges on fuel will end next year and the company then will benefit from the (presumed) lower fuel prices. It also helps that with all it has done and may yet do, it's not very expensive with a price-to-earnings ratio of 20.
JetBlue is the star of the airlines. Its stock has more than doubled since oil prices began falling, yet its P/E is also 20. Always a nimble competitor, it is still a relatively small air carrier with plenty of room to grow, and the company is making adjustments to its oil hedging strategy to lower fuel costs more.
American would seem to be a big winner among airlines and its stock has (narrowly) beaten the S&P 500 since oil prices began falling. It's the largest airline, and it doesn't even hedge oil, so it would stand to gain the most from fuel price drops. Yet, its stock has suffered lately as the company has been hurt by newly competitive ticket fares. Investors though may think it an irresistible bargain if oil prices continue to fall because its P/E has flopped to just 7.
Amerco has been the JetBlue of ground transportation. Its familiar rental U-Haul trucks and trailers have been flying off the lot. Earnings, revenue and stock are at record highs as oil prices have tumbled. With a P/E of 19, this unique company is in a position to keep on trucking.
Not that investors should forget the oil companies entirely -- should the turnaround ever come. Shares of ExxonMobil (XOM) - Get Report and Royal Dutch Shell (RDS.A) have been hurt less than most oil companies -- dropping 25% and 35%, respectively -- during the oil price collapse. The companies are also among the industry leaders who are still making money and with P/Es of 13 and 8, respectively, they may be irresistible bargains if oil prices continue to fall before rebounding.
This article is commentary by an independent contributor. At the time of publication, the author held no positions in the stocks mentioned.