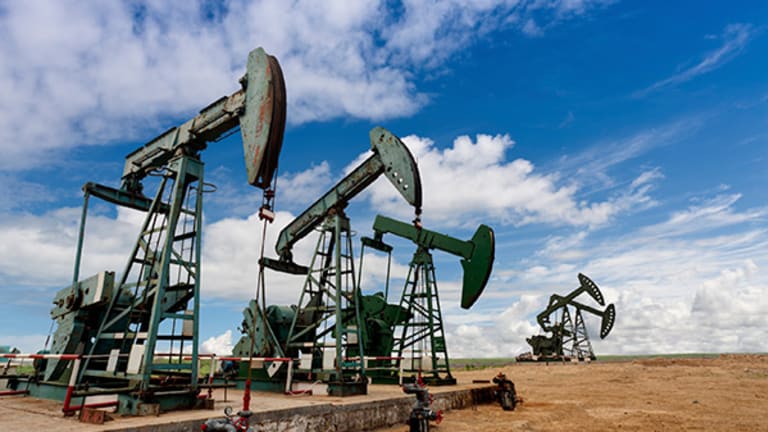 Oil Prices May Rise Further, Even After the Rally to $50 a Barrel
High production decline rates in the United States will likely drive prices higher.
Oil prices are likely to continue to rise, thanks to very high production decline rates in the United States.
Shale oil represents nearly half all production in the United States, but production declines exponentially faster than with conventional production. A single shale oil well can have production declines of 70% in the first year, 40% in the second and 25% for all years thereafter, while conventional wells only decline 5% to 10% per year.
Compared with 10 years ago, producers have to drill several hundred more wells each year just to keep production flat, but this is clearly not happening. The rig count has dropped to just over 300 from a high of 1,600.
The effects of not drilling are just starting to be felt.
U.S. production peaked in April 2015 at 9.7 million barrels per day and had declined to 8.8 million barrels per day by this past February. Of the 8.8 million, slightly less than 5 million per day comes from the top seven shale areas.
In its latest drilling productivity report, the Energy Information Administration said that it expects production from these shale areas to drop another 110,000 barrels per day this month alone.
This rate of decline could continue for a long time.
If we assume the average age of a shale well is one to two years and the average decline is 40% or greater, production will decline by 2 or more million barrels per day in the next year with no additional drilling.
The International Energy Agency projects that demand will grow by 1.2 million barrels per day this year.
To offset the decline from shale production and demand growth, the world needs more than 3 million barrels per day of new production. Iranian production fills some of this gap, and Saudi Arabia might be able to produce an additional 500,000 barrels per day, but generally, Organization of the Petroleum Exporting Countries production is close to max.
Record high amounts of oil in storage and production from drilled but uncompleted wells will make up some of the gap as well. However, if prices stay at $50 or lower, the rig count could continue to drop, and U.S. shale production could decline about another 30% next year.
The same would probably happen in 2018 and beyond. Demand for oil should continue to grow at 1 million barrels per day per year, especially with low prices.
Once storage is depleted, the world could be under-supplied with oil, and price spikes could happen as a result. This potential shortage could cause the price of oil to spike to $70 or higher to the point where shale production becomes economic again.
Storage and drilled but uncompleted wells and marginal improvements in OPEC production are all short-term fixes. The exponential shale oil decline curve is the real fundamental driver of oil supply.
As long as the rig count stays low, production will fall much more rapidly than in previous downturns, resulting in an under-supplied market and rising prices.
Jay Rhame is an analyst and portfolio manager at Reaves Asset Management, a research-based investment management company founded in 1961. The firm is known for investing in utilities, telecom and energy infrastructure securities, focusing on preserving capital, generating current income and delivering long-term growth to investors. He has been with Reaves since 2005, covering the utilities and energy infrastructure sectors. Jay is a CFA Charterholder and co-portfolio manager of the Reaves Utilities ETF, the first fully transparent, actively managed utilities ETF.
The commentary is the opinion of the sub-adviser, Reaves Asset Management. This material has been prepared using sources of information generally believed to be reliable; however, its accuracy isn't guaranteed. This material was prepared without regard to the specific objectives, financial situation or needs of any particular person who may receive it. It is intended for informational purposes only, and it isn't intended that it be relied on to make any investment decision. It doesn't constitute investment advice or a recommendation or an offer or solicitation and isn't the basis for any contract to purchase or sell any security or other instrument.
Past performance isn't indicative of future results
Please consider the investment objectives, risks, charges and expenses of the fund carefully before investing. The prospectus contains this and other information about the fund. Contact us at 888-383-0553 or visit reavesetfs.com for a copy of the fund's prospectus. Read the prospectus carefully before you invest or send money.
Distributed by ETF Distributors.