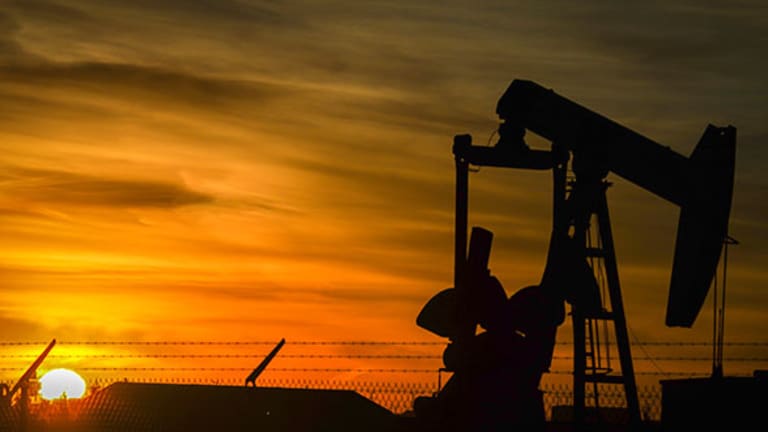 Oil Prices Look Choppy but Rangebound for the Next Few Weeks
Oil prices are low and stockpiles are growing. What's going to happen with oil prices, and what should investors do?
NEW YORK (TheStreet) -- Oil has come down for three straight days, and now people are wondering if oil will resume a downward path under $40 again. Although I do not see oil prices becoming constructively bullish in the next several months, I also believe that the lows for oil prices have been seen in 2015, and we are destined to remain in a low but relatively steady price environment for the rest of the year.
Oil stockpiles continue to grow, even though there are signs that production is finally beginning to come offline. OPEC production reached another record in July, and the rumor that Russia was in talks with Saudi Arabia about holding down production was squashed by Igor Sechin, the man who runs Russian oil giant Rosneft (RNFTF) , on Tuesday. Oil production in Texas will again be up significantly for 2015, coming close to record oil production not seen since the 1970s. Bakken production, while beginning to flatten, will still record more oil in 2015 than ever.
All of this oil is adding to stockpiles that are still far above their five-year averages. We are still waiting for the onslaught of consolidation and outright bankruptcies from marginal producers that will take some of the excess production offline, and unless that begins very soon, it is likely that we'll continue to see pressure on oil prices for the next several months.
And even with all of this pressure, I don't expect oil prices to make another new low in 2015. Only speculators are equipped to sell oil at prices much below $45, as commercial producers aren't helped by hedging production below their own breakeven prices. And while financial players can and do make big impacts on the price of oil and where it is traded, it is difficult for them to maintain pressure on prices much below the breakeven prices of legitimate oil producers for very long.
This confluence of oil price pressure and a lack of commercial selling should hold prices for the next few months between $40 and $50 a barrel.
With oil markets in a holding zone, the best investment plan in energy is to look for moves towards the bottom of this range to accumulate oil stocks, and near the top of this range to get out of them.
Oil majors, like Exxon Mobil (XOM) - Get Exxon Mobil Corporation Report and large oil services stocks like Schlumberger (SLB) - Get Schlumberger NV Report, are still some of the best bets for the long-haul investor looking for value in a rangebound oil market.
This article is commentary by an independent contributor. At the time of publication, the author held no positions in the stocks mentioned.