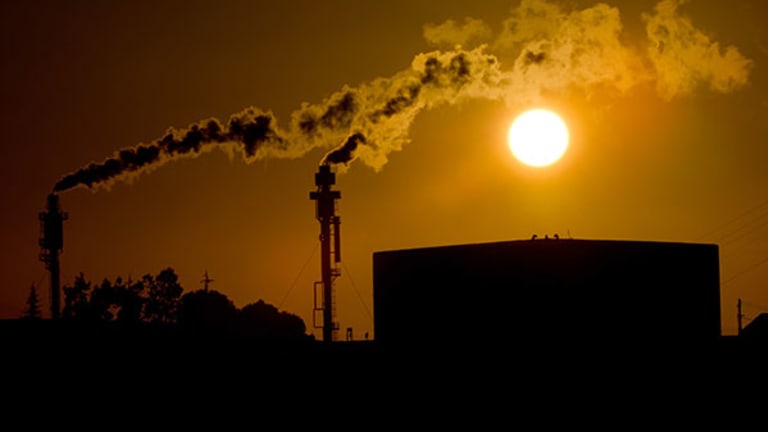 Oil Prices Continue Their Slide But How Low Can They Go?
Dan Dicker, energy contributor at TheStreet, talks with Brittany Umar about the continuing slide in oil prices and when the bottom might be found.
NEW YORK (TheStreet) -- I was talking with Brittany Umar today about the continuing drop in the price of crude oil, now below $56 a barrel. Is there any bottom to be found in oil prices?
One of the most interesting aspects of this oil market is its ability to breed more selling as it goes lower. That's because the need for oil companies to hedge out their production for 2015 and 2016 becomes ever more pressing as the price of oil drifts lower. While oil companies have little desire to sell oil futures when prices are above $80, they become more and more compelled to sell futures as the price slips below $70 and downright panicky as they drop below $60.
These prices are truly threatening to their livelihood: In many cases, these marginal oil companies cannot continue to produce at prices below $60, and a sustained price this low will put many of them at bankruptcy risk.
While leads to the answer to Brittany's next question for me: How low can oil prices go?
I have been convinced that the need for oil companies to sell into the oil market, coupled with the continuing rise of the dollar, has made it more and more difficult to predict a bottom in oil prices, even though these prices are entirely unsustainable in the long term. What I think is needed to show a bottom in oil prices are some hard numbers and even harder defaults.
This article is commentary by an independent contributor. At the time of publication, the author held no positions in the stocks mentioned.