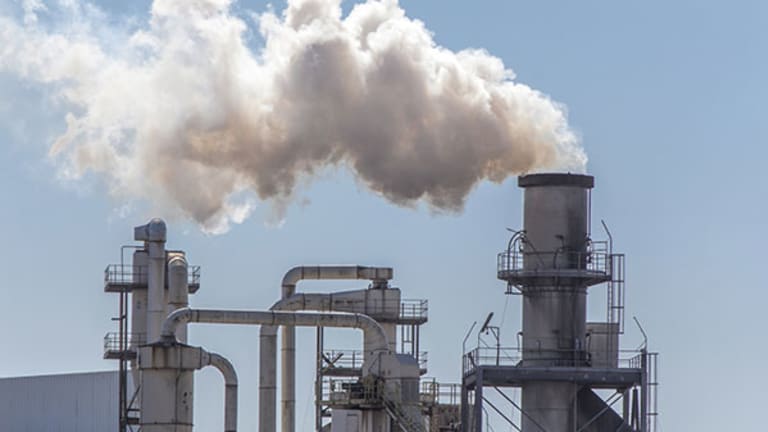 Oil Price Cut by Saudis Could Provide Sector a Much-Needed Boost
The decline in oil prices is causing the Saudis to consider different ways to prop up demand for its oil. Will this latest move work?
NEW YORK ( TheStreet) -- Saudi Arabia is trying to influence U.S. demand for its oil. It just might work and that would likely be good for U.S. investors.
In a move that took many traders by surprise, the nation cut its asking price for its oil being shipped to the U.S. The move was likely motivated by the need to defend market share, indicating the Saudis are trying to boost U.S. demand for its oil. It may also suggest more pricing flexibility in the near future as the Saudis wrestle with oil stuck in a downward market, at three-year lows despite long-term fundamental support. 
The recent 25% slide in crude oil prices has been quick and sharp, painting Monday's move by the Saudis as opportunistic in a weaker price environment. According to Goldman Sachs, "every 10% drop in oil prices spurs 0.15 percent more consumption in the global economy. That consumption sets up additional demand of almost 500,000 barrels of oil a day."
In that light, the Saudi price cut could actually be seen as a strategic move to support longer-term stronger oil prices. That would be especially effective if warnings of a supply glut in the U.S. turn out to be premature. 
Let's not forget the Saudis raised prices in Asia, where they cut pricing four months in a row. Asia didn't have the shale revolution the U.S. did, so the competitive need for low prices doesn't exist. This focus on supply and demand makes the possibility of a price war between the Saudis and the U.S. less of a real concern. 
At the same time, the U.S. still imports roughly 7 million barrels of crude oil per day. So despite the growing affinity for renewables, fossil fuels will likely be a big part of our energy mix for the foreseeable future. Given that, U.S. domestic oil producers have already shown a willingness for capex reductions, which could easily result in a drop in production. That could lift crude oil prices comfortably above $80 per barrel before year-end and make beaten-down exploration and production names like Chevron (CVX) , Hess (HES) and Statoil (STO) attractive again. 
That scenario is increasingly likely if we understand that Saudis are focused on long-term pricing and not crippling shale producers.
Keep in mind it was only last week when OPEC Secretary General Abdullah al-Badri said, "OPEC's average price will still be $100 at the end of this year so we are fine for 2014. The fundamentals do not reflect this low price." If that's true, the Saudi price move -- just three weeks ahead of the Nov. 27 OPEC meeting -- could be very temporary.
The Saudi price cut is likely to further divide OPEC, a group that has been increasingly split in recent years. While Iraq and Iran may follow the Saudis as they have done before and join the the price cut party, other OPEC members may not be so keen to follow suit, especially with winter quickly approaching in the U.S., maintenance season for refiners winding down and a seasonal lift likely forthcoming due to colder temperatures and increased demand for heating oil. 
The Saudis already cut supply by over 400,000 barrels a day in August. So despite OPEC not formally likely to announce its first production cut since the 2008 financial crisis, the Saudis are taking matters into their own hands, using the timing of both production and pricing adjustments to prop up the demand for oil. This time it may actually work.
At the time of publication, the author had no positions in any of the stocks mentioned.
This article is commentary by an outside contributor, separate from TheStreet's news coverage.