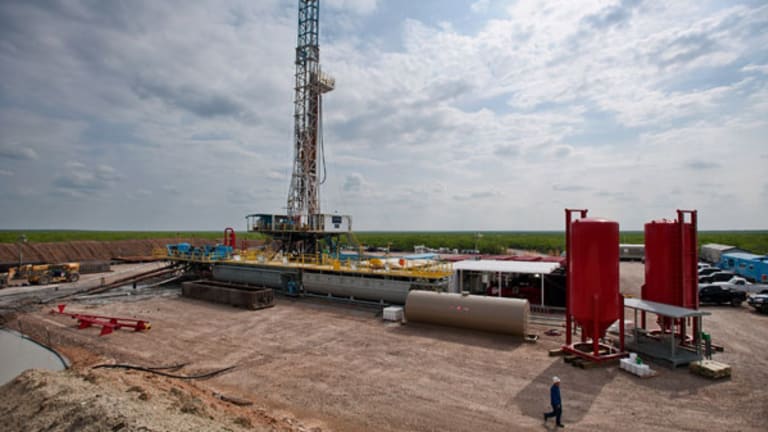 Oil ETFs for This Year's Rally
This year's commodity rallies have yet to filter into all oil-related assets. Here are three ETFs poised for further upside.
This year's commodity rallies have yet to filter into all oil-related assets. Here are three ETFs poised for further upside.
NEW YORK (TheStreet) -- Earlier in the year, political turmoil in the Middle East helped propel a rally in oil prices that many investors thought would end once the possibility of supply disruptions at the Suez Canal was removed from the market's focus.
But markets have held these elevated levels in oil prices into the second half of the year, as a dovish stance at the
Federal Reserve
puts downside pressure on the dollar and the Chinese government pledges a commitment to meeting its yearly growth target of 7%. These supportive elements in the world's first and second largest oil-consuming nations should keep prices elevated into the end of the year.
But although West Texas Intermediate (WTI) crude has seen price gains of more than 25% in the last three years, ETFs that track related assets have not fared nearly as well. For investors looking for ways to gain exposure to these rallies, ETFs offer some attractive options. Here, we will look at three of the best choices.
The
United States Oil Fund
(USO) - Get Report
is the largest crude-based ETF, with nearly $850 million in assets under management. The fund's value moves with the daily fluctuations in WTI prices and charges a management expense ratio of 0.45%.
This makes USO an excellent option for those looking to gain exposure to oil (or to hedge portfolios). The fund's main holdings include short-term contracts of WTI crude oil in the IntercontinentalExchange and NYMEX markets. The fund's portfolio reflects daily changes in Net Asset Value (NAV) over the prior 30-day period, at 10% +/- of the average daily price fluctuation of the benchmark. For bullish oil investors looking for a well-managed fund with a strong record of stability, USO offers a solid option in playing this year's oil rally.
Next, we look at the
iShares US Oil Equipment & Services ETF
(IEZ) - Get Report
, which is more closely based on the performance of individual companies in the sector. The fund's largest holding is
Schlumberger
(SLB) - Get Report
, which makes up nearly 22% of its total exposure.
Schlumberger is the largest oil-services provider in the world, and its latest earnings report showed strong second-quarter earnings at $1.15 per share (excluding items).
Total revenue rose by more than 8%, coming in at $11.18 billion from year-ago levels -- propelled largely by its cohesive international exposure.
Schlumberger has beaten market estimates in four of the last five quarters (by a large margin), and holdings like this will help support the prospects for IEZ going forward.
Last, we have the
Energy Select Sector SPDR ETF
(XLE) - Get Report
, which is the market's most commonly traded energy ETF.
The fund's portfolio includes 45 stocks that are broadly diversified, with the top three holdings seen in
Exxon Mobil
(XOM) - Get Report
(at 17%),
Chevron
(CVX) - Get Report
(at 15%) and Schlumberger (at 6.6%).
Exxon has yet to release earnings this season, but given recent company performances, expectations remain positive. Exxon's attractive valuations, stable financial position and return on equity, strongly rising net income, and reasonable debt levels will help support the fund into the late parts of this year.
The recent rally in oil prices has seen little in the way of corrective pullbacks (relative to the longer-term averages), and this suggests that elevated valuations for the commodity are likely to continue. There are some glaring divergences, however, in the price of oil itself, and in the ETFs with exposure to related assets.
This creates some attractive opportunities in some of the better-established ETFs in the sector, as the space is likely to post new highs going forward.
At the time of publication the author held no positions in any of the stocks mentioned.
This article is commentary by an independent contributor, separate from TheStreet's regular news coverage.
Richard Cox is based in China, and has lectured at several universities there on international trade and finance, focusing primarily on macroeconomics and price behavior in equity markets. His articles appear on a variety of Web sites, including MarketBulls.net, Seeking Alpha, FX Street and others. Investing strategies are based on technical and fundamental analysis of all the major asset classes (stock indices, currencies, and commodities). Trade ideas are generally based on time horizons of one to six months.