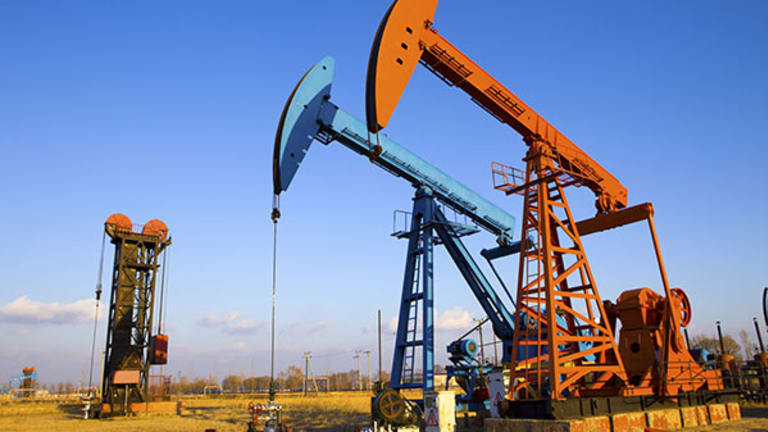 Oil Companies Have Momentum but Don't Invest Just Yet
Dan Dicker, energy contributor at TheStreet, talks with Jill Malandrino of Options Profits about oil stocks that are jumping higher than oil prices.
NEW YORK (TheStreet) -- Oil stocks have been on a tremendous tear recently, but I just cannot recommend buying even the strongest oil companies at the levels they are at today. With oil prices still well under $60 a barrel, many of these stocks are trading as if prices were above $90 a barrel. Earnings season is upon us and bad reports are likely on the way so now is not the time to invest in the sector.
I was one of the few analysts in the oil space who was recommending quality oil exploration and production companies when oil was in freefall in the early months of 2015. I believed the survivors of the oil crash of 2014 would be some of the best long-term value companies to own in the future. But I believe many of these stocks have recently rallied far too much for the underlying markets in which they are operating.
One of the reasons they have rallied so strongly has been indications that the new Iranian nuclear deal might not even survive to June. Recent statements by Iranian President Rouhani have been at odds with a recent bill in Congress on the timing of removing sanctions from Iran.
In addition, Russian sales of anti-aircraft missiles have added to the doubt of a quick end to Iranian sanctions and the million or more barrels a day of Iranian crude waiting to hit the global market. Increased projections of crude demand for 2015 by the International Energy Agency as well as less-than-expected build-ups in U.S. stockpiles have added to the upwards pressure on oil prices recently.
But the oil stocks have been far more resilient than the crude price seems to imply. For example, Cimarex (XEC) - Get Report, a company I own and recommended when it was trading under $100 a share, is now trading above $127 a share. On Wednesday, it got a $150 target upgrade from Stifel Nicolas. But the last time Cimarex traded nearly $130 a share, oil was also selling for almost $95 a barrel. Oil stocks like Cimarex are no longer discounting 2015 oil prices.
ConocoPhillips (COP) - Get Report is another example of this. It is now trading at almost $70 a share. The last time COP was at so high a level was in September of 2014, when oil was above $90 a barrel.
Sector rotation is flooding the oil sector with investment dollars. Many of the money managers are looking for underperforming sectors in the stock market to move money from overperforming ones. Although energy has clearly been the weakest area of the Standard & Poor's 500 index in 2014, I still believe the prices on oil stocks are not reflecting the reality of underlying oil prices.
I cannot recommend oil stocks under these conditions, even though they have all the momentum today.
I talk more about oil stocks with Jill Malandrino in the video above.
This article is commentary by an independent contributor. At the time of publication, the author held a position in XEC.