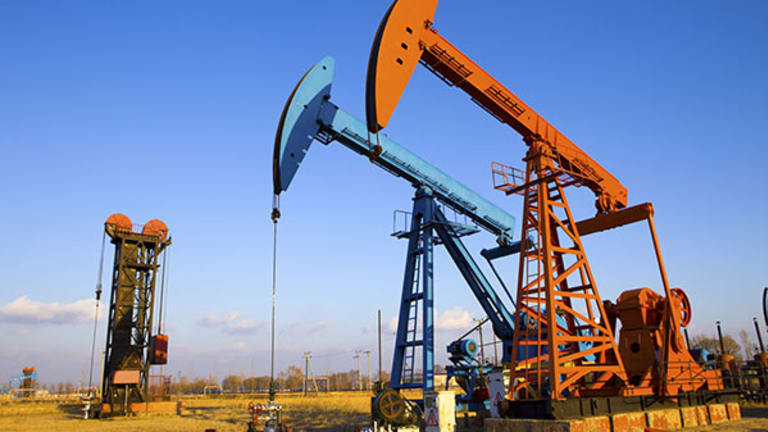 Oil and Energy Stocks May Be Ready for a Comeback Sooner Than You Think
Time to spring forward and look at increasing exposure to energy stocks after period of poor performance.
NEW YORK (TheStreet) -- Since last June, the energy sector has underperformed the Russell 1000 by nearly 25% and has been the worst performing sector in the U.S. equities market.
Analysis suggests that we are closer to the bottom of energy underperformance than the consensus realizes. The recent 50% decline in oil prices is historic but not unprecedented. In the past 25 years, there have been four other occurrences of 30% or more oil price declines with corresponding dramatic negative relative performance of energy stocks. In each of these cases, the sell-offs have created rewarding environments for investors to significantly outperform. The recent collapse in energy stocks is similar to others. 
Macro Factors
1. Rig count declines suggest stocks have bottomed. 
On average, rig counts have historically declined approximately 50% from peak-to-trough during a major downturn in oil prices. Energy stocks, however, start to outperform on a relative basis after rig counts fall just 25%. Currently, rig counts have fallen 24%. In the past four oil price downturns, energy stocks have outperformed the Russell 1000 by 1,000 basis points between the bottoming of the stocks and the bottom of the rig count.
2. Crude oil prices are stabilizing. 
Not surprisingly, relative energy stock returns are correlated with the price of crude oil. During the previous down cycles, oil prices declined on average 52% over a 263 day period. The current decline registers at 55% over 255 days. Note the similarity between the historical averages.
3. Crude oil inventory still rising.
Energy stocks' relative performance improves after inventories peak. During past down cycles, oil inventories have expanded by 15% over 290 days. Currently, inventories have increased by 14% over the past 360 days. It is worth noting, however, that inventories have not yet begun to decline. While the increased supply from new U.S. land drillers is well-documented, fears of global growth contraction and concurrent declines in oil demand have contributed to declines in oil prices. Once inventories begin to draw down, this will signal that demand has stabilized and that supply-reducing measures like rig count reductions should drive sustainable increases in the price of oil.
Company-Related Factors
1. Earnings estimates.
Estimates for energy stocks continue to get cut after beginning to deteriorate in September when crude oil prices dropped precipitously. Anticipate further estimate cuts to 2015 forecasts during the first quarter. Ultimately, look for the second derivative of earnings estimates to improve (estimate cuts get less bad) as a signal that earnings expectations have bottomed and upside surprises are more likely.
2. M&A activity.
Attractive valuations are frequently highlighted by increased M&A activity by strategic and financial buyers. While transactions have not yet been announced, the precursors to this activity is beginning to appear in the marketplace. Newly formed private equity funds have been created whose purpose is to make acquisitions in the energy space. In addition, many well-positioned energy companies hoping to buy assets at distressed prices have recently completed equity offerings. Look for deal announcements as the key signal that valuations are bottoming.
3. Valuation.
For energy stocks, traditional valuation metrics like low price-to-earnings ratios and high free cash flow yields have not been the best indication of future stock price performance in a sharply declining oil price environment. During these environments, a low relative price-to-book ratio has been a better predictor of future stock price returns. Energy stocks have historically bottomed at one-to-two times price-to-book. While not yet at these levels, valuations are approaching them. Today's energy price-to-book ratios are also the lowest since at least 1986. We view valuations as approaching a bottom.
4. Stock price action.
In prior downturns, energy stocks historically underperformed the Russell 1000 by about 22% over a period of seven months. In the current bear market, energy stocks have underperformed by about 23% basis points over eight months, suggesting limited additional underperformance.
It Not Different This Time
History suggests that the current downturn in energy stocks is likely nearing the bottom. Rig count reductions, oil price declines, and inventory builds are all approximately in-line with historical averages for energy price dislocations. In addition, energy stocks have been outperforming for the past six weeks and are the second best sector in the Russell 1000. While much of the data is bullish, we continue to look for inventory declines, improvement in earnings estimates, and an uptick in M&A activity to suggest that the energy sector is coming out of its slumber.

This article is commentary by an independent contributor. At the time of publication, the author held no positions in the stocks mentioned.