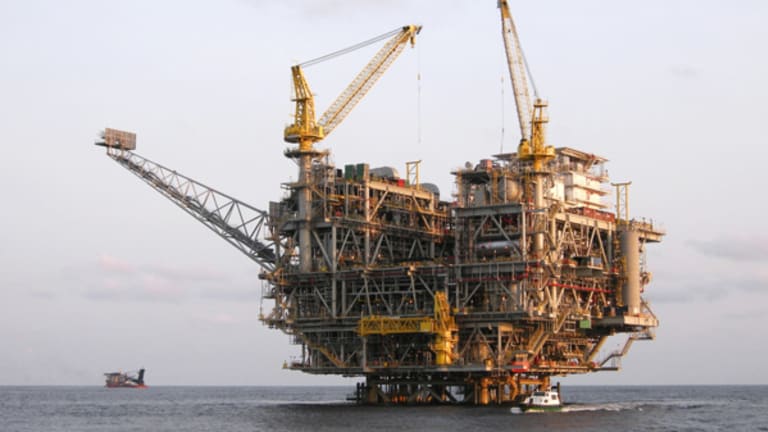 Publish date:
Offshore Driller Transocean's Dividend Is Safe Despite Oil Woes
Transocean's dividend will come under review in March 2015, but the Swiss company's payouts are safe, even as it operates older rigs in a down market. Here's why.
Transocean's dividend will come under review in March 2015, but the Swiss company's payouts are safe, even as it operates older rigs in a down market. Here's why.
NEW YORK (TheStreet) - Some offshore drillers will have to cut dividends to adjust to shrinking cashflow amid an oversupply of drilling rigs and deteriorating crude prices, but Transocean (RIG) - Get Transocean Ltd. Report  shareholders may avoid this fate thanks to the company's strong balance sheet and Swiss corporate governance rules. 
Last month, Seadrill (SDRL) - Get Seadrill Ltd. Reportsuspended its dividends to preserve its balance sheet, while analysts have warned that others might do the same.
However, the dividends of Transocean (RIG) - Get Transocean Ltd. Report , the world's biggest offshore drilling contractor in terms of number of rigs, are safe, even as the current dividend program comes to an end in March 2015, Longdley Zephirin, principal and analyst at the Zephirin Group told TheStreet in an interview. Transocean has paid a dividend of 75 cents a share for the last three quarters and has said its dividend will total $3 over the course of the year. 
With 91 rigs, Transocean has the largest fleet in the world, including a dozen rigs that are currently under construction. By comparison, competitors Ensco (ESV) has 72, Seadrill (SDRL) - Get Seadrill Ltd. Report has 68, and Diamond Offshore (DO) - Get Diamond Offshore Drilling, Inc. Report owns 39 rigs.
However, Transocean's fleet includes more than 30 rigs that originally came into service at least three decades ago. The fleet of some of its competitors, on the other hand, such as Seadrill, Rowan Cos. (RDC) and Atwood Oceanics (ATW) , consists largely of modern high-specification rigs that generate better day rates than older ones.
But having an older fleet "is not necessarily a bad thing" Zephirin said in an email, particularly "when the rigs are fully paid-off, and are able to contribute positive cash flow that is well above the cost of capital." A majority of Transocean's fleet, including 78% of its high-specification jack-up rigs, are under contract through 2015. This will allow the company to continue generating cash in a tough market.
To address concerns related to older rigs, Transocean has been transforming its fleet. Transocean CEO Steve Newman, in comments during the third quarter conference call, said that the company will continue to add new rigs while retiring its older units over the next few years.
Further, Transocean has already contracted five of the twelve rigs currently under construction to Shell (RDS.A) and Chevron (CVX) - Get Chevron Corporation Report with a total backlog of $8.7 billion. "This contributes to debt payments and dividends which allows Transocean to maintain a strong balance sheet," Zephirin wrote.
While Transocean is behind some of its competitors in terms of the age of its fleet, it is ahead of others in terms of financial health. The company 's debt-to-equity ratio, which is often used to measure leverage, stands at 68.4%, which compares against the industry's average of 111%, as per data compiled by Thomson Reuters.
This financial strength is due, in part, to Transocean's ability to live within its means, eliminating any need for additional debt. In 2013, the company's cash inflows from operations exceeded its cash outflows from capital spending and dividend payments.
Zephirin predicts the company will continue to generate positive free cash flows in 2014 and 2015 after reducing its capital expenditure from $2.2 billion in 2014 to an expected $1.4 billion in 2015.
The company's strong debt ratio should protect the dividend from suspension when the current dividend program comes under review in 2015.
Moreover, Zephirin estimates, if Transocean maintains the existing levels of dividends in 2015, it will still generate positive free cash flows of more than $652 million, even if day rates and utilization rates were to fall lower.
If Transocean were to cut the dividend to $572 million, then free cash flow would be around $1.4 billion. "Overall," Zephirin said, "the dividend is safe."
It also helps that Transocean is a Switzerland-based company where regulations require that a decision on future dividends be recommended by shareholders and then approved by the board. This is different from the U.S., where the board makes all such decisions.
As a result, unlike in Seadrill's case, it's impossible for Transocean's board to suspend dividends without getting a green signal from the shareholders first.
Transocean's shares have dropped by 63% this year, closing at $18.21 on Wednesday.
Zephirin has a "buy speculative risk" rating on Transocean for "investors who can stomach the storm for long term gain." Neither he nor his firm have positions in the stock.
This article is commentary by an independent contributor. At the time of publication, the author held no positions in the stocks mentioned.