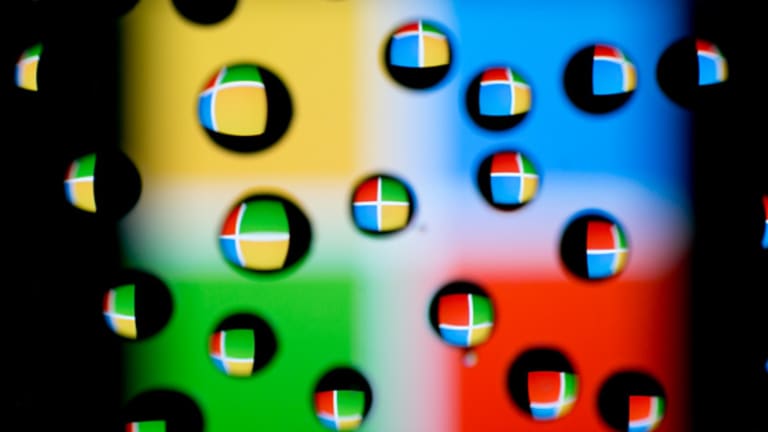 Office Will Determine Whether Microsoft Can Beat Apple
Apple dumped Google Maps. It should do the same to Office.
NEW YORK (
) -- Earlier this year, I returned to
Apple's
(AAPL) - Get Free Report
Mac after too many years as a Windows guy.
Without hesitation, I downloaded
Microsoft
(MSFT) - Get Free Report
Office. I was under the impression I could not live without it.
Then a strange thing happened. There was a technical problem with the download. While waiting to hear back from customer service, I used Apple's Pages word processing program.
I also used Numbers (the Mac alternative to Microsoft Excel). And, although I have yet to test it, several people tell me Apple's Keynote blows away Microsoft's PowerPoint.
My solid experience with Pages prompted me to get a refund on my Office order.
Back in the old days, I had to have Office for Mac. Without it, it was impossible to get much work done. Windows users couldn't easily convert Mac files.
Now, it's simple. Right from Pages, you "share" your document, selecting Pages, Word or PDF format.
And, like everything else Apple, Pages is intuitive. It lacks some of Word's bells and whistles, but who needs them?
Most of today's users don't. If you're doing anything more than basic word processing you're probably not using Word anyway.
Apple should turn the screws on Microsoft. Improve and push iWork harder in OS X
and
iOS. If it can ditch
Google
(GOOG) - Get Free Report
Maps and get away with it, it can jettison Office.
Apple should wait, however, until it has Microsoft right where it wants it.
As it stands, nobody really knows whether Microsoft will release Office for iOS and Android. We have nothing to go on but rumors.
Microsoft CEO Steve Ballmer can
hallucinate all he wants about the Surface tablet
, but he knows as well as the next geek that there's only one thing that sets Surface apart from the competition (particularly the iPad): Office.
If Microsoft releases Office for iOS and Android anytime soon, it's obvious Ballmer has no faith in his company's ability to to steal meaningful mobile market share from Apple, Google and
Amazon.com
(AMZN) - Get Free Report
.
From the start of the pitch -- whether in a retail store, the enterprise or education -- Office is the differentiator.
Set aside the positive early reviews on Surface. They mean little. The real world will decide Surface's fate, not a reviewer nerd who doesn't want to anger Microsoft out of fear of not receiving an invitation to the next "big event."
Ballmer likely will hold off on opening Office up to mobile environments.
After the holidays, he'll decide whether to license it to iOS and Android.
If he does open Office, the half-full glass says he thinks Surface is strong enough to compete with iPad and other devices without Office exclusivity. Microsoft already seems to think that's the case with relation to price.
The half-empty-glass perspective laments another Microsoft failure -- this time at selling hardware (save for the Xbox) -- and billionaire Ballmer gets fired.
What's sad about the whole affair, assuming I'm correct and it doesn't end well (defining "well" as Microsoft actually dings Apple hard), is that early on it looked like Microsoft had something here. Specifically, an ecosystem that could tie several solid to halfway decent platforms together.
It comes down to mindshare -- something that's difficult to control given Apple's foothold in mobile -- and marketing.
Instead of commercials where you try to make the uncool look cool and
make the same mistake multiple times
by
riffing cluelessly on Apple products and pricing
, spell out for users how Xbox, as hardware and a platform, ties into Smart Glass and Surface and how these things tie into tablets, smartphones and PCs.
Microsoft hasn't done this. Considering the pickle the company is in, it's tough to fault them.
It's a tall order when the only thing you really have going for you, other than a horribly marketed Xbox, are productivity tools. Office might be big, but, just like the CrackBerry habit, its hold on consumers can be broken.
At the time of publication, Pendola held no positions in any of the stocks mentioned.
.
Rocco Pendola is
TheStreet's
Director of Social Media. Pendola's daily contributions to
TheStreet
frequently appear on
CNBC
and at various top online properties, such as
Forbes
.