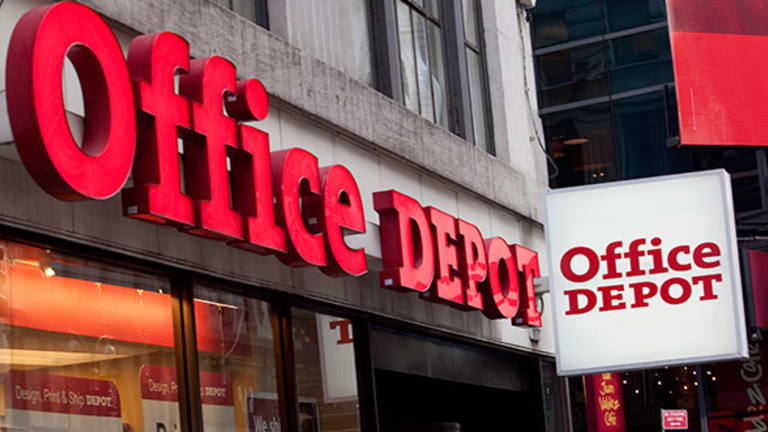 Publish date:
Office Depot On Track to Close 400 Stores by Year-End
Office Depot will continue to close stores in 2016 in a bid to boost its bottom line.
Office Depot will continue to close stores in 2016 in a bid to boost its bottom line.
If an Office Depot (ODP) - Get ODP CORPORATION Report hasn't left your community just yet, there is a possibility it might in 2016 as the office supplies retailer seeks to cut costs amid intense competition in the office supplies business.
According to Office Depot's latest annual report, it will shutter about 50 stores in the U.S. this year. Last year, the company closed 181 stores following the exit of 168 locations in 2014. As part of its buyout of rival Office Max in 2013, Office Depot said it would close at least 400 stores by the end of 2016. The closure of 50 stores this year will effectively bring Office Depot to its goal.
Fewer stores in operation has also led to a consolidation of Office Depot's supply chain. Through the end of 2015, the integration of Office Depot with Office Max has resulted in the closure of eight distribution centers and cross-dock facilities across the country.
At the end of 2015, Office Depot operated 1,564 retail stores in North America. The company boasted 45 distribution centers and cross-dock facilities in the United States and Canada.
Office Depot's bottom line has definitely been boosted by it shedding costs related to running stores such as rent, hourly wages and shipping.
Operating profits adjusted for one-time items amounted to $460 million in 2015, up from about $99 million in 2013.  Since closing its deal for Office Max on Nov. 5, 2013, shares of Office Depot have been relatively unchanged, compared to an 8% increase for the S&P 500. 
But if Staples' (SPLS) impending buyout of Office Depot does not gain regulatory approval, Office Depot may be forced to close even more stores in 2017 to jump-start its profits (and stock price) again after a year of disruption.
Fourth quarter earnings excluding one-time items came in at 7 cents a share, unchanged from the prior year, and fell short of Wall Street estimates of 11 cents. Same-store sales were also unchanged year over year. In the third quarter, same-store sales increased a solid 3%.
At the company's business solutions segment, which primarily ships office supplies under contract to businesses, sales declined 6% when excluding the impact of the strong U.S. dollar. Office Depot attributed the sales drop to "substantial business disruption" related to the pending acquisition by Staples.