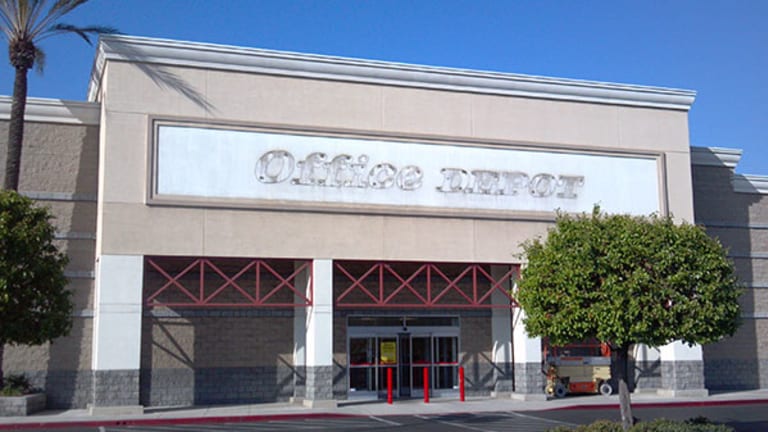 Publish date:
Office Depot Is Still a Stock to Avoid, Despite Small Profit in 2015
Office Depot managed to turn a small profit in 2015 after a disastrous 2014, but the company remains challenged.
Office Depot managed to turn a small profit in 2015 after a disastrous 2014, but the company remains challenged.
The retail sector is noticeably more competitive than it used to be. One company that has had a hard time keeping pace with competitors is Office Depot (ODP) - Get Report . Its latest earnings statement was another in a series of disappointing report cards for the Boca Raton-based company.
Keep in mind that when building your portfolio, knowing which dangerous stocks to stay away from is just as important as which ones to buy. Investors might see a well-known brand with a relatively cheap stock price and be tempted to buy it, but in this case our advice is to stay away.
data by
Office Depot saw sales decline by 9% for the fourth quarter and 10% for the year, the Boca Raton office-supply company reported the other day. Annual sales missed analysts' estimates by $80 million.
For the year, Office Depot reported net income of $8 million on sales of $14.49 billion compared with a loss of $354 million on sales of $16.1 billion in 2014.
Chief Executive Roland Smith said he was pleased with the operating results "despite experiencing substantial business disruption" related to the possible acquisition of the company by Staples (SPLS) .
SPLS
data by
That planned merger is one more bit of uncertainty that is weighing the company down -- one of the keys to identifying a toxic stock. The Federal Trade Commission has filed a lawsuit challenging the merger in U.S. District Court; no resolution of the case is expected until May at the earliest. But in the meantime, Office Depot is a fundamentally weak stock poised for further declines.
Sales declined 9% in Office Depot's North American retail division due to store closures. The division reported sales of $1.4 billion in the fourth quarter compared with $1.5 billion in the prior year. For the year, North American retail sales were $6 billion compared with $6.5 billion in 2014.
At the company's business solutions segment, which primarily ships office supplies under contract to businesses, sales declined 6% when excluding the impact of the strong U.S. dollar.
Office Depot ended the year with 1,564 retail stores in North America. During the quarter, Office Depot closed 56 stores, including an Office Depot in Hollywood.
And that's just the beginning: According to Office Depot's latest annual report, it will shutter about 50 stores in the U.S. in 2016. Last year, the company closed 181 stores following the exit of 168 locations in 2014. As part of its buyout of rival Office Max in 2013, Office Depot said it would close at least 400 stores by the end of 2016.
Through the end of 2015, the integration of Office Depot with Office Max has resulted in the closure of eight distribution centers and cross-dock facilities across the country. At the end of 2015, Office Depot operated 1,564 retail stores in North America. The company boasted 45 distribution centers and cross-dock facilities in the United States and Canada.
Office Depot's bottom line has been boosted somewhat by cutting costs related to running stores such as rent, hourly wages and shipping.
But the long-term picture for the firm remains cloudy. The deal with Office Max was supposed to increase profits, but the company has continued to struggle. Consequently, since closing its deal for Office Max on Nov. 5, 2013, shares of Office Depot have been almost unchanged, compared to an 8% increase for the S&P 500 during the same period (even after the recent downturn).
If the Federal Trade Commission in blocks this new merger, Office Depot may be forced to close even more stores in 2016 and 2017 to jump-start its profits (and stock price) again after a year of disruption.
So, Office Depot is a dangerous stocks to avoid. By contrast, Home Depot, which recently delivered a 17% increase in its quarterly dividend and has a strong balance sheet, remains a good long-term investment.
What a terrible year so far for investors! Stocks have been in a severe slump all year, as a sputtering China and plunging oil prices batter the weakest equities. Do we face a repeat of a 2008-style debacle? You need to prepare now, by weeding out the fundamentally flawed stocks that could ruin your portfolio. We've done the homework for you, by putting together a report on the world's most dangerous stocks. These equities are poised to collapse; don't get left holding the bag. To download your free copy, click here.
This article is commentary by an independent contributor. At the time of publication, the author held no positions in the stocks mentioned.