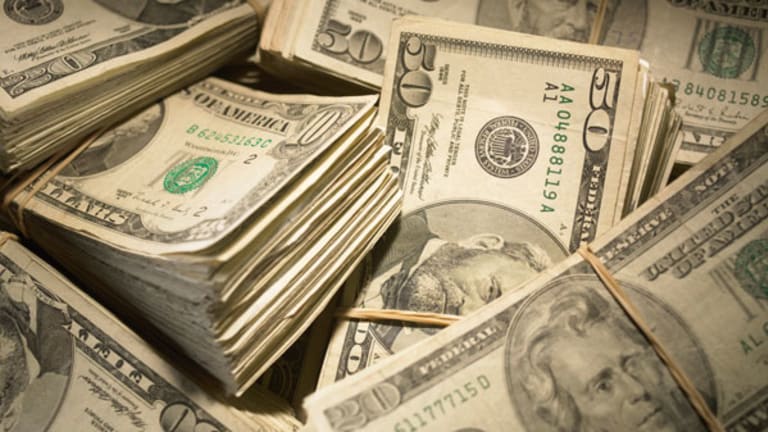 OCZ Technology's Bears Win; Toshiba Buys Remains
A 'deer in the headlights' strategy will cost you. Even if you want to hold on for a long shot, sell your OCZ shares now and buy after Nasdaq delists.
NEW YORK (TheStreet) -- OCZ Technology (OCZ) , after more than 10 years of fighting for market share and profit, finally succumbed to Intel (INTC) - Get Intel Corporation Report, Seagate (STX) - Get Seagate Technology Holdings PLC Report, and Western Digital (WDC) - Get Western Digital Corporation Report. OCZ investors and employees won't celebrate the holidays the same way this year. For many, Toshiba's announcement Wednesday it is buying nearly all assets didn't come as a big surprise.
OCZ's downfall was one of the slower train wrecks by Wall Street standards. I have traded bankruptcies many times, and they all generally follow the same path. For investors who haven't experienced a stock they own declaring bankruptcy, I'll explain what to expect based on what we already know.
Here is OCZ's announcement in part:
"...on November 25, 2013, it received notices that Hercules Technology Growth Capital, Inc. ("Hercules") took exclusive control of the company's depository accounts at Silicon Valley Bank and Wells Fargo. As set forth in the company's recent SEC filings, Hercules and the company are parties to a loan and security agreement."
"The company has received an offer from Toshiba Corporation to acquire substantially all of the company's assets in a bankruptcy proceeding. The parties have substantially completed negotiations on an asset purchase agreement and OCZ believes that all the material terms have been agreed to. The agreement is subject to various conditions: the preservation of the value of the business, including the retention of employees, the negotiation and execution of definitive documentation, the filing of bankruptcy petitions by the company and certain of its subsidiaries."
[Read: How to Profit From Nuance's Crash]
The stock was halted Wednesday for the announcement, and upon opening, dropped to 35 cents a share from about 63 cents a share. After another exchange circuit breaker halt, the shares fell to 20 cents. The second halt was a failure on the part of the Security and Exchange Committee to craft circuit breaker rules for the real world, but I digress. I (and many other professional traders) used the time during the trading halts to place short orders as we want to get short as many shares as quickly as possible. Trading volume spiked and by the end of the day more than 17 million shares changed hands.
One would think shares in a bankrupt company would immediately fall to zero, but that's not what usually happens. According to the efficient market hypothesis, rational investors won't buy a stock with zero value, but they do (so will I). Buyers fall into three categories.
[Read: Yes, BlackBerry Is a Buy]
The first I will call the smart money. They are the short sellers that shorted from much higher, and their bear thesis was correct. They're now taking profits (buying to cover) because on a percentage basis they have gained almost all of the total possible. A subset of the short sellers is traders that shorted as soon as they could after the announcement. I fall into this category often.
The second is the greater-fool traders, trying to catch a falling knife by timing the fall. They know the shares are (near) valueless, but they also know even bankruptcy stocks don't travel in straight lines. They're hoping to find a greater fool who will buy their worthless shares for even more money than they paid. They have to be extremely quick because they know each day brings the shares closer to zero.
The third category is what professionals call lotto ticket buyers, a.k.a. "dumb/dead money". Because the shares are so cheap, they think "why not", and if a miracle happens before liquidation, shares they bought for a penny or less could be worth $1 (or more). The odds are stacked against the lotto ticket buyers, so don't be one.
You may read about other potential buyers; and this, that, and the other, but even if OCZ receives a better offer than Toshiba (do you truly think management hasn't already knocked on a lot of doors searching for a better deal?), the chances of an offer significant enough to make the creditors whole is slim -- much less leave enough excess for equity holders.
There is no delicate way to word this, but by definition current shareholders are in the third category. The bull thesis was proved incorrect, and now it's a matter of recognizing the situation for what it is and performing portfolio damage control. Do the math, examine the balance sheet and cash flow and due diligence to make sure there isn't greater value than the current share price. After you confirm that the music has indeed stopped, sell your shares as quickly as possible.
[Read: Going Mobile This Holiday Season]
No reason for hesitation or regret. Not every investment decision makes money, but how much you make is determined by your actions based on available information. OCZ shares will soon become OCZQQ or something similar when it moves to the "pink sheets". When it moves to over-the-counter trading, its price will quickly work its way to sub-penny until liquidation.
Even if you want to hold on for a Hail-Mary end of the game longshot, sell your shares now and simply buy again after the Nasdaq delisting. You'll reduce your losses compared to a "deer in the headlights" strategy.
At the time of publication, Weinstein had no positions in securities mentioned.
This article is commentary by an independent contributor, separate from TheStreet's regular news coverage.