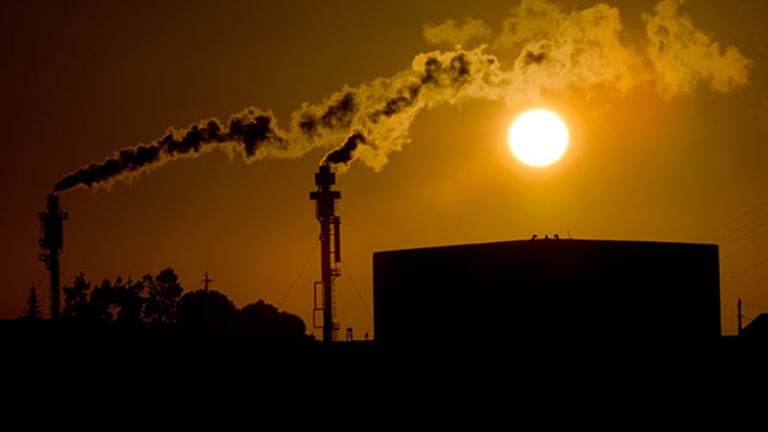 Occidental Petroleum Pumps Up a Plan for Prosperity
The energy giant plans to streamline its business and concentrate on profitability, to the delight of its shareholders.
NEW YORK (TheStreet) -- It's always exciting when a once-stodgy energy company comes up with a new and potentially profitable game plan.
On Friday,
Occidental Petroleum
(OXY) - Get Occidental Petroleum Corporation Report
announced its initial actions resulting from the company's strategic review to streamline and focus operations.
In a company statement, OXY's leadership said this was being done "... in order to better execute the company's long-term strategy and enhance value for shareholders."
Let the good times begin for OXY shareholders.
The Board of Directors authorized the following:
Pursue the sale of a minority interest in the Middle East/North Africa operations in a financially efficient manner. Pursue strategic alternatives for select midcontinent U.S. assets, including oil and gas interests in the Williston Basin, Hugoton Field, Piceance Basin and other Rocky Mountain assets. Sale of a portion of the company's 35% investment in master limited partnership Plains All-American Pipeline (PAA) - Get Plains All American Pipeline L.P. Report, which recently went public. This sale would result in pre-tax proceeds of $1.3 billion to Occidental, whose remaining interest in Plains All-American Pipeline, based on the IPO price, is worth approximately $3.4 billion.
"These are the first formal steps in our effort to streamline the business, concentrate in areas where we have depth and scale and improve overall profitability. Our goal is to become a somewhat smaller company with more manageable exposure to political risk," said Stephen I. Chazen, president and chief executive.
The company also plans to "consider additional strategic alternatives" for maximum returns for both the company and its long-suffering shareholders.
OXY is an international oil and gas exploration and production company with operations in the United States, Middle East/North Africa and Latin America regions. It's one of the largest U.S. oil and gas companies, based on equity market capitalization.
Oxy's wholly owned subsidiary, OxyChem, manufactures and markets chlor-alkali products and vinyls.
Oxy claims it "... is committed to safeguarding the environment, protecting the safety and health of employees and neighboring communities and upholding high standards of social responsibility in all of the company's worldwide operations." It's hard to overstate the importance of that statement.
Here's an impressive one-year price chart and the quarterly revenue per share line helps illustrate what's been driving OXY higher.
data by
Jim Cramer and Stephanie Link, who co-manage the Action Alerts PLUS portfolio, and
TheStreet's
research team had a number of substantial takeaways about Friday's big announcements from OXY:
"The initial phase is a partial sale of its Middle East/North Africa exploration-and-production assets, a sale of non-core mid-Continent assets in the Williston (Bakken), Hugoton, Piceance and other Rocky Mountain assets (66,000 boepd of non-core assets) and monetization of its 35% interest in the Plains GP IPO. This is in line with the company's guidance that it gave on its second-quarter conference call, and it was generally expected by analysts and investors."
That's most likely why the shares ended the day at $98.29, just below the 52-week intraday high of $98.68. Even at that price OXY shares are selling at a forward (one-year) PE ratio of only around 14.
TheStreet's
research team also noted the company's California assets were not mentioned in the release, "and given that this is a more complicated tax situation, it could take until December for an announcement on this front. Also, there was no mention in what its plans are for its Latin American assets or for a new accelerated exploration program with its Permian Basin asset."
So while Friday's news confirmed what was already known, it is a positive first step as the company begins the break-up and -- I hope -- spinoffs of a large oil conglomerate. This will undoubtedly lead to better growth.
This is why we believe the money OXY receives from all of these initiatives will be used to buy back 10% of its shares outstanding and increase its dividend. This is a huge win-win situation for shareholders and a momentous turning point for a valuable company.
At the time of publication the author had no position in any of the stocks mentioned.
This article was written by an independent contributor, separate from TheStreet's regular news coverage.
Marc Courtenay is the founder and owner of Advanced Investor Technologies, LLC, as well as the publisher and editor of www.ChecktheMarkets.com.
Courtenay holds a Master's of Science degree in Psychology from California Polytechnic State University, and is a former senior vice-president of Investments for two major brokerage firms. He's been a fiercely independent investment "investigator" and a consulting contributor to the investment publishing world for over 30 years. In addition to his role as an investment publisher and analyst, he serves as a marketing consultant to the investment media industries.
In his role as a financial editor, he specializes in unique investment strategies, overlooked stock investments, energy and resource companies, precious metals, emerging growth companies, the prudent use of option strategies,real estate related opportunities,wealth preservation, money-saving offers, risk management, tax issues, as well as "the psychology of investing". Because of his training and background in Clinical Counseling and Psychology, he enjoys writing about investor behavior, the herd mentality, how to turn investment mistakes into investment breakthroughs and the stock market's behavioral trends and patterns.