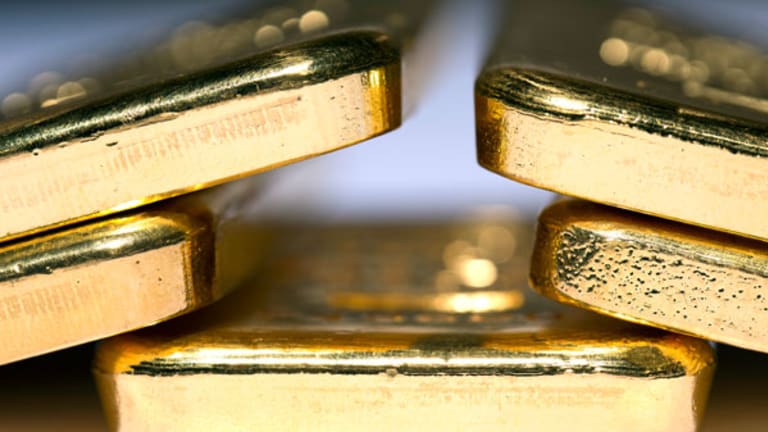 Obscure Swiss Referendum Could Roil Gold and Currency Markets
The Swiss National Bank thinks it owns too much gold but a referendum next month could force the SNB to more than double its gold reserves within five years.
The Swiss National Bank thinks it owns too much gold but a referendum next month could force the SNB to more than double its gold reserves within five years.
NEW YORK (TheStreet) -- The Swiss National Bank (SNB) already holds way too much gold, according to the central bank's own metrics. But a referendum next month could force the SNB to more than double its reserves within five years, sending gold prices up and spurring volatility for the usually steady Swiss Franc (CHF). 
If passed, the referendum, which is being put forward by the right-wing Swiss People's party, would mandate that the Swiss National Bank increase the proportion of gold in its $547 billion in assets to 20% from 7.7%, which analysts have said could cause volatility in the gold market and with the franc. The referendum sets a five-year timeline to complete the transition and also mandates that the Swiss Central Bank could never sell its gold again. The Swiss People's Party is a regular sponsor of referendum questions that advance its political agenda and may have sensed displeasure among voters regarding the SNB's policies, which it opposes. 
So far, the gold market has ignored the risk of a Swiss "yes" vote entirely. Like Swiss investment bank UBS (UBS) - Get Report -- which says the vote won't pass but accepts it would have an impact on gold prices if it does -- Barclays (BCS) - Get Report thinks the purchases will target some 1,500 tonnes (metric tons) rather than the true upper limit of 2,500 tonnes; Societe Generale (CET) - Get Report  has noted this as well. The strongest advice to date has been to go long gold volatility through the options market, with outright bullish bets reserved for "true believers" only.
With five weeks to go, gold is priced as though the "Save Our Swiss Gold" initiative doesn't stand a chance. Most news coverage has reported on two opinion polls that show the Swiss people are set to vote against it. 
Not so fast. Last week's polls -- first for 20 Minuten and then from the more established GFS in Bern -- both put the "Yes" votes ahead of the "No" camp, albeit with a small margin. The vote could be hard to predict due to low turnout. The Swiss gold referendum of 1999, when voters were asked to end the franc's official gold-backing and approve central-bank sales, saw turnout of barely 35% -- near the lowest level of the last 15 years.

There is some evidence that the vote could yield a surprise "yes." The Nov. 30 vote will be run together with questions on taxing wealthy foreign residents and curbing new immigration. Pollsters think such populist moves might help boost turnout in favor of the gold question. 
Gold and Swiss Currency
The SNB's balance sheet currently stands above half-a-trillion dollars, swollen to the greatest level per capita worldwide by an asset buyback program of printing Swiss Francs (CHF) and selling them for Euro assets. That helped the SNB set and maintain its currency peg of CHF 1.20 per euro, imposed to try and keep Switzerland's huge exporting sector competitive, as well as to try and avoid domestic deflation.
For Switzerland's gold, the asset buyback program has, to date, squashed the metal from 40% of the country's total foreign-currency reserves down to below 8%. The fact that it still holds more gold per capita than anywhere else serves to show just how huge those total reserves had grown relative to the Swiss nation.
Gold grams per capita is a metric SNB policymakers cited during the 1999 campaign to sell gold, together with gold reserves as a percentage of imports and as a percentage of GDP. On those three metrics, today's Swiss holdings of 1,040 tonnes remain very large compared to other countries. 
At current prices, moving to hold 20% of reserves in gold could be achieved with a total of 2,800 tonnes if existing assets were sold down to make the purchase, with some 1,775 tonnes added to today's 1,040 level. Alternatively, that 20% could require nearer 3,500 tonnes if the SNB chose instead to retain its current balance sheet, and added the extra gold on top.
The SNB could then target almost 2,500 tonnes via an asset buying program that would create francs and sell them for dollars to buy gold in the market. That would add pressure on the Franc versus other currencies.
The Vote
Swiss referenda rarely pass and the "No" campaign only began in earnest this weekend. What's more, a majority vote is needed in a majority of Switzerland's 26 regional cantons, raising the bar for what currently remains a special interest measure compared to the immigration and tax questions.
But this February the Swiss voted to end the free movement of people across Switzerland's borders with the European Union. Decided by the tightest of margins (50.3% against 49.7%), that vote shocked politicians almost as much as a vote to buy gold would shock the market next month.
As with the gold question, the Swiss referendum on immigration enabled a clear demonstration of a broader turn among western Europe's voters, away from cross-border cooperation and towards nationalism.
If the Swiss gold vote does pass, expect pressure for repurchases to grow elsewhere, too. Competitive devaluation is a stated policy of France's right-wing Front National, but anti-European parties across the union (such as the right wing UKIP in the UK) are targeting later-aged voters with retirement savings to protect.
Germany, the world's second-largest gold holder behind the U.S., is already repatriating 20% of its 3,800 tonnes -- targeting 50% in Frankfurt by 2020, with the rest in New York and London.
At the time of publication, the author held no positions in any of the stocks mentioned.
This article is commentary by an independent contributor, separate from TheStreet's regular news coverage.